Straight edge vegan hardcore has long thrived at home, the Stateside fires first set in the '90s having been lovingly attended to by numerous eco-warriors. Preservation, of both the world and of self, is the ethos behind the pulsing heart of Gothenburg's Disavow. Fittingly monikered, I can't be held responsible for the righteous carnage possibly inspired by the latest from the clear-headed and impassioned Swedes. Should the initial singles from their upcoming self-titled LP be any indication, it'll be volleying for year-end list inclusion.
Due out later in July via Refuse Records, Epidemic Records, and Useless Pride Records, they're set to hit the road for a European album release tour with Seattle's Wake of Humanity and Germany's ClearXCut rounding out the sXe cerberus with Greg Bennick (Trial, Bystander) himself in tow. In what is essentially an international meeting of the focused minds, it's an eye-popping lineup that seemingly serves as a call to arms for the like minded, their bat signal instead the wheezing and labored breath of the Earth itself. Hyperbolic? Perhaps, but shit slaps.
Poised to be a collection of sharpened blasts, the album promises to be a song shy of a dozen. Listening back to both their 2016 demo and the following year's Half Empty EP, they've upped the ante here in every way, managing to seemlessly meld bruising straight edge hardcore with both a crustier blackened hXc sound and the steamrolling rock n' roll riffing of latter era Hope Con.
Though both lead track "Yours to Begin With" and the Chris Colohan (Cursed, Ruination) guest spot on "See Through Me" set the bar to nearly unreachable heights for bludgeoning metallic hardcore, it's "Abstain" that is the ultimate sonic usurper. Featuring guest vocals courtesy of Waste's Andrea Čengić, the song begins with a manic sprint in the guise of absolutely devastating riff. From there, the divebomb signals a runaway D-beat inflected barrage of hXc. As blindingly fast as it begins, the bass-led lurch and intimidation of the feral yelp of "straight edge" feels all the more harrowing, pissed, and dead fucking serious. It plays more like a desperate and purgative mantra than the finger wagging rally cry of the militant. Fittingly, much like their US allies in Wake of Humanity, Disavow manage a flare for the epic, despite the speed trial runtime.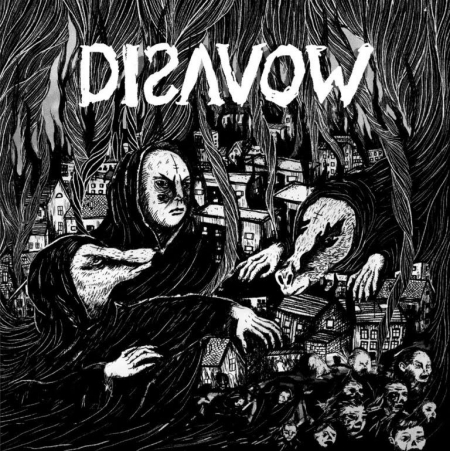 Lyrically, "Abstain" shouldn't be a mystery for a band deeply rooted in the XVX scene. Disavow sidestep the hollow sloganeering of merch fodder and platitudes, instead injecting their straight forward naturalist sensibility with a heady sense of sincerity. There's a palpable sense of a band combating nihilism and despair with hope and and righteous anger. Armed with clear eyes, they take on the dystopian despair of living in our collective cultural void. Topical talking points aside, the recording and mixing courtesy of Ulf Blomberg (HoboRec, The End Studios) finds the critical balance between devastating and crisp.
Mastered by the masterful master Will Killingsworth at Dead Air Studios with stunning artwork via Isabell Kirstinä, this looks to be a full length killer. Keep your death metal. This is the Gothenburg sound.
Tagged: disavow