Charging forward with their second new record in as many years, Crypta has me happily stunned as I listen to Shades of Sorrow.
Now, I understand that seeing a word like happily might throw people off. What makes me enjoy hearing a new record from Crypta are some of the things I'll mention as I go further in this review, but initially, it is because the intensity in their music makes sense to me.
I don't think I'm alone in saying there are few moments during the day when all of life makes sense; for most of my life, music is one of the few things that has consistently helped me make sense of the world.
From the first time I heard about Crypta working on Shades of Sorrow, I knew I wanted to write about it. They have worked hard as a newer band touring relentlessly, which is especially impressive considering all the governmental restrictions over the last few years concerning travel.
Whether you've heard their debut record, Echoes of the Soul, or not; I think you'll hear a band further refining their sonic identity and showcasing their earned chemistry as a band. Bassist/vocalist Fernanda Lira refers to Shades of Sorrow as a semi-concept record describing a journey through the mind when someone is going through life challenges. Fernanda's lyrics communicate this journey in a vivid and vulnerable manner that I greatly appreciate.
Here is an example from one of the songs Crypta made a video for, "Lord of Ruins.":
"Down in the pit of defeat Couldn't witness the dawn upon me In the depths of desolation Intangible surface, out of reach
The darkness is my foundation The unknown is my domain Still amidst chaos, I shall remain "
At 13 songs, three of which are instrumental pieces, the record feels well-thought out and will easily make you want to listen to it from begining to end without interruption.
I know there is a lot of chatter in recent years about focusing on single songs and moving away from full albums. I hear Shades of Sorrow as a great reminder of why a record can be a powerful listening experience.
I'm floored by the musicianship on display by the members of Crypta. The guitarist duo of Jéssica di Falchi and Tainá Bergamaschi bring to mind some of my favorite early listening experiences when first discovering death and thrash metal as they articulate slower passages with equal intensity to their faster parts particularly on songs like "Dark Clouds" and "The Outsider."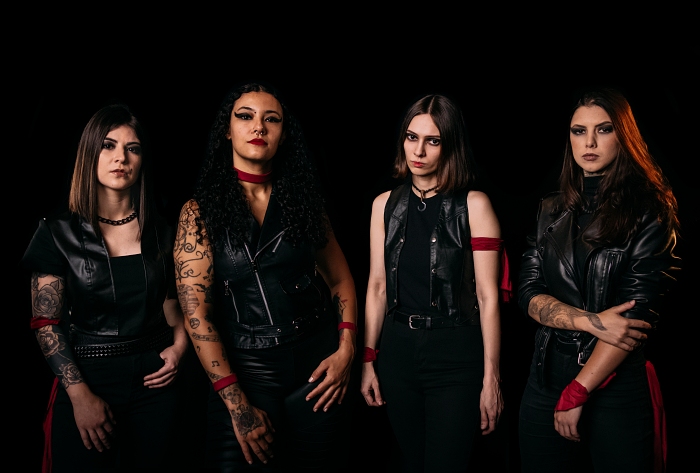 As I mention in other reviews, I have played drums for 20 years as of 2023, and Luana Dametto's performance on Shades of Sorrow is exactly the inspiration that keeps me working on my playing techniques over the years.
Last but certainly not least, the commanding presence of bassist/vocalist Fernanda Lira is something I'm anxious to witness in a live setting. Her lyrics remind me of why I enjoy creative writing and her bass playing shows the importance of the rhythm section in her chemistry with Luana along with moments where the bass is at the forefront of the mix on the song.
Crypta recently finished their Echoes over Europe tour in Italy and are set to open for Ghost in their native country of Brazil for two nights in September. I'll definitely be on the lookout for more live dates in the future and I think you'll be doing the same when you hear Shades of Sorrow.
Get It
Tagged: crypta