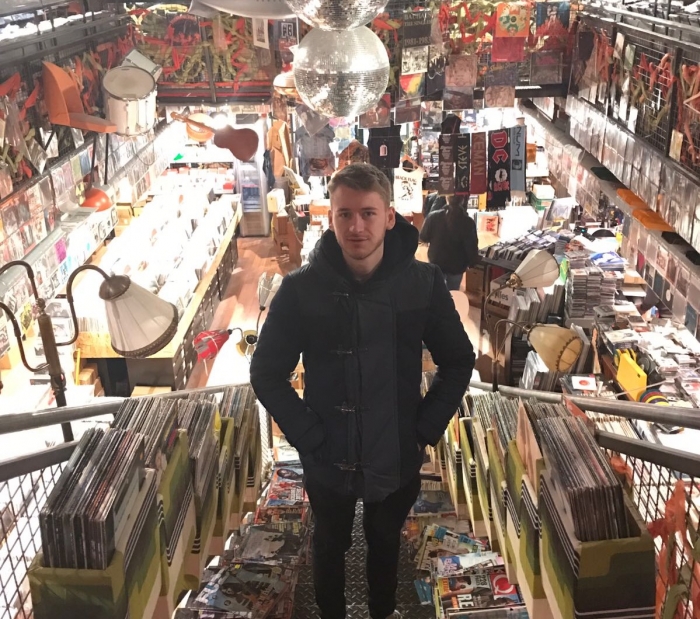 Tom Collins is a resident of Sheffield, England, where he handles merch for bands on tour. His job affords him the luxury of visiting some of the finest record stores throughout the world. I know.
So, while you seethe in jealousy over Tom's travel benefits, please join me in welcoming him to the Record Collector series.

How long have you been collecting records?
Since I was 16, so around 10 years. However, the past three years it's really become a passion/addiction of mine.
Where/how do you usually find your records these days?
I get to travel a lot with my job, so whatever city I'm in, I always make sure to do a tour of the local record stores. It's crazy to see the variety each country has and I almost always find a few hidden gems. I make sure to take a picture of each store I visit and post it on my Instagram as a memento from my travels. The biggest problem is transporting them back home safely! Some of my favourite stores have been Josey Records in Kansas City, Neseblod in Oslo, Kompakt in Cologne, Black Plastic in Dortmund, and Dodo Beach in Berlin. I always prefer to buy from a store than online. My local store in Sheffield—Bear Tree Records—is also very well curated and I pick new releases up from there when I get chance.
What is the most you paid for a single record, where/how did you obtain it, and what was it?
I think the most I've spent was £260 for the huge Meshuggah boxset that was released last year. However, for a single record, probably $95 on a swirl copy of Lurker of Chalice. I'd been looking for that for a while and eventually found it in the racks at Josey Records! I don't usually pay extortionate amounts for records as I love to look for bargains. I used to shop at Rob's Records in Nottingham when I first started collecting (2005/6) and it was an absolute goldmine. I managed to get first pressings of Death, Bolt Thrower, Carcass, King Crimson, Pink Floyd all for £3-5!
Of everything in your current collection, what is your most prized record and why?
Tough one! I have two copies of Necrophagist's Onset of Putrefaction that I'm pretty proud of. It's one of my favourite albums ever and I managed to get one for £10 a few years back. Either that or a signed copy of Opeth's Ghost Reveries. I remember waiting outside the venue for hours after seeing them when I was 16 to get it signed!
Is there anything that frustrates you about the current record collecting scene?
The fact that you rarely find bargains anymore in stores. Most stores value their stock using Discogs or Popsike, so it's never cheap! Store owners now know exactly how much the records go for online, which takes away the thrill of finding a cheap stash.
Which records are still on your want list that you've had a tough time tracking down through the years?
I've been after a first pressing of Comus' First Utterance for years now. I managed to find one on Discogs about a year ago that was advertised as VG condition, but when it arrived, it looked like someone had taken a knife to it, so I returned it and the search continues.
Apart from that a few notable records I've been looking for for a while are:
The Streets, Original Pirate Material
Weakling, Dead As Dreams
Pink Floyd, Pulse
Nirvana 2002, Recordings 89-91
Morrissey, You Are the Quarry
***
Follow Tom on Instagram.
Tagged: record collector