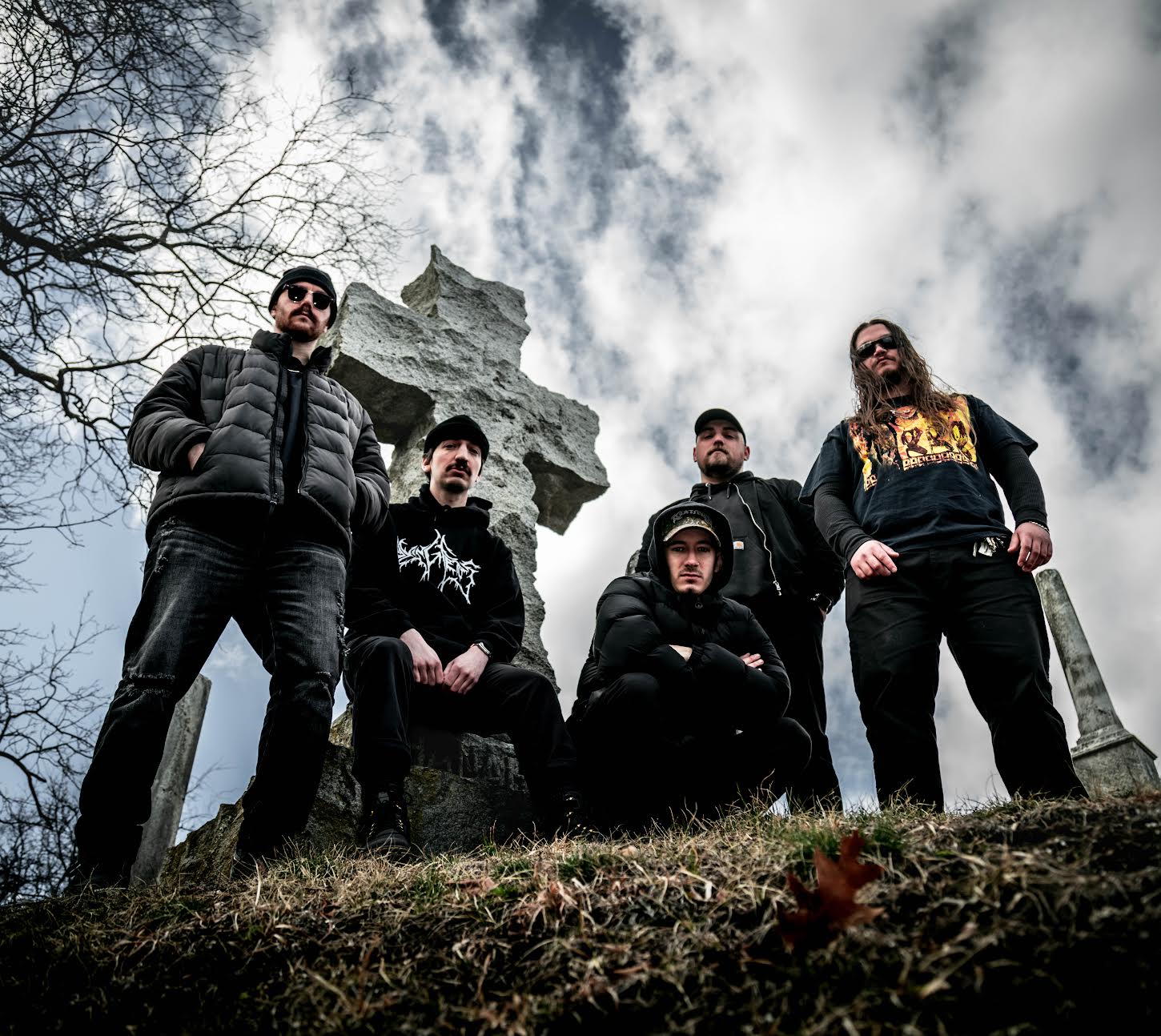 I've said before that death metal is always done better by hardcore kids. Some of the best have come from Boston's hardcore/metal scene with bands like Vomit Forth, Torn In Half and Fuming Mouth formed by members within the thriving community there.
One of the most vicious sounding and wildly energetic of this ilk is Blood Tithe, forming out of their love of all things the extreme music scene has to offer… as well as action RPG's like Skyrim and Dark Souls.
Forming back in 2017, Blood Tithe have come a long way from their early plans of forming as "basically a Killswitch Engage cover band until Liam [guitar] bought an HM2 and just like that Blood Tithe was born" as described by the band's Justin Whipple. Since their formation, they've ripped a ton of local gigs opening for such bands as DRAIN, Foreign Hands, and the aforementioned Fuming Mouth at their legendary record release show. Recently they toured around a good chunk of the East Coast and Midwest and are once again hitting the road this summer ending up in Canada and the West Coast with fellow death metal titans Sentenced 2 Die.
Blood Tithe has developed their sound steadily across three EPs, with their first dropping back in 2018. Boasting a sound filled to the brim with Swedish death metal hallmarks like buzzsaw guitar sounds and throat-shredding vocals, they quickly developed an audience and perfected their sound by the time they released their most recent EP, Haunted By Angels, in 2021.
But their sound isn't exclusively informed by the classics of the era, as Blood Tithe meld in some modern and outside influences into what they do. Commenting on the band's broad list of influences, Justin explained:
"Our influences have always come from a bunch of different places. As far as the music itself goes—mainly hardcore, '90s death metal, early '00s deathcore, black metal, and anything in between. We're also big movie guys so a ton of inspiration for the artwork/visuals comes from horror films."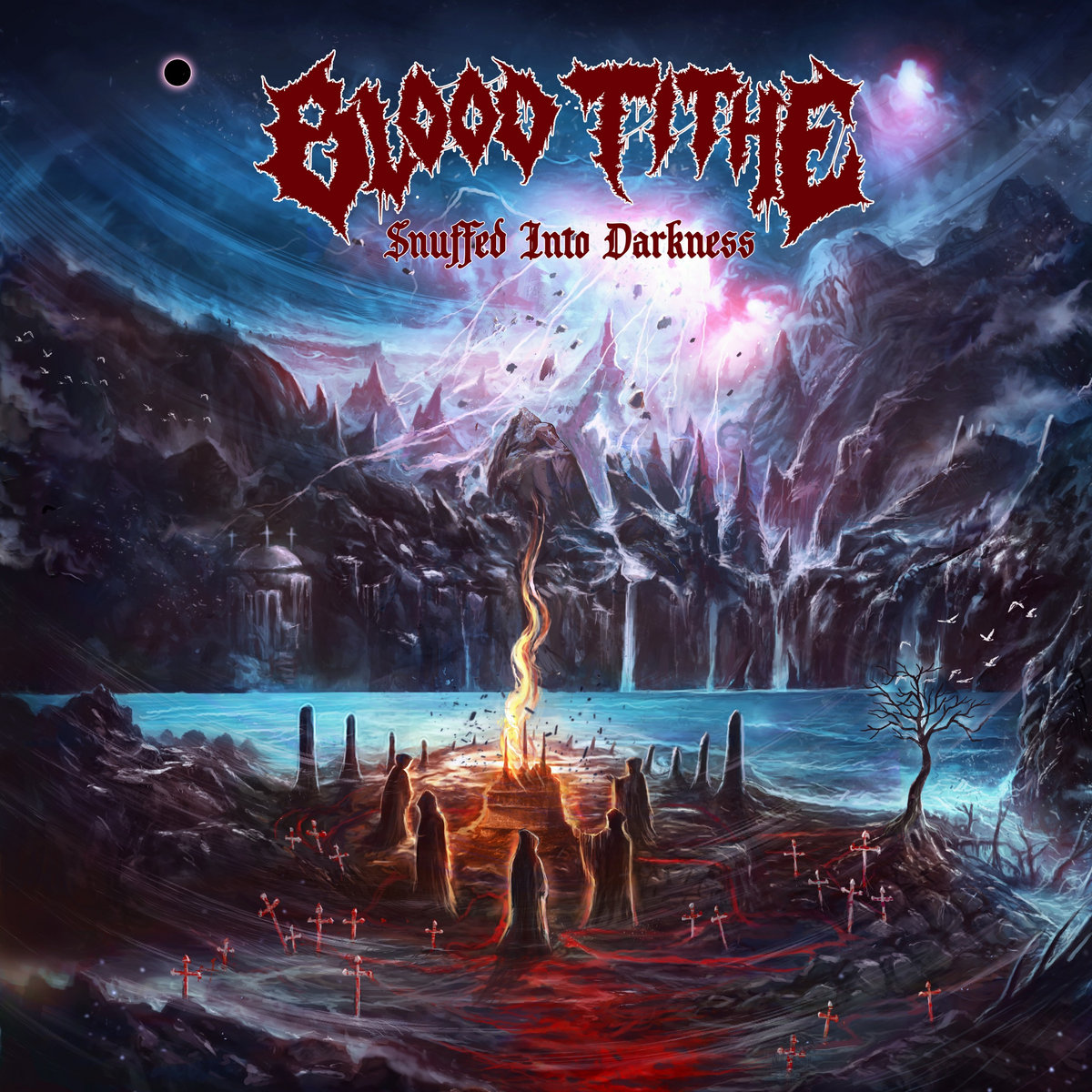 Given the heaviness of their songs, shrieking vocals that could work well in the deathcore circle and perfect placement of breakdowns the band makes themselves stand out amongst the more innovative death metal bands coming up in the scene.
Their visual aspect, handled mostly by Justin himself, seems influenced by a lot of the Metal Blade records covers, particularly their EP Snuffed Into Darkness with its eerie depiction of a cult ritual near what seems like a lake in some Tolkien-esque land. This piece was drawn by Ardha Lepa while Justin has handled the artwork on the rest of their releases.
This style fits their lyrical vibe all too well as Justin explained what influences his lyrics are drawn from, citing topics outside of music in particular. "In all honesty I just try to write all my lyrics to sound like something you'd read on a cave wall in Skyrim right before a draugr beats you to death with a stick. Except that wall is also the Bible and dragons are jesus. That's the kind of vibe I'm trying to put out." Even with these video game inspired lyrics there's a certain severity the band gives off, it's like they force you to take every word Justin says seriously.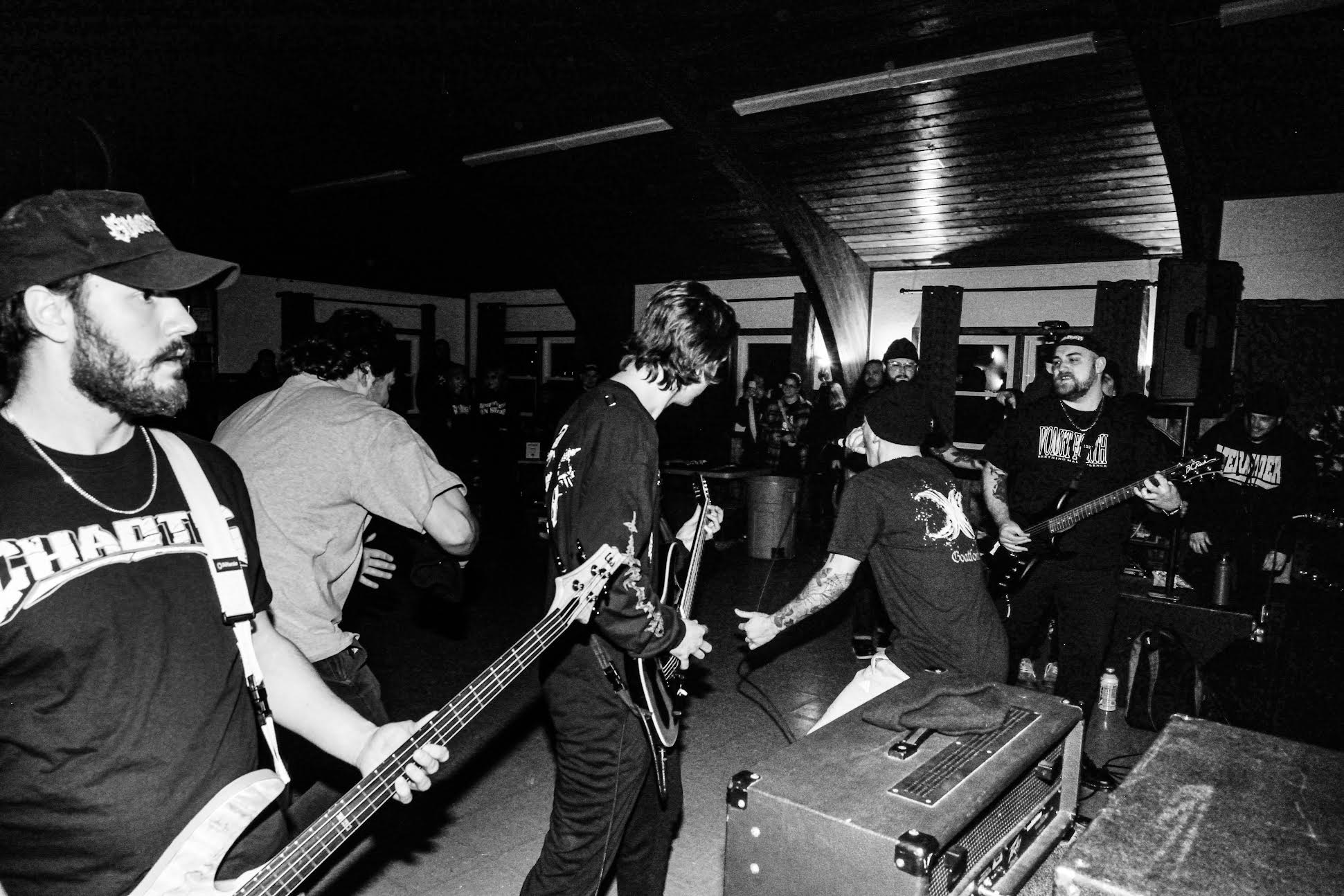 As Blood Tithe have gained more momentum lately, playing dates opening for Bury Your Dead and a brief tour run with Underthrow, fans could expect a new album in the works from the group. Their single, "Luciferian Dawn," will be the first peek fans get from their upcoming album recorded with Charlie Abend at Tower Farm Studios slated for release later this year.
They have also recorded a music video with their friend Ryan Flynn (Flynn's Flicks) to go along with this single release and allowed us to debut this video on the site, click the link below to check it out!
Blood Tithe's tour with Minnesota's Sentenced 2 Die starts on Saturday June 10th in St. Paul, Minnesota. After that, they will trek up to the Great White North and come back around to California and hit some more spots along the west.
Blood Tithe would like to shout out: "The man himself Charlie Abend at Tower Farm Studios, Ryan Flynn master of camera, James Davis of Fuming Mouth/No Arbiter, Jake Solomon of Wisdom & War, Sentenced 2 Die for bringing us on this tour, Ronnie Coleman, and anyone who's ever booked us on a show, listened to our music, or supported us in any way."
***
Blood Tithe on social media: Instagram | Twitter | Bandcamp
Tagged: blood tithe