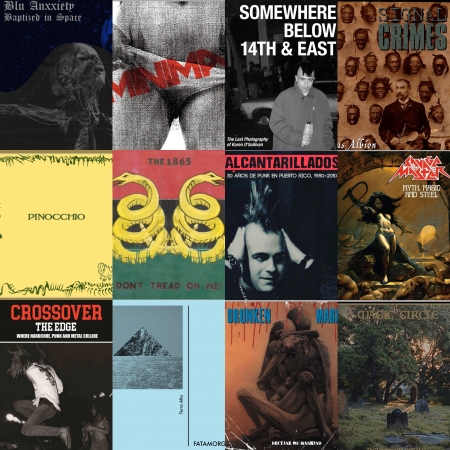 No Echo will always be indebted to Freddy Alva for his contributions to the site early in its earliest days. With the year coming to a close, he put together a list of his favorite records and book of 2019. As you'll see below, Freddy has eclectic tastes. —Carlos Ramirez
***
Blu Anxxiety, Baptized in Space single (Toxic State Records)
My favorite band in NYC right now, playing self-described "dark freestyle," and yes they reference goth punk in the Batcave/death rock LA scene vein but they have their own personality as well as the musical chops to pull off something fresh and relevant, digging the more electro B-side as well. This video captures the futuristic retro vibe to a T, looking forward to an album in the coming year!
Fatamorgana, Tierra Alta album (La Vida Es Un Mus Records)
Barcelona duo that eerily recreates the 1982 synth sound, straightforward beats plus haunting chanteuse vocals and all. Some people would consider this a fitting homage or blatant imitation; I prefer to split the difference and not overthink it too much, tunes this catchy to listen/dance to override any of my 'opinionated music critic' concerns. It's better to enjoy something for its own sake rather than for what it should or shouldn't be, kudos for singing in Spanish as the vocalist previously sang in Polish for post-punkers Belgrado, a fave from 2016.
Signal Crimes, Perfidious Albion album (Network of Friends/Larmattacke Records)
Barely controlled rage and disgust in every chord featuring topical lyrics of the political/personal kind over raging hardcore punk in 2019? Yes, please! These lifers refuse to believe that all is lost and are proof positive that this music can still have something to say about our lives and the surrounding world, as much as everything has changed; it's all still uncannily the same.
The 1865 Band, Don't Tread On We! album (Mass Appeal Records)
I've waxed poetically about this album previously on No Echo, but do your heart, soul & brain a favor: Look. Listen. Share.
Crossover the Edge, book by Alexandros Anesiados (Cherry Red UK)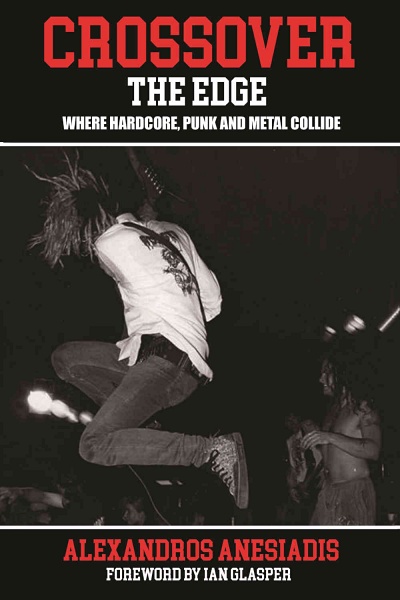 When I got into hardcore in the mid-'80s, metal was considered wack but it's bastard offspring crossover was cool, especially in NYC. Maybe it had to with the fusing of hardcore energy and relatable subject with metal's chops that made it more appealing. This excellent tome profiles just about every major and minor player in the crossover universe and it's written from a knowledgeable super fan's perspective; I highly enjoyed finding out about bands I'd never heard of & obscure details regarding old favorites, kudos to Alex for this labor of love.
[read No Echo's interview with author Alexandros Anesiadis]
Pinocchio, s/t 7" (Toxic State Records)
I found this through a recommendation (thanks Adam at Academy Records) and it's really blown me away. Off-kilter, non-obvious, quirky are terms I would use as well as reference points: Rough Trade bands, No Wave '78 sound, outsider hardcore but eschew all that as this is fresh and original. NYC underground subculture is in great standing if there's any indication that there a like-minded outfits waiting in the wings, kudos for having a band member who's father I know from the '80s CBGB's matinee scene!
Savage Master, Myth, Magic & Steel album (Shadow Kingdom Records)
My taste for heavy metal stops at about 1986 or so, that means no grind/death/black sub genres or what have you for me. Thankfully, Savage Master feel the same way as this is a classic sounding metal album stuck in a sonic mind warp with killer riffs, tight song structure, potent production values, and one hell of a singer in the Lita Ford/Lee Aaron vein. Sure, the imagery is over the top, let's hope the band is in on the joke, as they've perfected a classic look that can come off gimmicky but with tunes this good the point is moot.
Drunken Marksman, Decline of Mankind album (1555849 Records)
This is one of the best hardcore punk records I've heard in a long time, classic anthemic sound in DOA/Toxic Reasons vein played by scene veterans that were around the first time these sounds were codified and its become part of their DNA. Being from the UK, the whole Brexit debacle hangs like a heavy cloud over the overall atmosphere, reflecting a divided Britain with no easy answers; only righteous indignation manifested by way of tuneful fury with insightful lyrics.
Alcantarillados: 30 años de punk en Puerto Rico, book by Yoel Gaetan (Forgotten Youth Records)
I remember my friend Spaz telling me in 1991 that he was starting a record label to release bands from Puerto Rico. It's through him that I discovered iconic outfits like Sham Pain, Hijos De Nadie, and the mighty Golpe Justo. Flash forward to now and this wonderful new book documents them as well as the 3 decades of a vibrant scene that has remained under the radar except to its participants and some astute observers. This 400-page oral history goes a long way towards establishing the definitive chronicle and it comes with a free 30-song sampler of Boricua punk, wepa!
Magic Circle, Departed Souls album (20 Buck Spin)
Brendan Radigan's voice is a national treasure, he can excel at disparate punk/Oi!/NWOBHM/hardcore vocal stylings and on Magic Circle's 3rd album, he helps perfect their Sabbath-y sound to alchemical heights. Not that their previous 2 LPs were slouches, but the addition of baroque drenched songs like "A Day Will Dawn..." give the material a nuanced depth that allows them to expand into more fully developed territory with stellar results.
Minima, s/t album (Static Shock)
Rudimentary hardcore/punk played with no concession to anything the genre has progressed to since like '83 or so, and that's a beautiful thing. I'm hearing traces of that desperate Peru/Brazil sound from the '80s as well as the golden era of Spanish hardcore a la Ultimo Resorte/L'odi Social with female vox, vale!
Somewhere Below 14th & East, book by Ray Parada (Radio Raheem Records)
I was asked to write the forward to this amazing book of '80s photographs by Karen O'Sullivan, which you can read here, so I'm obviously biased but please pick it up if you have interest whatsoever in art, subcultures, music, hardcore, punk or a glorious time in NYC that will never come again.
***
Donate a few bucks to help with No Echo's operating costs: