No Echo contributing writer Adam Lentz is also a long-time employee of Revelation Records, and in this piece, he tells us about the legendary label's latest project.
We didn't do the best job keeping it a secret, but we at Revelation Records are still thrilled to announce we will be releasing the debut LP from Milwaukee's Big Laugh this winter. In addition, this fall we will be reissuing the group's Manic Revision 7-inch that was originally released on 11PM Records and after three pressings has been out of print for over a year.
Since my 2020 No Echo interview with the band, Big Laugh toured Europe with Armor, appeared at Convulse Records Fest, played the West Coast with their Rev fam Tørsö and Urban Sprawl, learned the fine art of the yo-yo with Revelation Records owner Jordan Cooper, and even opened a punk record store in Milwaukee, Blast Radius Records.
Big Laugh will be playing a big gig July 22nd in Toronto, then traveling to Los Angeles to appear at Sound and Fury Fest, and then rocking a handful of more shows as they trek out west and back. More shows and news will come out as we get closer to the release of these records.
I spoke with the Big Laugh guys to get us up to date on everything.
Let's start off by letting the No Echo readers know how the relationship with Revelation Records developed.
It all started when you reached out to Pat from 11PM Records about asking if we could conduct an interview with you. We of course said yes and it just snowballed from there. Just kept in touch and about a week after the interview was released, you asked us. Since then, it's nothing but love and patience from them to help us realize our full length.
What are some of your all-time favorite Rev releases?
Oh boy, this is like asking a parent whom their favorite kid is, because it's no secret that Big Laugh takes so much from the early Rev catalog. My personal one's of note would be Inside Out's No Spiritual Surrender, as Vic DiCara is a massive influence on me as a guitar player.
Same with Gavin Van Vlack's playing on the Burn EP. Then name any Youth of Today and it's always being played in the van.
Tell me a bit about this upcoming record.
We ended up recording once again with Matthew Russell down in Chicago with his Altered States Studio. He absolutely nailed it for the seven inch and I knew he could handle with four obnoxious bumpkins for 6 days straight, all the while allowing us explore different sounds and methods to piece the record together. It was a grueling and rewarding experience all the same.
This Rev LP was quite an undertaking, as during the time to write and record it, we went through a few line up changes, faced significant death and loss of friends and family, the pandemic, and myself struggling with mental health. That all ties into what makes this record the way it is though, it all bleeds through into the music.
True cathartic release. I can't completely speak for him, but our vocalist Andrew speaks from his own experiences, mainly drew from having to deal with the reality of fragile mortality, losing friends and family, depression, and having to live with the trauma of enduring a worldwide pandemic like the rest of us, which truly can difficult to navigate.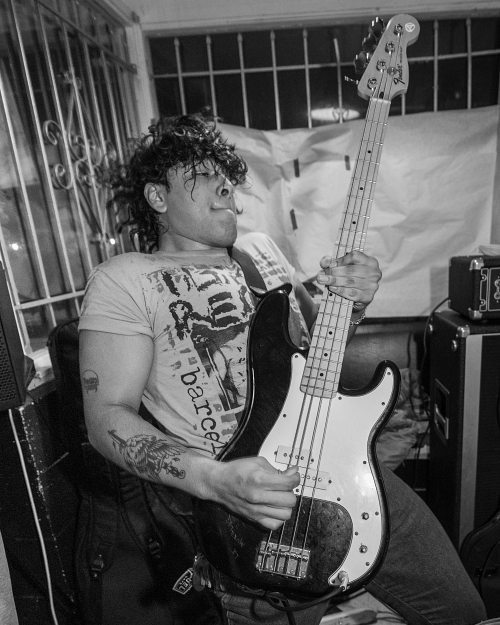 What's the plan now that you're on Rev and have this tour scheduled? What are the goals for 2023?
Sky's the limit? [Laughs] We did a fair amount of touring the last half of last year, and now that we have solidified a lineup, we hope to just get back on the road where we belong as much as we feasibly can and do the only thing I know how to do.
2023 is hoping to be a very productive year, with new music being written and seeing friends from all over to remind us why we still do this!
***
Stay tuned for a release date for Big Laugh's debut Revelation Records LP. Check out the band on one of their upcoming tour dates below:
***
Help Support What No Echo Does via Patreon:
***
Tagged: big laugh