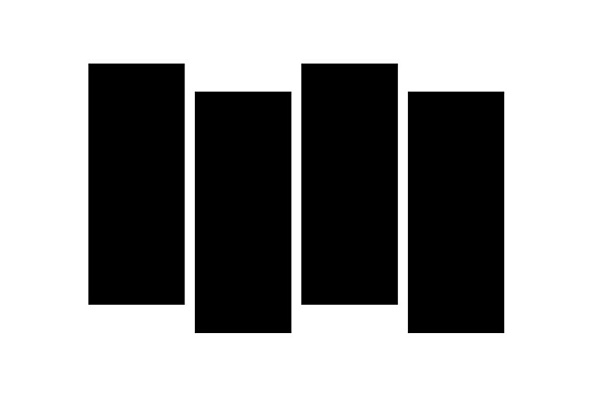 It's no secret that Black Flag's legacy is very well cemented in the history books of punk. No matter how many reunions are played or how many new records come out, the band's run from 1976 to 1986 produced some of the wildest records in the genre, as well as some of the wildest tour stories in the music business. A large swath of bands cite Flag as an influence — everyone from Mudhoney and Nirvana to Bring Me the Horizon and My Chemical Romance.
An entire box set's worth of covers of Black Flag songs exist in the world; some are damn good while others are stale and flat-out boring. Here are 5 Black Flag covers that are sure to give any listener a genuine nervous breakdown.
Converge, "Annihilate This Week"
Black on Black, released first by Initial Records in 2002 then reissued with extra tracks by Reignition Records in 2006, is an accurate time capsule for hardcore of the time. Not only does it contain bands that will go down in the history books as putting a big stamp of influence on aggresive music like Coalesce, American Nightmare, and the Dillinger Escape Plan, but it also contains songs by some groups lost to time like Anodyne, Playing Enemy, and Drowningman. There are a lot of great cuts on here but one of the biggest standout songs on it is Converge's take on the Loose Nut track, "Annihilate This Week."
Eschewing the typical note-for-note regurgitation of the Black Flag original, Converge rips into the song and makes it almost indecipherable. You'd just as soon mistake it for a song that was too spastic to make it onto Jane Doe. It's about as in-your-face as anything you'll hear on the tribute album, and along with the originality of track is what puts it head and shoulders above the other participating groups.
The Swarm, "Revenge"
Chris Colohan has worked his ass off to become one of the more recognizable vocalists in hardcore in recent times. His work in such bands as Left for Dead, Cursed, Sect, and Burning Love has cemented his legacy in 21st Century underground music. While The Swarm (aka Knee Deep in the Dead) wasn't around for very long, racking up four releases within two years, I've certainly heard them cited by more than a handful of bands... not to mention how many times I've heard "On Our Knees" covered.
Ironically, The Swarm's version of "Revenge" comes from a split with Force Fed Glass, which contained a pre-Converge Ben Koller behind the drums. Just as you'd expect, the vitriol of the original version is there, with Colohan's added snarl thrown in the mix. Instrumentally it's pretty in line as well, keeping with the mid-tempo instead of electing to speed up the track.
Ice-T & Rollins Band, "Police Story"
Say what you will about Flag's final singer during its original run, Henry Rollins, but the man is a workhorse who never takes a breath. One of the many pieces of work in his portfolio was organizing the 2002 compilation, Rise Above: 24 Black Flag Songs to Benefit the West Memphis Three. A lot has happened since the release of this album: the West Memphis Three have been released from prison, we've gotten two iterations of Black Flag playing concurrently across the United States, and Ice-T is headed into his 20th year of portraying Odafin Tutuola on Law and Order: SVU. Couple that last factoid with the infamy of Body Count's song "Cop Killer" and picking Ice-T to sing on "Police Story" just makes sense.
This version sounds great with Ice just going at the lyrics with his half-holler/half-talking vocal delivery, and the polished production enhances the song that much more.
Hatebreed, "Thirsty and Miserable"
Entire cover albums kind of have a 50/50 reputation: some people like hearing one band tackle a record's worth of material they didn't write and others despise the thought of it. Hatebreed didn't really care either way, it seemed, when they released For the Lions, featuring a wide swath of songs by bands like Metallica, Subzero, D.R.I., and Obituary. One of the standout tracks for me, however, was the band's take on "Thirsty and Miserable," Yes, the version with Lemmy from the aforementioned Rise Above is pretty damn cool too, but Hatebreed's take on the Flag staple is up there as well.
Hatebreed manages to heavy it up via Jamey Jasta's vocal delivery and dropping the tuning of the song a few notches. For the Lions is pretty solid front to back as well; I mean, where else will you hear a band sandwich a Flag song in between Madball and Crowbar?
Extortion, "Fix Me"
Australia is a pretty wild place. Have you ever seen pictures of some of the wildlife down there? Some of it is downright scary. Speaking of downright scary, Australian powerhouse Extortion is a pretty unique band: they perfectly meld elements of hardcore, power violence, and thrash into one punishing attack after another, amplified by vocalist Rohan Harrison's uniquely disturbing artwork on the covers of their many releases. The band has offered up two takes of the Black Flag original "Fix Me," one on their demo and a much higher quality recording on the split 7" with Jed Whitey.
The vocals are nasty and the song is sped up a bit to give it more of a sense of urgency, which clashes right inside your skull, punishing you in new ways that Flag could only dream up. No shade to Black Flag at all, but Extortion bring an intensity to the table that isn't easy to match even by aggressive bands today.
***
Donate a few bucks to help with No Echo's operating costs:
Tagged: 5 killer cover songs, black flag