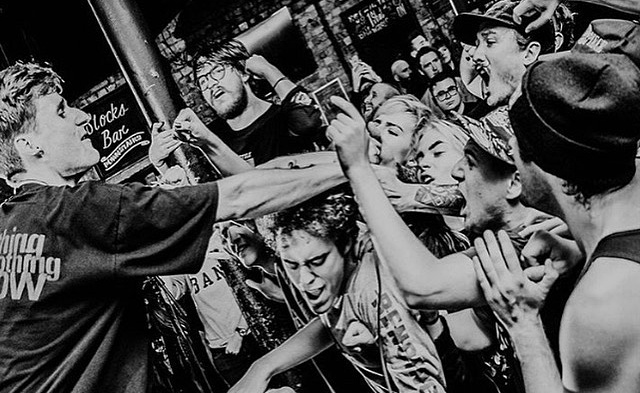 Founded in 2013, Renounced is a UK-based band who mines its influence from such metalcore heavyweights as Poison the Well and Killswitch Engage, while also leaning into the heavier sounds of bands like Undying and 7 Angels 7 Plagues. Their third album, Beauty Is a Destructive Angel, finds the quintet focusing less on the stylistic ingredients of what they're doing, instead honing in on the more dynamic attributes of their songwriting. The result is a catchier yet no less heavy grip of material:
Renounced will be heading out on a EU/UK tour along with Knocked Loose, Malevolence, and Justice for the Damned later this month, so No Echo thought it would be fun to ask guitarist Daniel Rayner and vocalist Daniel Gray about 5 albums that had a huge impact on them.
***
Pantera, Cowboys from Hell (1990)
This album still sounds as fresh and genre defining as it did back in the '90s. Absolutely infectious groove,obscene shredding skills from Dimebag with a couple of sections of cheesy vocals for good measure. A couple of us were listening to it just a few nights ago and were discussing what a monster it still is. Check out the video for psycho holiday. What an absolute banger.
Hatebreed, Satisfaction Is the Death of Desire (1997)
This isn't actually my favorite Hatebreed album. However, it's one of the best hardcore albums of all time. Hatebreed is an absolute classic heavy hardcore band for all to listen to. Satisfaction was the first full-length they put out, and my goodness does it pack a punch. From lyrics to breakdowns, to the general production on this record, it's non-stop aggressive anthems. Of course, it also came out on Victory Records when they were in their prime. Try finding an OG Hatebreed shirt on the internet with the Victory logo for under £70.00.
Favorite tracks include: "Burn the Lies," "Afflicted Past," "Not One Truth," "Betrayed by Life." In fact, most of the songs on this record are great.
P.S. My favorite album Hatebreed album is The Rise of Brutality.
Strongarm, The Advent of a Miracle (1997)
Strongarm were a spirit-filled Hardcore band from South Florida that split up in 1998. Now, I'm not a religious person but you can't help but feel the passion in Chris Carbonell's vocal delivery on this record. His style is so intense it sounds like he's literally shredding his vocal chords (in a good way). The music I also feel is extremely unique, Strongarm utilize unconventional (within hardcore) styles of songwriting giving them a progressive edge that sets them apart from the rest of the bands that were popular in hardcore at the time.
There's definitely a lot of melody within the riffs, giving the music an overall ethereal and triumphant ora, which is definitely helps back the "spirit-filled" description. This record for me just oozes passion, and even though I may not have the same beliefs as the artists, I can't help feeling energised when listening to this album.
AFTeRSHOCK, Through the Looking Glass (2000)
This is the band that spawned Killswitch Engage, and this album is an onslaught from start to finish. The first song, "Prelude to Forever," perfectly sums up the whole album. The guitar leads are incredibly intricate, the breakdowns are devastating, and the album is broken up with weird soundscapes and interludes that provide a sort of relief but leave you eager to listen to the next song. The vocals also sound so disgusting that it makes it one of my favorite releases ever. It makes me want beat myself up.
***
Beauty Is a Destructive Angel is available now via Holy Roar Records. You can order the album directly in the States here, and if you're in the UK, hit this link up. Digital is available on Bandcamp.
Renounced on social media: Facebook | Twitter | Instagram
Tagged: renounced