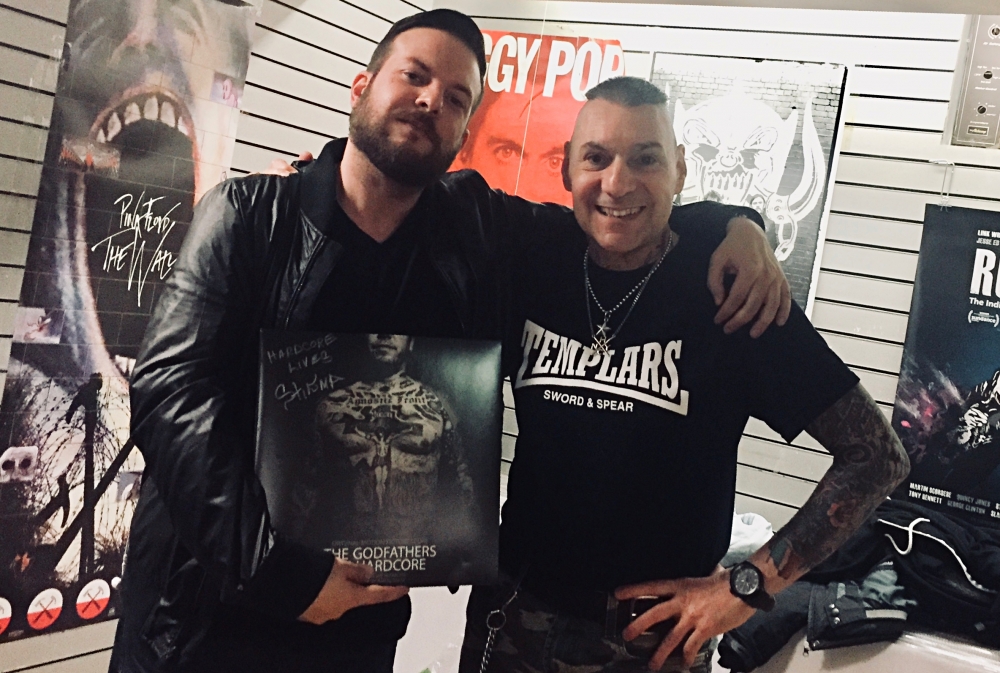 Jay Reason has dedicated most of his life to music, both in front and behind the scenes. As a musician, he played in the hardcore bands Voice of Reason and The Distance, and he used to be the label manager for Jamey Jasta's Stillborn Records label, working with such bands as Blacklisted and Sworn Enemy. These days, Jay's a partner in a label services company called SRGILS, and he also does a vinyl-only label, Wargod, that focuses on reissues and movie soundtracks. The latter project find him collaborating with Ryan O'Conner, the former singer of Outbreak.
Today, Jay adds "Record Collector club member" to his list of accomplishments.
How long have you been collecting records?
I really got into collecting when I was around 15-years-old and first being exposed to the punk/hardcore thing. In the mid to late-'90s, a lot of the bands I gravitated towards were only releasing new music on vinyl. We always had a turntable and records growing up so buying vinyl didn't seem weird to me. I still have the first local hardcore band 7" I bought. I had only known about major label artists and releases then, thought it was the coolest thing to buy a record from someone I knew. Two of my friends, Pete Morcey and John Luciano, really educated me on vinyl collecting and variants early on. They would let me tag along and bring me to these great record shops in Connecticut like Phoenix Records in Waterbury or Trash America in Danbury and encourage me to buy certain records/colors/pressings. Some of my best records were acquired around this time.
Where/how do you usually find your records these days?
I try to order from the bands or label directly when possible, if not RevHQ is my go-to. I'm on a lot of email lists (best way to stay on top of variants, etc)! Thankfully in CT, we have some cool stores like Red Scroll Records, Gerosa Records, The Archive, and Vinyl Street Cafe. I go digging every few weeks and spend money in stores. It's important to support your neighborhood shops. Discogs is always good for the harder to find items.
What is the most you paid for a single record, where/how did you obtain it, and what was it?
Hmm, being completely honest, I don't know that i've paid above $75 dollars for any specific record. I've been collecting, ordering records and buying records at shows since I was young. Fortunately built up most of my collection first hand and received special pressings, etc from friends who played in bands or ran labels. I've also traded a lot of records, which has helped me get things I might be looking for.
If you had to pick one record label you feel had/has the best track record of quality releases, who would that be and what are some key titles you love?
This is a tough one but i'm going to have to go with Bridge 9. Chris Wrenn is from Connecticut and Bridge 9 was the first label that I bought every record from, even if it wasn't a band I had heard of. The Tenfold/Sum of All Fears split, American Nightmare EP, Carry On's A Life Less Plagued, No Warning's Ill Blood, Terror's Lowest of the Low, Outbreak's You Make Us Sick, and Death Before Dishonor's Friends, Family, Forever, are some of my B9 favorites. If I was allowed to pick two, my other would be Deathwish Inc. What Jake andTre have grown that label too has been amazing to watch. All of their releases look top notch and they are always doing something interesting with packaging/vinyl.
Of everything in your current collection, what is your most prized record and why?
Another tough one, but I'd have to pick the promo pressing of Deftones' White Pony. The Deftones are one of my top bands, and so is this album. I got this promo from Triple Crown Records founder Fred Feldman before the album was released. At the time, my first band (Voice of Reason) was on Triple Crown and Fred knew how much I backed the Deftones. On a visit to the label, he handed me this and its been a prized item since. Might also be the first record I think of when I think of my collection.

Is there anything that frustrates you about the current record collecting scene?
Trying to keep up with all the variants of a vinyl at launch. I understand why labels/bands do this, the direct to consumer business is huge for them but I keep having to add shelves. Not to sound too much like an old head, but I miss the days of one rare color and the rest of the pressing on black vinyl.
Which records are still on your want list that you've had a tough time tracking down through the years?
My current hunt is for a Hope Con' Cold Blue on blue. Been trying to find someone who wants to trade me one, I've seen them for sale, but much rather trade when possible. Wouldn't mind adding a Chung King to the collection someday or a first pressing Victim In Pain.
***
Follow Jay on Instagram.
Tagged: record collector