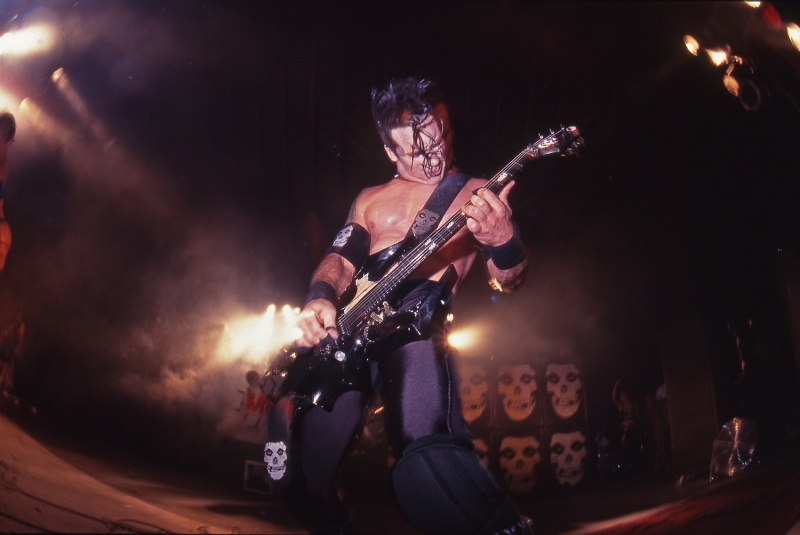 New Jersey's progenitors of horror punk, the Misfits, have had quite the rocky history. Forming in the late '70s and disbanding for the first time in 1983, Glenn Danzig and company stamped a lasting impression on punk music, leaving behind a hefty discography for a band that was only together for a handful of years.
Incorporating gritty punk with lyrics invoking visions of classic monster movies, the Misfits definitely stood out in the infancy of American punk music. Fast forward to today, the band has become more of a brand than ever before.
Through various legal issues, lineup changes and newer records that, depending on who you ask, pale in comparison to the Danzig era, the Misfits are an influential band for better or worse. They've inspired bands from nearly every corner of rock music, from My Chemical Romance to Metallica, and even reunited with the lineup of Danzig, Doyle, Jerry Only, and Dave Lombardo.
Walk among these 5 great Misfits covers.
108, "Death Comes Ripping"
On paper, this may seem like an unlikely combination. A Krishnacore band covering a Misfits song? Sounds weird, I know. But given the band's signature unrelenting metallic hardcore sound, it works. 108's contribution to Violent World: A Tribute to the Misfits is just as unrelenting as either band's output.
With the original song finding a home on what is arguably the most intense Misfits release, Earth A.D./Wolfs Blood, "Death Comes Ripping" is a thrashy hardcore song that could incite a circle pit almost immediately.
108 does no disservice to the track, and while the band replicates the song almost identically, in an alternate universe, it would have fit nicely as a 108 original alongside songs like "Blood" and "Arctic."
Refused, "Bullet"
The influence of the Misfits has been felt the world over, which has been illustrated hundreds of times. Another band that changed the shape of punk to come (quite literally) was Refused. Even in the band'e early days before synthesizers and breakbeats made their way into the band's sound, Refused was still picking interesting covers to perform, including songs by The Prodigy, Born Against, and Mötley Crüe.
A little more on the nose for a hardcore punk band, the band also tackled the Misfits classic "Bullet." Originally released on the Children In Heat tribute album issued by German label Hellbound Heart Recordings, Swedish hardcore legends Refused tear their way through the Misfits classic.
Vocalist Dennis Lyxzén pulls zero punches on the song's infamous lyrics describing a certain sex act by a certain former United States first lady, keeping them intact.
Metallica, "Last Caress/Green Hell"
While Metallica received their own tribute in the way of this column, this week they're on the other side of the fence this week, paying tribute to one of their influences with a medley of "Last Caress" and "Green Hell." The band made no bones about their love for the Misfits, with multiple cover songs, countless photos of band members repping Misfits gear, and many nods to the band in interviews.
The two bands even developed a kinship down the line, with Metallica taking Danzig on tour with them and band leader James Hetfield singing backups on the eponymous debut Danzig album. While "Last Caress" is probably one of the more well-known Misfits tracks, "Green Hell" might be one of my favorites due to its hectic pace and simplicity, which is replicated by Metallica here perfectly.
The influences the band pulled from New Jersey's spookiest band are very apparent in this track originally found on Metallica's covers EP, The $5.98 E.P. – Garage Days Re-Revisited.
AFI, "Demonomania"
California's AFI is a band that has built a gigantic empire on their Misfits influence, if I can be totally honest. Throw in a little more of a goth feel and you've got one of the biggest alternative rock bands of today. Rewinding a couple decades, AFI was climbing the ranks of skate punk while incorporating a darker element in their California sound.
1998's A Fire Inside EP found the band pairing two originals with renditions of "The Hanging Garden" by The Cure (which will inevitably show up in a future column) and "Demonomania" by the Misfits. While the track is on the shorter side for Misfits songs, clocking in at a mere 45 seconds, the Earth A.D. song keeps up the crossover style of the album, and AFI's version is as true to the original as you'll find, with vocalist Davey Havok in the beginning stages of Danzig replication in his vocal style.
Pig Destroyer, "Wolfs Blood"
While pulling songs for this column, I wanted to find a track by the band that usually stays hidden under the surface, one that's not discussed too often. I thought the other title track from Earth A.D./Wolfs Blood might be a good starting point.
And what better way to discuss the track than to pull another song from Pig Destroyer's bonus album that was released as an accompaniment to the band's 2012 full length, Book Burner?
The band manages to make the song sound a little more erratic although the song is barely changed at all aside from an added snarl in the vocals. Going back to this collection of covers is always interesting, given that they're a bit of a departure from the blazing fast grind attack Pig Destroyer has made their trademark.
***
Help Support What No Echo Does via Patreon:
***
Tagged: 108, 5 killer cover songs, afi, metallica, misfits, pig destroyer, refused