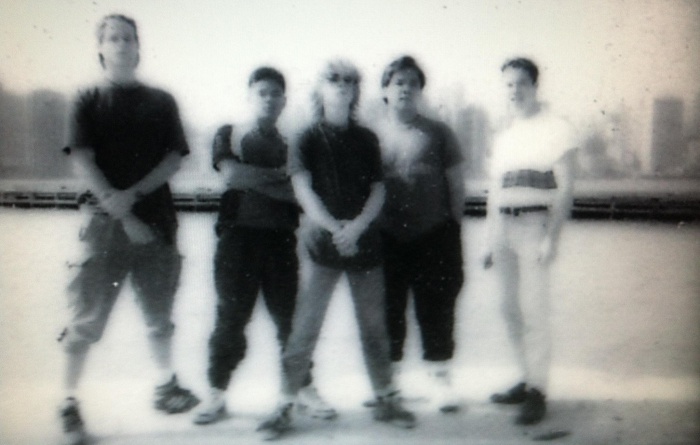 Released in 1989, Outburst's Miles to Go was a huge record for me. I was 14 and getting into hardcore in a big way, so trips to local NYC record stores like Bleeker Bob's and Sounds were a weekly occurence for me and my deliquent friends. I remember the graffiti lettering and band photo on the 7"s cover grabbed my attention instantly while flipping through the New Releases section at one of the Greenwich Village stores I would shop at. You see, 7"s were important for me because they were priced cheaply enough where I can grab a few and take the risk before even listening to a single note.
Within a few seconds of hearing the explosive drum fill and opening guitar riff that opens "No Choice," I knew I had made the right choice. Outburst's brand of NYHC was up my alley in its directness, groove, hookiness, and gruff vocal delivery. Once I figured out that they were fellow Queens dudes, that only made me feel all the more connected to Outburst and what they were doing.
I would eventually become friends with Outburst drummer Joe Songco and every now and then, I would bug him with a nerdy question about the group. Since it's Miles to Go's 30th Anniversary, I figured it was the perfect moment to highlight the EP on No Echo via a fresh Q&A with Joe.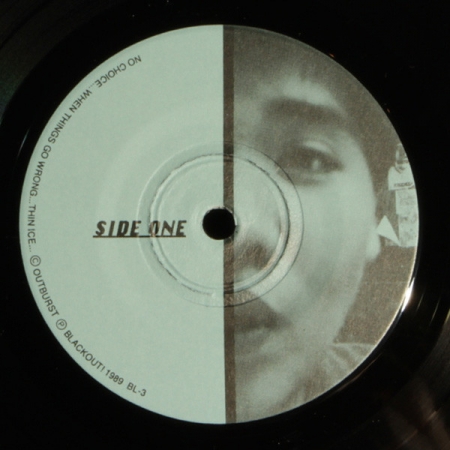 There was about a 2-year gap between the 1987 demo and the release of Miles to Go. That was an eternity in NYHC time back then, so I wanted to get the reasoning behind that.
After we completed the demo in October of '87 (thank you, Don Fury!) I remember that we wanted to stay busy. We looked forward to playing our first live shows at the end of '87. Our first ever show was with ABomb ANation, Krakdown, and Token Entry at the Right Track Inn out on Long Island. Our second show was our first show at CBGB, which featured Walter Schreifels pinch hitting on bass. In early '88 we wrote "Controlled" and "The Hard Way," and we played DJ Spermicide's awesome Crucial Chaos show on WNYU. While we continued playing the NYHC club circuit, we were also writing new songs.
Did you guys get hit up by a bunch of labels once the demo came out?
After the demo had been out for a little while, we received an offer from We Bite Records in Germany, which was really cool but from a logistics standpoint, I remember we were hoping for some interest from the labels on the scene. While we were waiting to see how the landscape would evolve, we made the cut of bands that were invited to participate in the awesome New Breed Tape Compilation put out by Freddy Alva and Chaka Malik (Burn). Around the same time New Breed was taking shape, [Blackout! Records owner] Bill Wilson had mentioned to us that he was thinking about starting his own label with his own NYHC comp as the first release. Eventually, we received the opportunity to be part of Blackout! Records first release, Where the Wild Things Are. We recorded "The Hard Way" and "Controlled" for the comp and when Bill began to map out future releases, he asked us if we wanted to do a record with Blackout.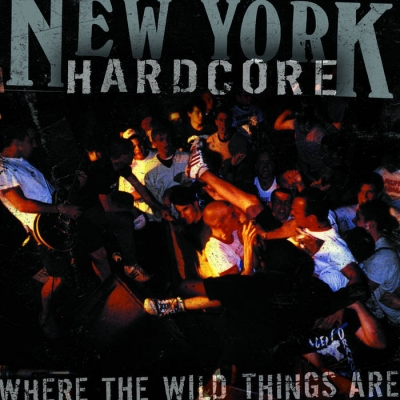 You recorded Miles to Go at Legend, a studio out on Long Island. Some great records have been tracked there. What brought you there?
As I recall it, Bill told us that Raw Deal had recorded their comp tracks there and he recommended Legend for our tracks on Where the Wild Things Are. I remember never having been as far out on Long Island as East Setauket, so we were pretty excited. We had a really good experience recording the comp tracks and Bob Van Der Mark was so easy to work with. It was his idea to do the reverb swoosh sound into "THAT'S ALL" on "The Hard Way," which worked out so well. When it came time to record Miles to Go, Bill offered up a return trip to Legend and we were all for it.
How prepared were you going into the session? Was Outburst the kind of band that practiced a ton?
When we started to gig frequently, like maybe once every month to six weeks, we would rehearse on the eve of the shows. Otherwise, we would hit the studio to write new songs. As far as the Miles to Go sessions, musically, I think we were as ready as could be. I do remember writing the lyrics for "Misunderstood" and "Miles to Go" a few days before we went to Legend.
If I remember correctly, I met the engineer Bob Van Der Mark a few years after Miles to Go was recorded at a metal show at this spot called Hammerhedz out on the Island. What was it like working with him?
Working with Bob was such a great experience. Like before with the comp sessions, he would make things really comfortable for us. The only other producer we'd worked with was Don Fury on the demo, and that also a terrific experience. So we really lucked out as far as producers. While we were sitting around between takes, I started fiddling around on the piano in the studio and Bob was like, "That's hysterical...we should track that!" It turned out to be "SGI" on the record. By the way, I completely ripped off the flute hook in Terence Trent D'Arby's "Wishing Well" for that [laughs]. Also, when we were tracking "When Things Go Wrong," we had a little timing issue to end the song so when we finally nailed it after several attempts, you can hear George joyfully screaming into his pickups at the very end!
One thing I'll always remember is when he was showing us around the studio, on one of the walls, he had an 8x10 glossy promo of a band that he said he had worked with not too long ago. He was like "Oh yeah they were really cool. Really good hard rock players…" That band was Extreme and within a few years, they were all over radio and MTV with "More Than Words." Then they ripped that legendary set at Wembley for the Freddie Mercury Tribute Concert. In the late '90s, Gary Cherone did a stint with Van Halen, which is only my favorite band of all time! Even though it was the red-headed stepchild era of VH for me, I still love that Bob Van Der Mark is my six degrees of Kevin Bacon to Van Halen [laughs].
When I interviewed George D'Errico a few years ago on the site, he told me getting Mike Welles into the band on bass made a huge difference and that he was psyched about recording with him for the 7". What did Mike bring to the band that might have been lacking before that?
Well, the first thing Mike did when he joined the band was add bass riffs to "The Hard Way" and "Thin Ice," which you can hear on the New Breed tracks. Musically, Mike was the perfect complement to the songs we already had and he was a big part of the songwriting process going forward. Listen to his opening of "When Things Go Wrong" or his bass licks in "Miles to Go." Mike wasn't just following along to the main riffs, it was more like he was enhancing the song, adding his flavor.
The Bj Papas photo on the cover of the 7" is iconic in the hardcore world. Can you talk about the vintage Def Jam shirt you're flexing in it?
That anyone would call it "iconic" is so hilarious to me [laughs]. Being that the cover is in black and white, what you can't see is that the Def Jam logo is in yellow on my black tee. It was one of my favorite t-shirts ever. I picked it up at Madison Square Garden when the Def Jam '87 Tour rolled through. Check out this lineup: KRS-One, Public Enemy, Eric B. & Rakim, Whodini, and LL Cool J!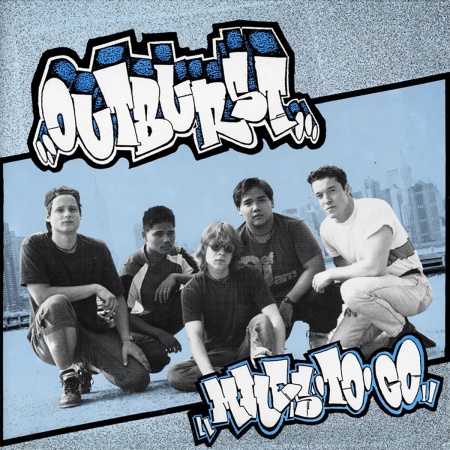 That was during my freshman year at St. John's University and I worked after school at this advertising agency in Manhattan and so many of us were into hip-hop there, so when that concert was announced, we knew we had to go. I wore my Run-DMC/Beastie Boys "Together Forever" t-shirt to that show and one of my co-workers, Treva Brandon-Scharf, was the ex girlfriend of Michael Ross, who turned out to be co-founder of Delicious Vinyl. I'm still friends with her to this day!
How long did the session take? Was the tracking done all in one day and then mixed on another session?
We recorded it in two sessions. As I remember, we left the first session with a tape of the instrumental tracks and I was so excited to listen to it with my Walkman. The second session was the very next weekend, where Brian laid down all the vocals and Bob did his thing with the mixing.
How many copies do you think have been sold of the record throughout the years?
Wow, that's hard to even take a guess. Maybe that might be a better question for Bill Wilson. When file-sharing on the internet blew up, I know that's how the record reached new, younger audiences. Then eventually, it's been available on streaming services. Regardless if it was bought, ripped, downloaded or streamed, we're all totally grateful for everybody that has taken the time to support the record.
Why didn't you guys follow up the 7" with either a proper album or another EP?
The 7" hadn't been out that long before we split up. We played a handful of gigs to support the record but at the time, we were all into other things personally too. School, work, relationships. Maybe if things had gone differently, I'd like to think we would have done that.
If you had to pick your favorite song from Miles to Go, which one would it be and why?
Man, that's a tough one. I'd probably go with "Misunderstood." It's got that great spoken intro from Bob and Brian and one of my favorite tempo breaks as an outro. But that's an unfair question, since I love them all!
***
Blackout! Records will be re-releasing Miles to Go as a special limited LP along with some collectible goodies that will be available by pre-order only. To sign up for alerts on the Outburst release, reissue of Killing Time's The Method, and Kill Your Idols' vinyl reissues, sign up for the Blackout! Records mailing list here.
Tagged: outburst