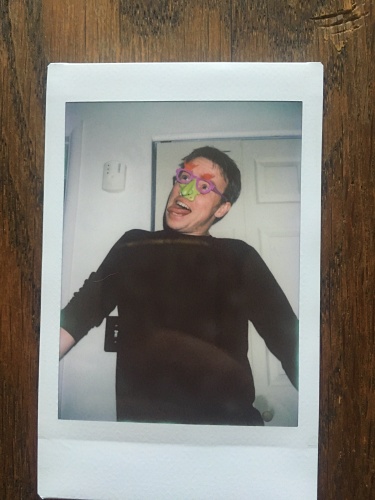 Brian Lopez is a Bay Area-based photographer who loves covering everything from travel to still life to commercial. All that said, he's landing today on No Echo for his live music-related work. Since Northern California has always had such a rich music scene, it's no surprise Brian's been able to hit tons of shows throughout the years. In this Photographer Spotlight, we meet the dude behind the lens and see some of his favorite shots from the punk and metal scene.
Where were you born and raised, and were your parents into the arts?
I was born in Modesto, CA, about 2 hours SE of San Francisco. At age 11 my family and I relocated to northern Idaho in a small town called Sandpoint. Sandpoint is about 5 hours NE of Seattle, WA. My parents weren't really into the arts as a whole so much, but I do come from a music connoisseur household. Loads of records, CDs and tapes around the house. Lots of music listening of different styles and eras. Lots of talk about what's happening musically current, and past. My parents go to more concerts in a month than I do sometimes.
What was your first musical love?
First music love was Weezer. The Blue Album came out when I was 12, and I remember hearing about it from the movie Angus. I payed attention to the soundtrack and found the bands through the end credits. Bought the cassette as soon as I could, and may be the album I have listened to from front to back the most. Its still pretty damn good. From there, it naturally evolved. When I was a teenager I would order from Lumberjack, and get the sampler CDs. That, and the internet is how I would learn about more music. Hatebreed Under the Knife is the first hardcore album I bought, and I still consider it one of my favorite releases ever.
What is your camera and post set up?
Fuji x-t10 , 18-55 Fujinon kit lens, Godox flash, and Lightroom for post.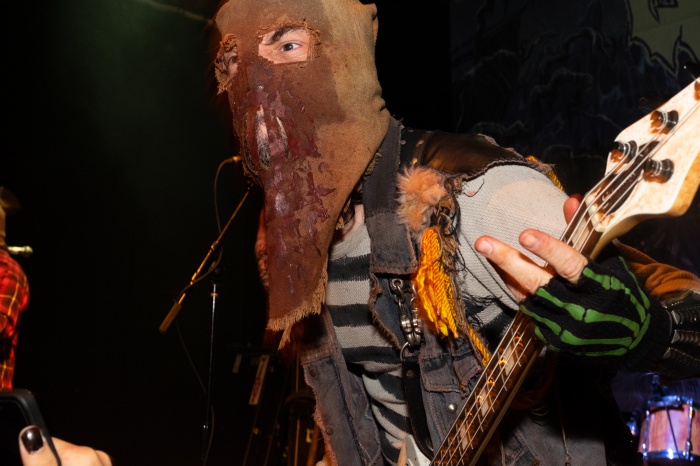 Who are some of your favorite bands to shoot?
Local band called Nopes. They just spazz the fuck out on stage and I love it. Just brimming with energy, and they are all super talented musicians too. They make taking good photos pretty easy. Touché Amoré, Ghoul, Iron lung, and Pharmakon are pretty sick. Any band with good stage presence and energy
If you could go back in time, who are some bands that you would have loved to shoot?
Assück, Ink & Dagger, Botch, Turmoil,Throbbing Gristle, xbxrx, the Birthday Party, the Mae-shi, the Locust (they are playing shows again now, so maybe I'll get my chance soon!) Some of these bands I saw, and some I haven't. But I'm sure all of them would be superb to photograph
Is it getting tougher to carve a space out at venues since there are so many people shooting these days? How do you feel about that?
I don't feel it's an issue really. Most the time, it's just me and maybe one other photographer at the show. Most people are using their iPhones and such, but I only ever see more than 2 photographers with dslrs at higher profile shows, like Ceremony, American Nightmare reunion, Jesus Piece, etc. But even then, most other photographers are cool, and we all kinda respect each others space.
Tell me about some newer bands that we should all be on the lookout for.
Mutilated Tongue, Fucked and Bound, No Right, Portrayal of Guilt, Nopes. Nopes, aren't super new or anything, but they are very underrated and I feel like not many have heard about them so Im gunna throw them in the pile.
Who are some modern-day photographers that you admire?
Becky DiGiglio is incredibly talented and always makes every show look so vibrant and ethereal. Jerry Guzman has been at this forever and has loads of old photos from the last 30 years. He was documenting all the bands I wish I could have seen.
If you had to pick one of your photos that best encapsulates why you love shooting bands/artists, which one would it be and why?
Full of Hell at the Oakland Metro. I love bands that just lose their minds on stage. My goal is to always incapsulate the energy and mood of a show. It's what makes it fun for me. So bands have to provide the energy, and then I document it. The crazier the better.
***
See more of Brian's photo work on his website and Instagram page.
Tagged: photographer spotlight