Growing up and living on the East Coast till the age of 31, I got to see many hardcore shows in New Jersey in the '90s. One of the staples of the scene there was Backlash. The band had a grip of releases throughout the decade, and also toured with Ignite and Earth Crisis during the decade. Although they have often been overlooked, Backlash definitely deserve a second look, and their Through Different Eyes discography is the perfect place to start.
Since leaving Backlash in the middle of the '90s, drummer Jon Sinko has kept busy in the excellent metallic hardcore band Unrestrained. In addition to his drum work, Jon has also spent building his career at adidas where he's a marketing executive, working with the brand's skateboarding initiatives, among other projects. A few years back, he also spearheaded Revelation Records' Past Present compilation, an album that celebrated the hallowed label's 150th release. Jon also teamed up with the label for a limited edition adidas x Revelation Records shoe to commemorate the album.
I recently met up with Jon for lunch while he was in Los Angeles on a business trip to talk NJHC, his Revelation projects, and everything he's been up to lately.
I know you grew up in New Jersey, but were you also born there?
Yeah, I was born in Passaic, NJ in 1975. I feel ok sharing that cause you've been interviewing dudes way older than me lately [laughs]. I lived in Elmwood Park, NJ until I was three or so then moved to Bergenfield (home of half of Mucky Pup and Keith Huckins of Rorshach, Deadguy, Kiss It Goodbye) and was there through college.
What was home life like when you were a kid, and was there music always playing around the house?
Life was good. I was an only child for the first eight years of my life before the first of my two younger brothers were born. It was a pretty normal suburban life. Music was around. My dad loved music. We had a sick Pioneer stereo with a turntable in our living room and he had Queen and Pink Floyd on cassette and then Jesus Chris Superstar and a bunch of do-wop records on vinyl. My mom liked Abba and shit like that. Funny how I can probably still sing along to a few jams all these years later just from listening in the car rides with her.
What was the some of the first music you got into as a kid?
When MTV started, I was hooked immediately and by age 10 was buying Iron Maiden, Mötley Crüe, Anthrax, Def Leppard, and Metallica records in downtown Bergenfield at a place called The Record Mill. Then in 5th grade, I switched schools and rode the bus to and from school. I sat next to this dude and we'd swap Walkmans and one day he was like, "Your music sucks. Check this out." It was "Moby Dick" from Led Zeppelin II, and that was it. Game over. "I wanna play drums right now." He also got me into The Doors and Rush and Sabbath. I never stopped liking metal but I could appreciate classic bands like that for what they were.
SEE ALSO: Best Song on Every Sick of it All Album
Was your progression into hardcore started through heavy metal, or did you get into it through some other musical avenue?
I was playing in a band in 8th grade with some freshman who heard I was an ok drummer through the neighborhood, I guess. Because I didn't go to the public school in my town, I only knew dudes from little league/baseball. So it was pretty rad when the guys showed up at my parents house and basically cold called me in person about jamming. Anyway, we played "Iron Man," "Welcome to the Jungle," and "Stairway to Heaven" at my 8th grade talent show. My freshman year in public high school I met two brothers from Jersey City and they introduced me to all sorts of shit: GBH, Misfits, Danzig, Sex Pistols, PIL, etc. But then there was this one mixed tape. I think I still have it. It had bands like Uppercut, Outburst, Gorilla Biscuits, Sick of it All, Haywire, Half Off, and more. I was like, "Holy shit! This is the real deal." And here I was again, hooked.
Thinking back to the first year you got into hardcore, what was the record or band that really had a massive impact on you and why?
1989. That mixed tape of 7"'s and comp tracks. I don't know what it was. Raw. Gritty. Angry. I didn't know anything about the politics or lyrical content. I'd never seen a 7" or understood what hardcore or straight edge was even about. But it didn't take long. My freshman battle of the bands we played Misfits' "Skulls," "Creeping Death" by Metallica, and since it was Bergenfield High School, a Mucky Pup song. I also went to my first show: Suicidal Tendencies and 24-7 Spyz in Nyack, NY. I was 14. I learned later that Chris Weinblad (Trip Machine Labs/Atlas Shrugged) was also there. Who knew he would end up putting out records for both Backlash and Unrestrained years later?
When did you start playing drums, and if you had to pick one guy you stole the most licks from, who would that be?
I started playing drums at age 10. I think I hear Pokey from Leeway most often in songs I've recorded over the years. I was definitely a big fan of the band and his style. Going back and playing Born to Expire or Desperate Measures songs now, I'm like, "Huh...this sounds like what I do on this song or that song." And Ken Flavell from Turning Point. Same thing.
Backlash formed in 1991, but what's the story behind the beginning of the group?
Pete (the singer) and Scott (the guitarist) were buddies and wanted to start a band. This was in 1990. They had an ad in the Musicians Wanted section of the [free music and art weekly publication] Aquarian and I responded. So we are on the phone talking and running down bands: Breakdown? Cool. Agnostic Front? Cool. Killing Time? Cool. So you got long hair? Fuck. "Kinda," I said. And it was like, "OK, we'll get back to you." And they never did. Six months or so later, I saw the ad again and had cut my hair and called again and literally just said, "Yo, I cut my hair," and we ended up meeting that day at Boulevard Studios in New Milford and wrote four songs with the newly acquired bassist, Mike. It was pretty funny then and still now.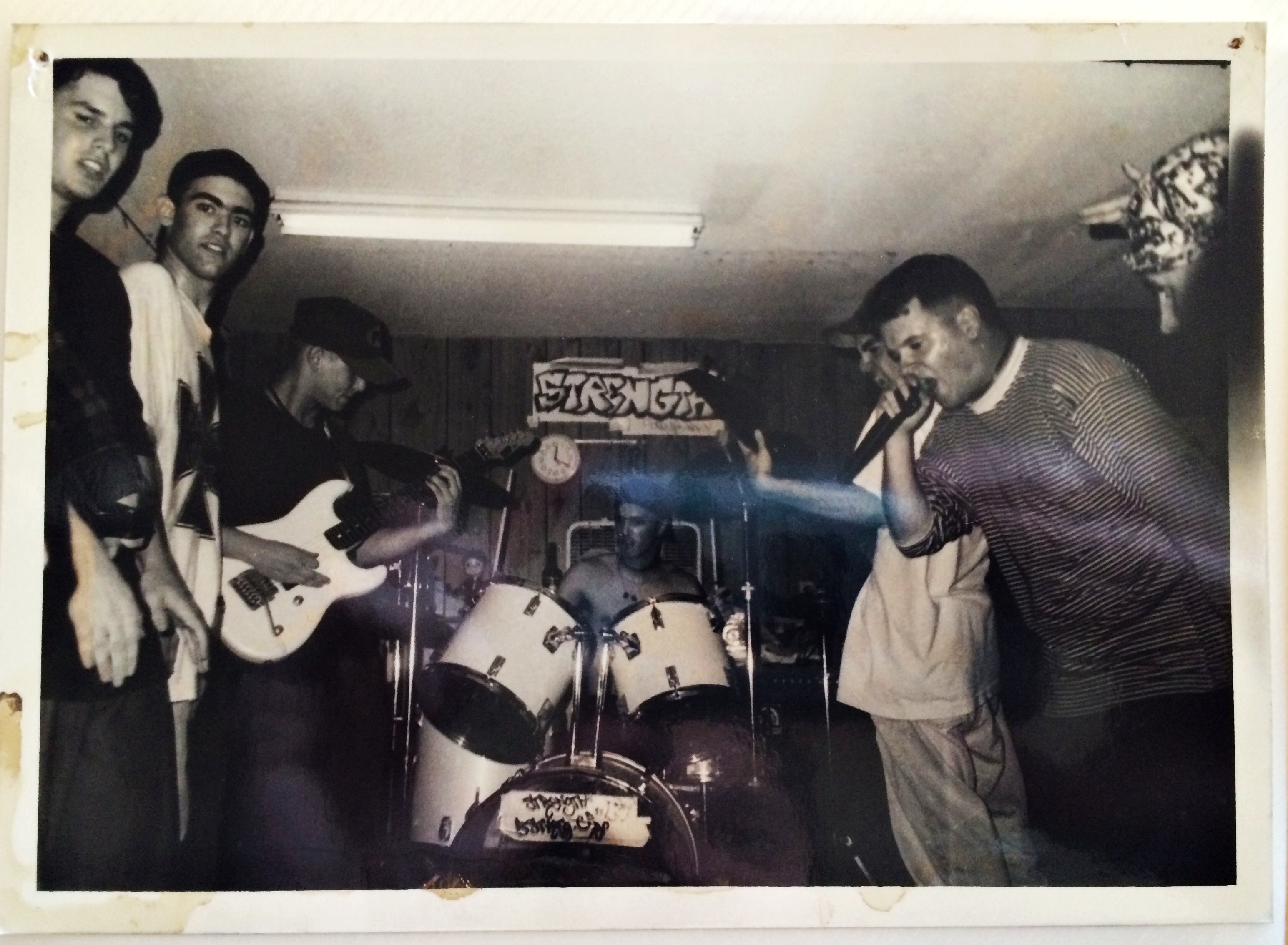 What were some of the first Backlash shows like? The early '90s in the NJ/NY/PA area was definitely an interesting time.
North Jersey was different. It wasn't the thriving part of the NJHC scene. Keith [Huckins] built his own with Charles [Maggio] and Rorshach. They were different. We had to work really hard, I think. We played great shows with great bands but pretty much mostly in Newark at places like Studio 1 and The Pipeline. Our second show was with Murphy's Law and Mucky Pup. We played with Biohazard and Merauder. Killing Time. Shelter. Life of Agony. Cro-Mags and Leeway. Great shows and we drew well so we would be the last local band before the headliners so we had some good attendance. Studio 1 held like 800, maybe? We did play Wetlands and Bond Street Cafe in the City a few times, but we never played Middlesex and didn't play CB's until 2006, just before they shut down. We played some great shows in Pennsylvania: Lancaster with 108, Grade and Brother's Keeper in Wilkes-Barre, Vision in Philly. We met the dudes from Chokehold in Connecticut for the first time and played with them a few times over the years and then Unrestrained a few years ago in AZ. I hadn't seen those turkeys since the mid-'90s. It was a fun reunion. We talked about adult stuff like cholesterol and blood pressure [laughs]. Oh, we also talked about the good old days of the '90s, and [Conquer the World Records owner] Mike Warden.
What's the story behind the The Lost New Start Record 7"?
So we had a demo and that demo made it to Rob at New Start Records out of North Carolina and he asked us if we wanted to do a 7". We said yes. Contract and all. My dad peeped it and said it was alright. So we went in and recorded at Trax East with Eric Rachel producing and Steve Evetts helping with set up. Four songs. 24 tracks. 2" tape. Reel to reel. And long story short, we only got like 20 copies on tour with shitty photocopied covers, no lyric sheets with the ever-critical "thank you" list, and the shirts we did get were printed in the wrong order so it was basically a giant yellow blob with some weird black shape behind it. Why he even bothered to send what he did was a mystery. And that was it. Nothing ever happened. He did some mixed ads with Line Drive and a few other bands he had at the time, but our record was never finished.
Many years later, I guess, he found a box in his closet and sent them to us, so we basically made it our own at that point. We played a fest in North Carolina with Naked Angels on the bill (Rob's band) and people thought we were going to beat him up, so I'm not sure they ever played. I don't think we would have done that but when you're young and dumb and feeling screwed over, maybe we said something in an interview or something.
Another label Backlash worked with was Conquer the World Records. Now, that was/is (?) a label owned by Mike Warden, a controversial figure within the hardcore scene. What was your experience working with him like?

We met Mike on some shows we did with Chokehold and Empathy. He liked us but not enough to put our second 7" out on his own, so in the end the first pressing of Once Ago was a 4-way split release with CTW, 1124 (who ended up releasing our double-LP discography), Chapter Records, and our friend Dav Cav (Ressurection). Future pressings were all on 1124. Then later on when MySpace was still cranking, Mike did some digital discog for us just before the CB's reunion show and helped manage our page for a few months. That's about it. We never had much to deal with and he was fine to us.
The first Backlash album, Inside, was released in 1994 on Break Even Point Records, an Italian label. Why did you decide to go with a European label?
They asked us and paid for most of the recording, if I remember right. I gave Mike Hartsfield [New Age Records], Tony Brummel [Victory Records], Steve Reddy [Equal Vision], and Jordan Cooper [Revelation Records] millions of chances to sign us [laughs]. They (BEP) had good bands: Groundwork, Down by Law, Endpoint, etc. They spent money promoting bands in Maximum Rocknroll and had Cargo Distro in the US, so it seemed like a good deal. Cool story: When I went to Italy years later, I went into a small hardcore record store in Rome and ended up meeting the guy who shipped our 12"s to my parents house in NJ. He even remembered my name.
The great Steve Evetts (Dillinger Escape Plan, Prong) engineered that record. What memories stand out from those sessions?
Yeah, we got lucky with Steve cause Eric didn't have time for us after the first 7", so we got stuck with the other guy [laughs]. So, Steve officially produced the Once Ago 7" and Inside 12", which combined became the No Reason Why Not CD. By the way, every once in a while I get a random text or email from [Trustkill/Bullet Tooth owner] Josh Grabelle using "no reason why not" in a sentence…true story. Anyway, Steve was awesome.
Our sessions were nothing but fun but still such a learning experience. If you remember at the beginning of the Lifetime song "Bobby Truck Tricks" off Hello Bastards, that's Steve punching in "Rolling." I will never forget that voice and what it feels like to stick-click into all of those songs we did with him. I just had breakfast with him in January a day or two after [Vision singer] Dave Frankin passed away. I was in Long Beach for work when I heard and was crushed by the news and reaching out to NJ people and thought of Steve cause he was nearby LB. We were able to connect and talk through the horror of what had just happened. That was the first time we hung out in over 20 years. Back to memories of Steve, he smoked a lot in the control room. I do remember that. And he wore a lot of sleeveless shirts. Trax East was epic. So many amazing bands had already come through (Vision, Lifetime, Shades Apart, Skid Row, M.O.D.) and even more would go through there in the years following (Deadguy, Hatebreed, Turmoil, Dillinger Escape Plan, Ensign, Snapcase, Floorpunch). I'm very glad we had that chance to record not only with Steve but at Trax as well. It's New Jersey's Don Fury, in a way.
Did you do any touring once that album was out?
The only real tour we ever did, more than just a few long weekends, was in 1995 with Ignite, Downer, and Earth Crisis. It was so much fun. This was the tour we met [Indecision Records founder] Dave Mandel. He was doing merch for Ignite. Ignite played New Jersey like 300 times in 1994 and early 1995, so we'd already known and played with those dudes and they basically asked us to come out. More than half the shows I think we just hopped on. The only one we didn't do was Safari Club in DC which would have been rad to play there. But yeah, I got to know Dave a lot more after being out all night in North Carolina cause I wasn't of age yet and both of us were straight edge but no one else was. So those dudes all partied in and out of bars all night and we didn't roll into a hotel until 7:30 in the morning after having to almost fight [Ignite guitarist] Joe Foster cause he was trying to bring some homeless guy he'd befriended into the van. A few decades later, we're all still friendly with those OC punkers. I keep in regular contact with Brett, Casey, and Joe. I love those guys for life.
So, at some point, you moved out of Jersey and settled down in the Portland area. Were you still in Backlash when that happened, and was it tough to transition to a new part of the country?
I graduated from college and moved west cause my girlfriend at the time was a West Coast native and we wanted to be closer to her family. It was a hard transition cause I had no plan and no money. I didn't ever learn how to be on my own. I lived in my parents house all four years of college cause the band and all our gear was in my parents' basement. So it was hard to try and make enough money to support ourselves. We were definitely scraping by and with no help from the East Coast, but Oregon was beautiful and I was out of Backlash at that time. I left the band in late 1996, I think, and then moved out west in 1997. Now that I look back, I'm grateful for the chance to have almost come from nothing. I had support but really the two of us made it with a lot of effort and learning and having to be smart about money and stuff. I will never forget that.
Tell me about your work at adidas.
I've been with adidas for 18 years. The US HQ is in Portland. Right now, I lead the global product marketing team for action sports- skateboarding and snowboarding. We mostly work with the design and development teams as the business side of the creative process, so we touch every shoe, hoodie, jacket, boot, hat, etc., that comes out of adidas as it relates to skate and snow culture. It's truly been a humbling experience to work alongside the best team in the industry and for one of the most important brands in the world. My early days of skateboarding included going to skate demos in New Jersey and New York and seeing Mark Gonzales try and skate a VW Bug and Mike Vallely and Jason Lee and Chris Pastras all tear up a street course together. And this past February, we spent some time in NYC with Mark and the crew working on a project. I can't explain how crazy that is, you know, to be co-workers with that dude after seeing him for the first time in person back in 1988.
You were the driving force behind Past Present: Breaking Out the Classics, a 2010 Revelation Records compilation where bands covered songs from the label's catalog. How did that project coming together?
Yeah, I'm super proud of that. I had been in contact with Jordan Cooper for years from sending the Backlash demo in 1992 and RevHQ carrying our records, etc. Take a quick step back, when I moved to Oregon, I put an ad in the weekly music/art zine looking for interest in doing a youth crew cover band. Now the difference since 1990 when I responded to the Backlash ad was that there was email. So I got a few emails, surprisingly, that spouted off about how hardcore was dead, youth crew was played, etc.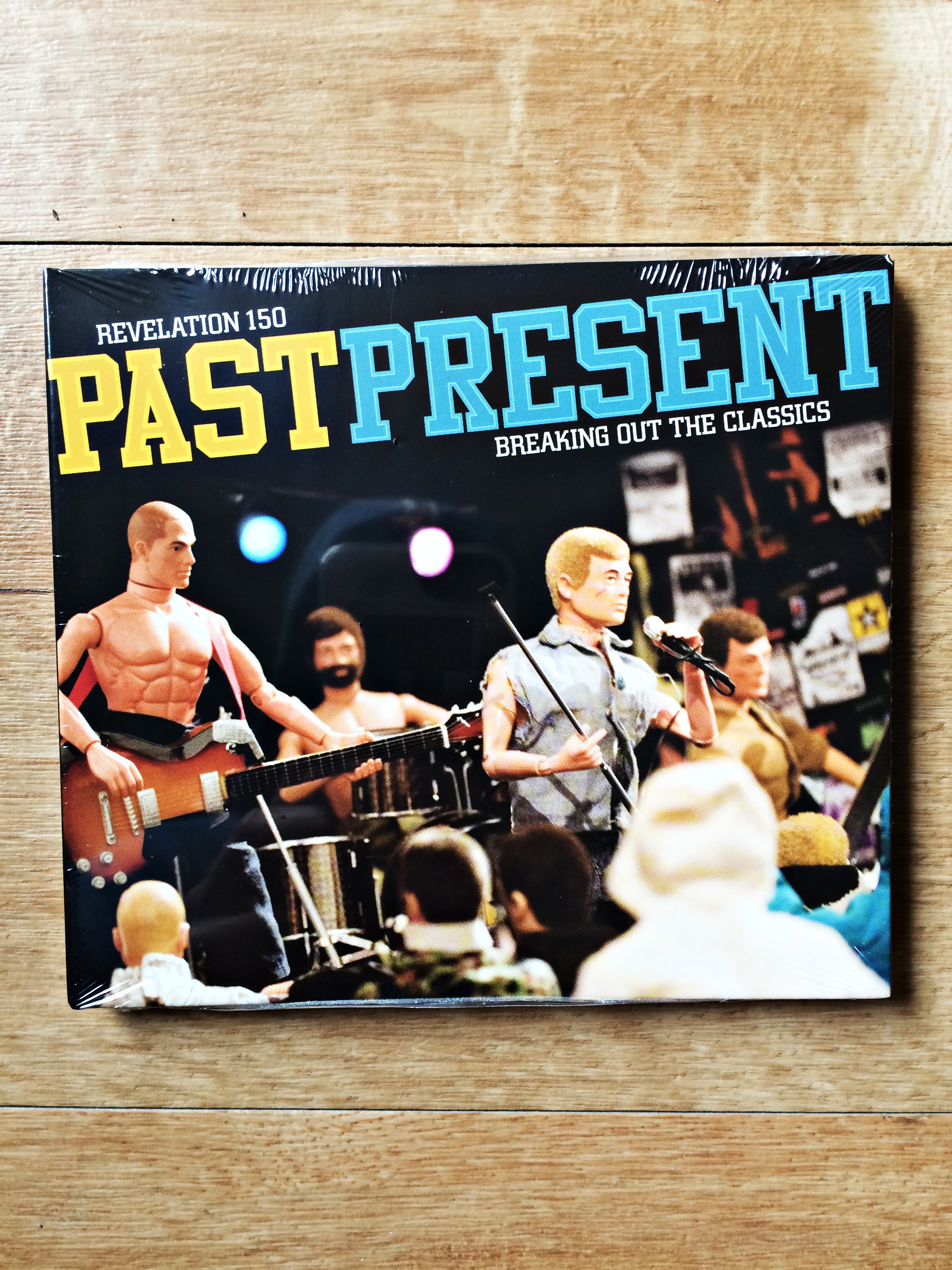 I was kinda pissed, so I came up with a pitch for Jordan and Revelation which ended up being the comp: Have present day bands pay tribute not just to the bands that were on Rev, but also to Rev as an institution in itself. Of course there are plenty of bands who individually can and will stand the test of time, but Revelation was the red thread, so to speak, behind decades of influential and life-changing music and purpose. At least to me.
I found through the two years it took to the compilation that the label meant that to a lot of others as well. So that process took a while, but Jordan agreed that if I lead the project to get all the songs ready, he would put it out. My only ask was that Backlash get a song on there too, so we recorded Bold's "Wise Up" the same weekend we finally played CB's. Past Present celebrated 20 years of history and kicked off what has been a 10-year celebration. Thanks to [Chris] Lisk and crew on the 25 and 30 year anniversary shows. I only have love and respect for the whole Rev family.
Another Revelation Records project you helped put together was a limited edition shoe collab with adidas.
As part of the comp, Jordan asked if we could do a limited edition vegan-friendly adidas Campus shoe to commemorate the 150th release. So fortunately there were a few other characters in the office who also cared enough about hardcore to make it happen. Nothing ever happens with just one person. We had a Powerpoint deck with the story of how adidas and hardcore were synonymous with pics of Matt Bold, Raybeez, the Sick of it All dudes, and more, just in case we needed to defend what we were up to. In the end we made 150 pair to align with the 150th release, all going to bands on the comp, Rev staff, and their inner circles. None were sold to the public until they hit eBay. I don't think anyone expected it to make the noise that it did.
You're currently holding down the drums in Unrestrained. How did you meet the other guys in the band, and how long have you been playing together?
I was introduced to [vocalist] Justin [Sitner] through Chris of Trip Machine since they traded records for distro over the years. When the previous Unrestrained drummer left to go back east, Chris suggested me. I didn't know the band but I liked it right away. It was different than what I had played. It was heavy as fuck and I was ready to get at it again. I had my acoustic kit packed away so the first few "tryouts" I played my Roland electronic set through a bass cab. It was super lame but I guess it was alright. At some point they asked me if I wanted to be in the band. That was eight years ago, I think.
What can we expect from Unstrained in the near future? The recent 7" Indecision Records dropped from you guys was definitely a ripper!
Thanks, dude! We're all very proud of how that record turned out and stoked that [Dave] Mandel wanted to put it out. I think I speak for all of us that the band is fun and we want to keep making records and playing shows as much as we can. Our real lives are also full with families and mortgages and jobs so we'll do our best and see what happens next. We have a few songs written that I think are a good extension of the 7" and are kicking around the idea of doing a split with some friends you may know. We'll see how the next few months go and if we can get into the studio again.
I like to close out these interviews with a tough question. So, if you had to pick one, who would you say is the best hardcore band to ever come out of Jersey, and why?
That's the hardest interview question ever. I'm going to go with Turning Point. They just never wrote a bad song, in my opinion. The 12" is one of my favorites to listen to and practice to (see my response earlier about drumming influences). The split with No Escape (also another amazing NJ band) is so insanely good, too. Those two songs could loop indefinitely and I don't think I would get sick of them. The No Escape jams too. Close second would be Vision. Love you, Franklin. I know you're out there.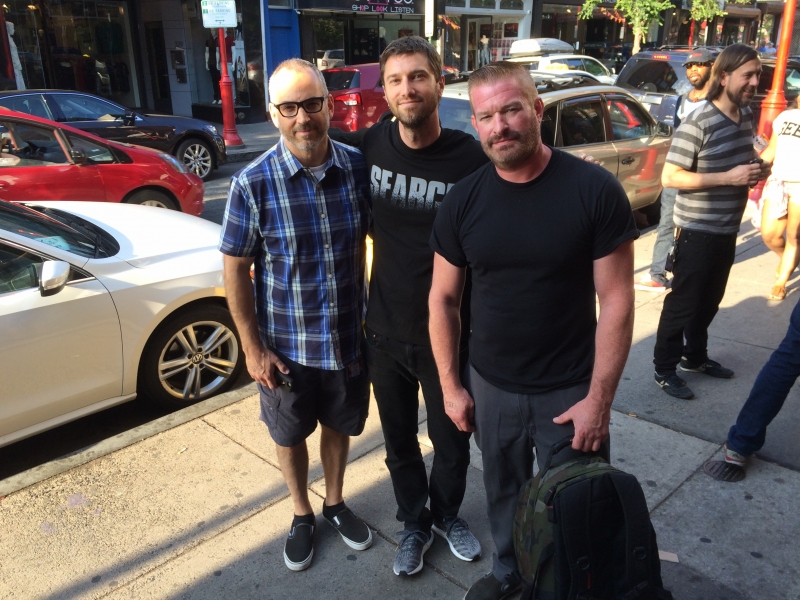 ***
Give the Unrestrained Facebook page a like to keep up with the band's upcoming shows and releases.
Tagged: jon sinko, unrestrained