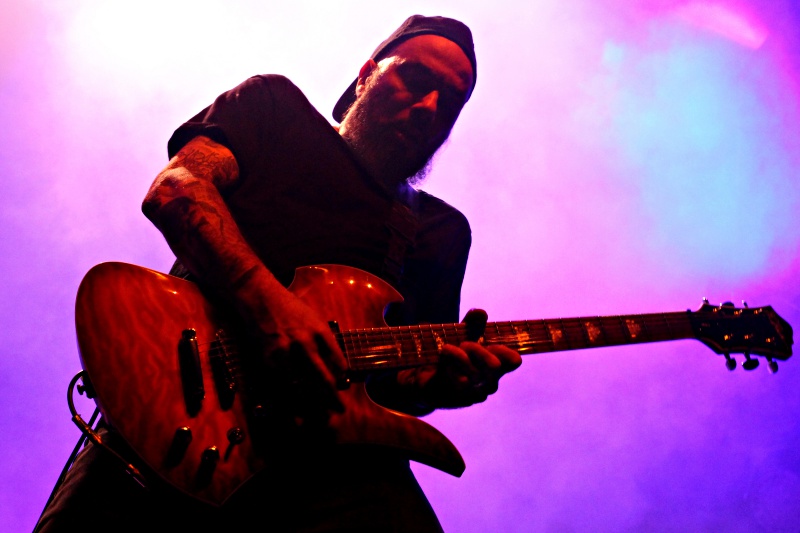 If you've already read my recent review of Integrity's Howling, For the Nightmare Shall Consume album, then know how much I've been obsessing over the thing. A huge part of my deep admiration for the album is thanks to Dom Romeo's exquisite lead guitar work. Before joining the band, Dom held down axe duties in such bands as Pulling Teeth and Ilsa, and he's also the owner of A389 Recordings, a label that has released material by such heavy-hitting acts as Eyehategod, Ringworm, and Noisem.
Dom is longtime friend of Integrity mastermind Dwid Hellion, and even released records from the band in the past. Now that he's Integrity's solo guitarist, the Canadian has become Dwid's right-hand man both during the writing process and studio sessions for the Howling album. Dom proves to be the ideal wizard-at-arms for his singer/lyricist, creating a sonic netherworld through an unlikely combination of '80s-styled shred, bleak yet melodic nuances, and hard rock guitar hero flashiness. Whatever he's doing, it's working.
It was a pleasure catching up with Dom to talk all things guitar (and Integrity).
Listening to your work on this new Integrity album, I hear so many nuances that remind me of classic heavy metal and hard rock. Whether it's a lick, or a phrasing type of thing, there are moments where I am brought back to the stuff I grew up on in the '80s.
I totally agree with you on the point of reference. Growing up in the '80s offered so much incredible and diverse music, coupled with the strange fear and obsession with the occult…it was just magical. It's a time and place that I hold near to my heart that is very much present on the new Integrity album.
Let's get specific for a moment. Who are some of the players that have influenced you the most over the years, especially in the lead/solo department?
I think the trifecta of Ozzy's solo guitarists [Randy Rhoads, Jake E. Lee, and Zakk Wylde) ultimately shaped the way I looked at lead guitar as a kid, and their influence shines through in my playing to this day. Another guitarist I've always admired is Ernie C from Body Count. I just love the way he plays leads that sound so sad, yet hopeful. I can always tell it's him playing on a record. Mick Mars from Mötley Crüe didn't show off and always put down what the song needed whether it was shredding or some smooth slide work. On the opposite end of the spectrum, Vinnie Vincent just annihilated everything with the rudest most oppressive style ever.
Of course, later on, the combination of Aaron Melnick and Frank Novenic of Integrity changed the game for me. Uli Roth [Scorpions], Randy Uchida [G.I.S.M.], John Christ [Danzig], Kirk Hammett…I have so many, man. I can seriously talk about this all day. I've spent my entire life obsessing over and absorbing so many different styles of music to the point where it's a mental mosaic. Tons of tiny little pieces of so many things have managed to stay with me through the years and become a part of whatever I create.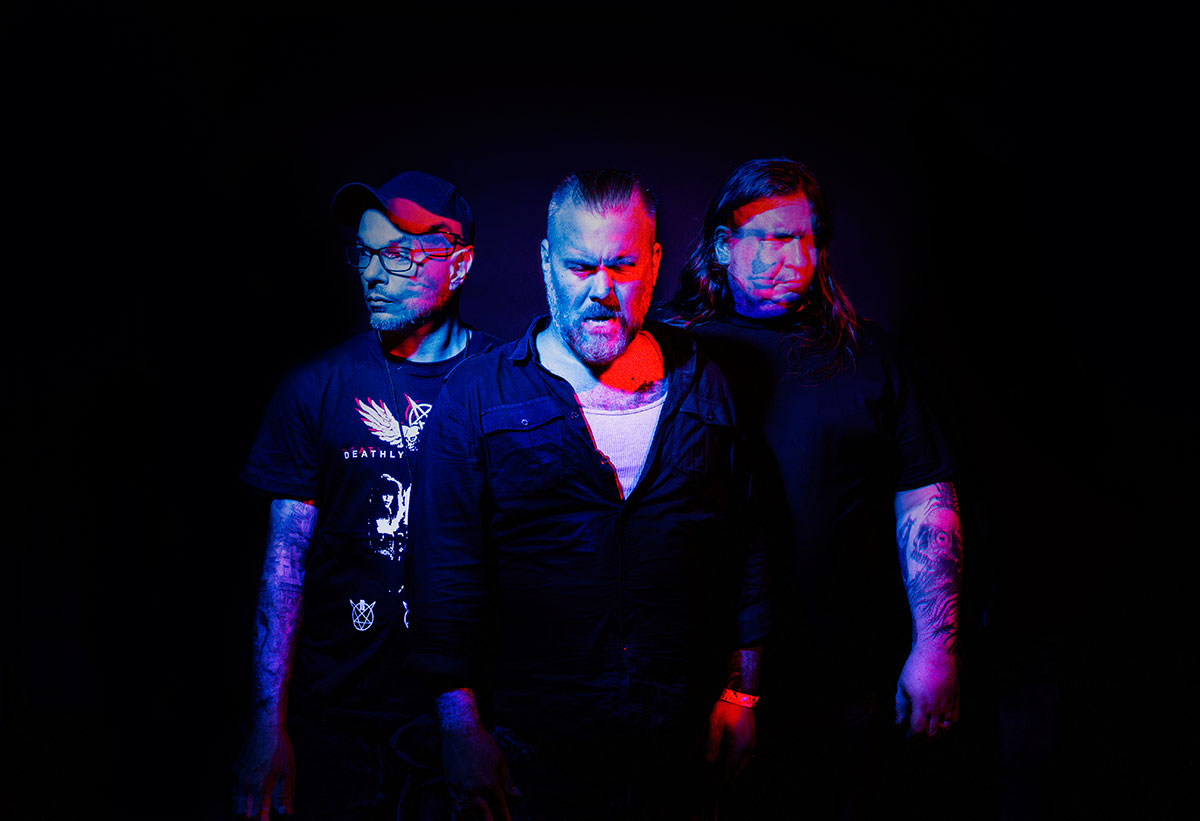 Going back through the band's discography, one of Integrity's most recognizable signatures has been the wild guitar soloing peppered throughout the songs. While that's certainly still there, I find that your approach is more measured. Is that something that you went into this material with in mind, or did you improvise a lot in the studio?
It wasn't intentionally measured but it's definitely the way I operate. I'm super ADD/OCD and everything needs to have a place…and sometimes I will force twenty different things into that place. After the basic tracks were completed, I'd lock myself in my home studio at night, and just play over one song repeatedly for hours and hours and devise a theme and leave blank spaces. From there, I would take the mp3s and listen to them while driving and imagine what would go in those blanks before going back to the lab to reconfigure everything. There are also a few little licks on the album (mostly on the title track) that I've been hoarding for years and never had the opportunity to work into a song until now. All in all, it was really time consuming but I think the end result was worth it.
What kind of rig/guitars did you use on this new album? Did you experiment with sounds, or did you have things pretty dialed in ahead of the sessions?
My standard rig is a BC Rich Mockingbird with Lace Drop and Gain Pickups, plus Ernie Ball Light Top/Heavy Bottoms running through a MXR 5150 pedal into an old Ampeg V4 tube head. I've always loved the 5150 tone, but would feel under-powered whenever I plug into a head. This setup offers the best of both worlds. In the studio I wanted that to be my base-tone but at the same time offer a lot of tonal shading. Some of my favorite sounding records I brought up were Integrity's Seasons in the Size of Days, Obituary's The End Complete, and Celtic Frost's Morbid Tales. From there, Kevin Bernsten (Developing Nations) was able to offer a ton of different amp combinations to make it all happen. We did a lot of tracking. Each song had a minimum of three pairs of rhythm guitar panned left/cente/right. He did an amazing job giving this album its sonic voice, and Brad Boatright (Audiosiege) sealed the deal with mastering.
How does Dwid inform what you do with your guitar tracks in the studio? Does he convey specific moods he's looking for when you're tracking solos, or does he just give you the room to do your own interpretation of things?
After demoing the first batch of three songs, Dwid and I spent a lot of time discussing the mood and where we wanted this album to go. It was loosely based around the theme of a séance, more specifically spirits travelling through time and space. We agreed that much like Led Zeppelin, Black Sabbath, or even the Beatles, that it would be really cool to approach this as a set of songs that all sound different from each other stylistically, but are obviously done by the same band. It's an approach I see us continuing to explore in the future as it leaves the door open to doing whatever we want. It was a pretty simple process considering the album was recorded between two continents. The songs existed in various demo forms until we decided on how the final versions should play out. Once we agreed on the arrangement, [drummer] Joshy [Brettell] and I recorded the basic tracks and sent them to Dwid to lay down vocals. Considering past Integrity LPs were 20-30 mins in length, he definitely had a full plate figuring out what to do with a double album's worth of material.
Ultimately, Dwid delivered with some of the best vocal performances I've ever heard come out of him. While he was doing vocals I started working on solos and then by the time he was finished I was able to tailor what I had written around his vocals or have him change his vocals to work around the leads. It's pretty painless overall, even though we butt heads just like anyone else. We just rolled with it and kept our eyes on the prize which was making the most interesting record possible.
Who are some other guitar players everyone should be checking out right now?
There are so many underrated guys out there. I always listen for personality and what's best for the song versus who's the craziest, although I can't deny solid shredding. Matt Sorg from Ringworm comes to mind as one of my favorite and most underrated guitarists. Dude just rips and has written some of my favorite Ringworm material. When Noisem had Sebastian Phillips and Travis Stone playing back to back, they were untouchable. Sebastian is still doing Noisem, however Travis split and is now in Lody Kong. Both dudes are fantastic young players. Spencer Hazard from Full of Hell crams interesting riffs into some of the most anti-social grindcore imaginable. I recently saw Deicide live and the guys they currently have playing [Kevin Quirion and Mark English] blew me away. I wish I could sweep like those guys. Guitar talk man…see it's happening again, so I'm gonna stop here [laughs]. But I must go out mentioning the legendary Matt Shack of Black Marsh. He's been laying low for a while, but I'm hoping sooner than later the Shack will be….back!
***
Integrity's Howling, For the Nightmare Shall Consume will arrive in stores on July 14 and can be pre-ordered here.