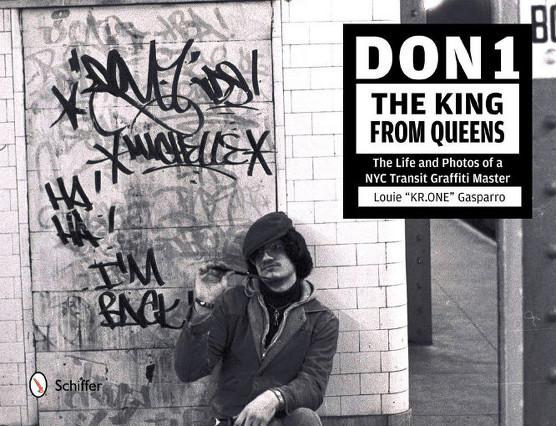 Anyone who rode the subways in New York City during the '70s remembers how different the train cars looked back then. Graffiti bombers from the city's five boroughs turned the trains into moving canvases, writing their "tags" with either spray paint or markers. The general public loathed it, but that didn't stop a legion of would-be artists throughout the city from being inspired by the graffiti movement.
The new book, DON1, the King from Queens: The Life and Photos of a NYC Transit Graffitti Writer, takes a look at the life of Joe "DON1" Palattella, one of the early graffiti movement's most influential artists. Written by Louie "KR.ONE" Gasparro, himself a graffiti artist, the book features nearly 200 never before seen photos from the most undocumented NYC train lines from the era. But the most compelling aspect of the book is Palattella himself. Growing up in Queens, just a few miles from both Palattella and Gasparro, I loved learning about what it was like coming of age during graffiti's early days.
Besides his work in art and graphic design, Gasparro is also an accomplished musician, playing drums in bands such as Blitzspeer, Murphy's Law and Lordz of Brooklyn, through the years. I recently chatted with Gasparro about his new book and music career.
First off, can you give us a bit of your background in the graffiti world?
My tag is KR.ONE , I started writing in 1977. Tagging and trying to do pieces in the schoolyards and walls in my neighborhood of Astoria, Queens. I wrote on trains till Winter 1983. I was part of TSS (The Super Squad), RTW (Rolling Thunder Writers), and NWA (New Wave Artists), among other crews.
I'm old enough to remember being on the 7 and RR trains, and getting marker stains on my clothes after leaning in a subway car with fresh scribbles on it. Do you miss that era?
I miss the fun aspect and the sport aspect of that time. When I see certain photos or travel through certain parts of the city or I'll hear a certain song, yes, I get nostalgic and remember a lot of good times.
Were you already aware of DON 1 back when he was still bombing?.
I saw his pieces on RR when I was a kid. That's when I really started to understand what I was looking at. Some of his whole cars that he did in '76 - '77 went untouched till like 1982, so I really got to see them with more of a mature eye. That's what I was absorbing on our home BMT lines.
What was it about his style that first intrigued you?
He had it all. He had a crazy rippin' tag style with mini's and uni's, and his burners had an advanced look to them. Seeing it so young and not knowing who he was, but learning that he was from the same area as me was the intrigue. He was quite enigmatic.
When you decided to try and track him down, did you already have the idea of the book in mind?
I did, but I approached him with the idea of interviews for graffiti websites. He mentioned the book idea. He basically asked me what I was going to ask him eventually.
When you finally found his contact info, was he reluctant to meet up with you? How did the relationship progress after you met in person?
Yes he was. I had to have a phone relationship with him for about a year and a half before he agreed to meet me in person. After our first meeting we became friends and I would meet up with him as much as I could and started the process of interviewing and going through his photos and piece books.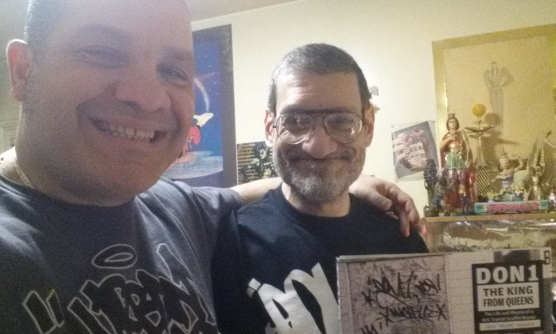 Why was it important to you to dedicate an entire book to him?
He had a great impact on my formative years and that impact stayed with me. I had no idea how extensive his photo collection was and how great the photos themselves were. He was a photo major at Art and Design High School, so it was a combination of his photos and whole tragic life that was riveting. It had to be all about him. His life, his story, his work, his contemporaries and their views on him as well.
Let's talk a bit about your music background. You're from Astoria, a hotbed for hardcore in the '80s. What was it like for you back then in that scene?
I started playing drums in '82 and wound up in Blitzspeer in like '87. Coming from a more progressive metal background, the Blitzspeer material came a bit easier to me and we wound up headlining spots like the Limelight and the Cat Club pretty soon after I joined. Actually, the drummer before me in the band, Mackie Jayson a.k.a. HYPER RTW, from the Cro-Mags, was also a graffiti writer. NYC had a great scene back then. I was 24 and playing to a lot of people and having a great time.
I remember seeing Blitzspeer play at the Ritz in Manhattan. What happened to that band? You had a major label deal, and there seemed to be a lot of buzz around you guys.
Yeah, we played at the (real) Ritz on 11th street with Manowar and then the (new) Ritz, which was actually Studio 54, with the Ramones. I got to play three sold out dates in '96 for the Ramones in Brazil with a band called Psycho 69 which gad a great album that came out only in Brazil. Supla, a Brazilian rock star, was the frontman for that band. Blitzspeer got signed to Epic Records, but at the time the Epic's roster consisted of Iron Maiden and many other big bands. We were the low men on the totem pole and didn't get the full power of that label. I was out after the first album, which is referred to as the classic one. It was recorded live at the Limelight in the summer of 1990.
You've also played in bands like Murphy's Law and Lordz of Brooklyn in the last couple of decades. Was it tough juggling work and family life with touring? Or did you do it full-time?
I had a great time going to Europe with Murphy's Law in '98. We played all over Europe. We did something like 50 shows in 55 days, or something crazy like that. It was great. I never did a record with them, but the material we were working on came out on The Party's Over album (2001). Lordz of Brooklyn was fun as well. We played a bunch of big shows at Roseland with Cypress Hill and I wrote music (on guitar) with them and played on the Graffiti Roc album. We had a lot in common in the fact that the two brothers in that band (Mr. Kaves and ADM) were both graff writers. We hit it off right away. I'm still friends with those cats and periodically have done gigs with them in the past couple of years.
After LOB I had a metal band called Supervillain in which I was writing the majority of the material (on guitar). We put out two really great independent CDs and did a lot of really great shows, but it was'nt going any further than a local level. That was the best material I had ever come up with. After SV split, I did one CD with a doomy rock metal band called The Resurrection Sorrow and did some East Coast US touring with them. It definitely was difficult having a family and working and doing art to just be able to get up and go and not really make any money. It's actually really hard and takes an enormous amount of energy to keep up that level of intensity.
What are you up to musically these days?
I have a cover band that I do for fun called Servants of the Crown - Keepers of the Sign. I've assembled a crew of really great players and friends for a non-competeing, fun band that plays classic rock and metal. I enjoy the no pressure vibe. We have some shows coming up. It sounds great.
Any other projects you'd like to plug?
I have a great event in May surrounding the book at the Museum of the City of New York on 5th Ave in Manhattan. It's a book launch and panel discussion with a slideshow. It's going to be great.
In June, I will be having a two-day solo art show in Long Island City at a two story place called the 10 TEN Gallery, which will also include an art auction as well. Please stayed tuned for further Kolorstorm happenings. Check out my website, Twitter and Facebook for updates.
Thanks for the word space. Cheers, Peace and Paint.