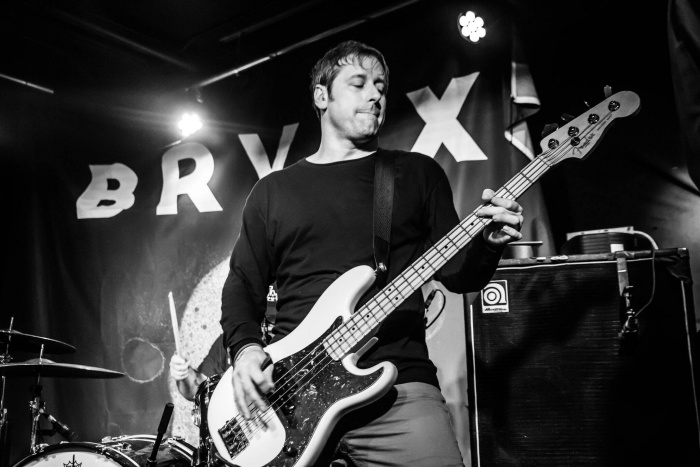 Hey everybody! In this feature series, I wanted to reach out to some of my favorite bassists and talk about their career, musical influences, and equipment choices. My first installment had to be Brad Magers (The Bronx ,Marachai El Bronx, Christiansen, Pounded By the Surf.) I grew up with Brad in Louisville, KY, and have followed his career from playing in young hardcore bands, to being on Revelation Records, and then on to major labels and huge tours. It's great when someone you love and admire musically kills it.
I first saw Brad playing in gardcore bands in the late '90s. Louisville is a small scene abd I became close to him fast. It seemed like his progression into an amazing bass player was immediate. I got to play with him a few times over the years, and I always learned so much with him. This is the first time I've asked him how he does it.
We all know you're an amazing bassist and trumpet player. What other instruments do you play?
The first instrument I ever picked up was the viola in 4th grade because it was only way to get out of a mandatory vocal/chorus taught by a very old and mean lady that hated everyone and everything [laughs]. Orchestra was the only other option in 4th grade so myself and some friends did that for a year until 5th grade when we were allowed to join the band. Me and 4 of my closest friends chose the trumpet thinking it was the coolest of the brass instruments. My other friends never took it very seriously and honestly neither did I that first year. When I got to the 6th grade, my music teacher thought I had some potential and suggested to my mom that I look into private lessons. That lead to my eventual first 4-year college stint at the University of Louisville in the School of Music. That's where I also learned piano and the basics in all the other brass and woodwind instruments.
Also, back in middle school, me and my fiend Terry wanted to start a rock band, so my mom got me a few guitar lessons and while I was in my lessons, Terry would play around on drums in the shop. For the most part, though, we both self-taught both of those instruments to ourselves/each other (guitar, drums, and bass). Later in life when we, the Bronx, decided to give mariachi music a go, we all learned the different acoustic instruments attached to that style with a little help from our guitarron (bass) player Vince and his dad who is David Hidalgo from Los Lobos. I also play a lot of the extra percussion parts live in our mariachi band.
Did/does your family support your music?
My family has been incredibly supportive with my music starting with my mother who allowed and helped me to develop at a young age. Also providing me with instruments, lessons, and even a room at her house that we turned into a band practice room. My family has been there since day one encouraging me to do what I love. Even when I decided to move to LA, which was an easy decision due to musical opportunities. Moving back to Louisville eventually just made sense. I'm a loyal Louisville guy through and through and not to mention being able to buy a house there closer to my family was very important. I'm still in LA for band stuff. I don't have to miss that either so it's best of both worlds really.
How do you write you parts for the Bronx and Mariachi El Bronx?
Everyone writes away from each other and then we piece demos together through our home setups. In the Bronx right now, we are writing/demoing a new album so Joby (guitar), Ken (guitar), and myself will write songs and send them to each other and Matt (singer) will add his vocals to see which songs work the best. Then we get together and flush those ideas out fully all together. Mainly in the mariachi band, Joby will have a guitar idea and ship it over to some of us and we will just record our ideas on top of it. Then the eventual pre-production will flush it the rest of the way out. Also, our former violin player Ray Suen (current guitar: Childish Gambino, musical director: Lorde), and I would write a lot together since a lot of time you need to horns and strings to work with one another.
When I write my bass lines, I feel like I'm dancing between all the other parts. I will always play the main guitar parts, but I also hit the drum parts as well. If I like a vocal part, sometimes I will accentuate the vocal pattern. How do you do it ?
I try all kinds of stuff. Starting with like you said, learning/following the guitar parts. Then I'll try and add moving parts where they can fit. The Bronx is a guitar heavy/driven-band, so there isn't a lot of room to get too jammy without things getting jumbled up so I have to really search for the right times to throw a lick in here or there. Sometimes I also like to sit the bass down and just listen to the tune and sing or hum possible ideas to get outside of the box.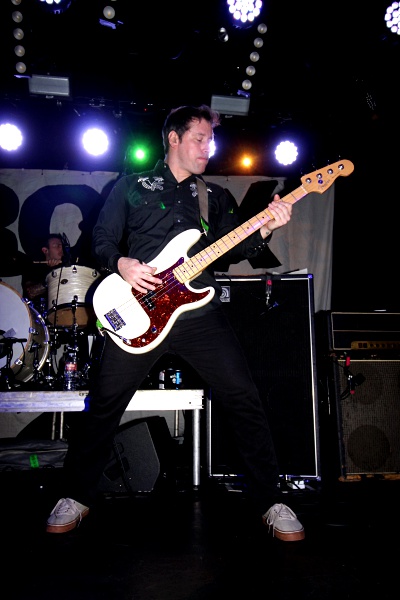 How do you feel about playing up strokes vs down strokes?
I'm play a constant up and down stroke pattern because I get into a rhythmic kind of groove that I think relates to the fact that I play drums to some degree. However, there are a number of parts in our songs that I will play only downstrokes. In certain situations, downstrokes only can make a real impact especially in punk rock songs.
The first time I realized how good you were at bass, I was watching you play in Christiansen. My band (Thirty-Two Frames) and Christiansen were both signed to Revelation Records at the same time. Those times were soo cool for us and Louisville.
Man, those were the best of times! Being able to freely make music, be in a band with your best friends, and tour everywhere all in your early 20s is kind of what they refer to as "living the dream" in my mind. The amount of amazing life changing experiences are countless. From meeting amazing lifelong friend, to learning how to handle the tour lifestyle, living in a band house, managing budgets, and schedules, to near death van crashes, and all around loving life. Those days helped shape me into who I am today and I'm very thankful and grateful for all of it.
So, do you think hardcore/punk prepared your professional music career?
I do for sure. I think I always was pulled toward the louder, heavier, and more DIY ways of music especially earlier on since it was so different than what I was learning classically. It has always been a big part of my life and will always be a big part of it!
Tell us about playing shows with the Foo Fighters.
It was pretty interesting. We had some mutual friends already and right when our mariachi band was just getting some real legs, they were doing these small secret new album test shows all around SoCal and surprisingly enough asked us to open up. Just them and us at venues like the Troubadour in LA was pretty cool. They are the nicest and most down to earth group of people and we really got along and had a good time. Next thing we know when they were ready to go back out on a full tour, we got the offer to open up. One of the coolest tours we've ever been on for sure. Everyone in their camp are the best people and treat everyone like your family. We for sure made so many great friends on that one!
What is a band, past or present, you wish you could play in?
I'd want to play bass in Buddy Guy's band, Rolling Stones, Ramones, Prince (bass/horn section), Black Flag, Blonde Redhead, but I'm very happy with our current 3 bands we have (The Bronx, Mariachi El Bronx, Pounded By the Surf), so I'm all good with that!
Finally, anything new coming up in the future for you, musically or personally?
We've been writing the new Bronx album now for about 3-4 months and will be recording it this year. So that's been exciting and what's next for us. I'm also hoping to finally try some solo project stuff as well I've been archiving for a long time, if I can fit it in at some point [laughs].
***
If you're shopping for vinyl, CD, and cassette hardcore titles, head to No Echo's partner store, Reverb LP, to see what they have available. Every purchase you make helps No Echo with site costs.
Tagged: bassist spotlight, christiansen, mariachi el bronx, pounded by the surf, the bronx