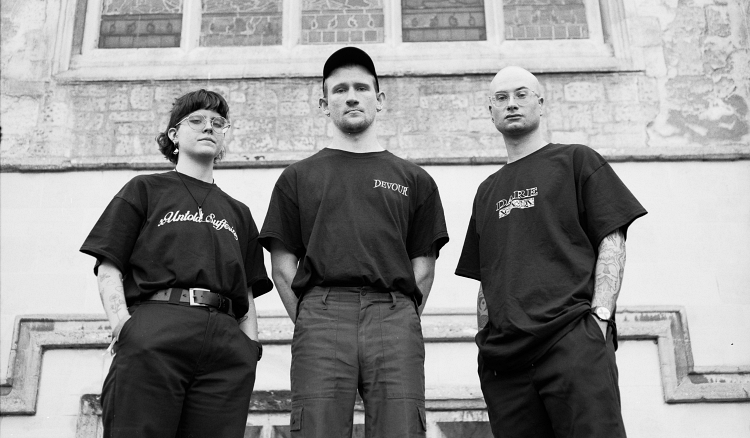 Just a few days ago, UK outfit xapothecaryx released some new music via a two-song promo. Along with such fellow English bands as x xUntold Sufferingx and xDeliverancex, the trio play metallic hardcore with lyrics that reflect their vegan straight edge mindset.
"xapothecaryx formed from the ashes of our previous band, Ill-Informed," vocalist Jordan told me via email last week. "The then guitarist didn't want to play in a band anymore, and the vocalist didn't want to continue performing. So Dan, who played drums, and myself, who played bass, decided to start a new band.
"Since we are both vegan straight edge, we wanted to start a vegan straight edge band and to write songs about subjects that we are passionate about. Dan's partner Amy joined us on drums, they have learned the instrument for this band and we couldn't be more thankful for their dedication. We announced the formation of the band the day after Ill-Informed officially broke up, and received a positive response."
Jordan also discussed xapothecaryx's evolving songwriting style. "The band's sound is still finding its feet," the vocalist admitted. "Our first release, Edification, compromised of a disused Ill-Informed song that was repurposed for xapothecaryx, whereas the other song was purposefully written for the new band and was received a lot better.
"Influences for me vocally and lyrically include Earth Crisis, xElegyx, xContentionx, xRepentancex, and Refused. Dan's main influences are Path of Resurgence, Show Me the Body, and Disembodied, I believe this also extends to Amy. Dan tends to write all the music, and I will write my lyrics over them. The tracks on our upcoming release are a good indication of what we are capable of; 'Apothecary' is crushingly heavy, whereas 'Relics of Pain' is borderline post-rock but contains a speech that encompasses what the band is about."
The email exchange also included some talk about the UK scene xapothecaryx is part of. "We are seeing a lot of new blood come into the scene, with the formation of newer bands and younger bands. Especially in the South East scene, the bands to watch are xUntold Sufferingx, Negative Frame, and No Relief.
"These bands are consistently playing energetic and inspiring shows, xUntold Sufferingx are about to play their first Euro tour at the end of this month, Negative Frame will play any show and tear the venue down, and No Relief have just released their debut EP, Ritual Oppressor, which I cannot sing the praises enough, it is phenomenal check it out!
"Special mentions to Going Off from Manchester for spreading the vegan message and for being insanely talented people, also shout out to xDeliverancex from Birmingham for 'The Ultimate Sacrifice', I have personally been spinning that a lot and really dig the lyrical content, riffs are sick too!"
Jordan's last email transmission to me included the following message:
"We truly believe that vegan straight edge is the way forward in this life, and a way of bettering the planet to save the life that is left. We see ourselves as people who have abstained from industries that seek to profit from pain and suffering, not just in animals but in humanity too.
"If you are considering the commitment then we encourage the following viewing and reading:
Commit your choice and stay true."
***
The xapothecaryx promo is available on cassette via through Contraband Goods, Nuclear Family Records, and BBMA Records.
xapothecaryx on social media: Facebook | Instagram
***
Help Support What No Echo Does via Patreon:
***
Tagged: xapothecaryx