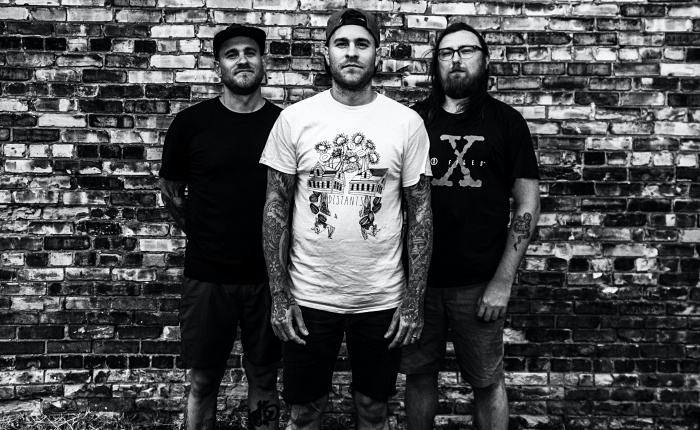 Shouting out such influences as 7 Angels 7 Plagues and Nails, Worst Self is a hardcore-minded power trio based out of Grand Rapids, MI. The group recently hit me up about their forthcoming EP, Everyone Is Replaceable, a 7-song collection that documents "tragic failures, brushes with death, and ultimately; personal redemption."
For the recording sessions, Worst Self called on engineer Andy Nelson (Weekend Nachos, Like Rats), and you can sink your teeth into one of the songs from the EP below with this premiere of "Living Proof":
"I wrote 'Living Proof' wanting to include all the elements of songs that got me super excited about hardcore when I was 18," Worst Self bassist/vocalist Joel Otte told No Echo. "I lost my mind when I first heard 7 Angels 7 Plagues. Even now almost 20 years later, Jhazmyne's Lullaby still makes me feel something. I wanted the song to be very dynamic and interesting, and, of course, heavy. Lyrically, this is the turning point on the record where all the hopelessness and despair comes to a head.
"I let my addictions put me in some bad places. It almost cost me my life. This song is about working through the pain of the choices you've made and deciding to not look back but look forward. Every time I sing this song I'm recommitting to myself to be the best father/husband/friend that I can be."
"If there's blood in my veins
If there's air in my lungs
I will be the living proof"
Everyone Is Replaceable will be released this fall as a one-sided LP via Dropping Bombs and can be pre-ordered now. Give Worst Self a follow on social media pages (Facebook, Instagram, Bandcamp) to keep up with their upcoming shows.
***
If you dig No Echo, you can donate a few bucks to help with the site's operating costs:
Tagged: worst self