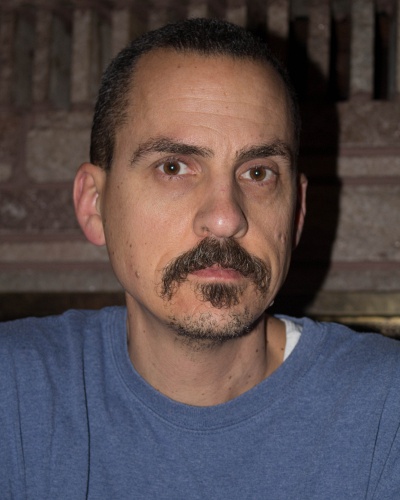 Darren Plank, aka Convertido Photography, is a punk OG. The dude's been shooting underground hardcore shows for decades now and you've probably seen his work either online, a zine, record insert, or all of the above. He was nice enough to answer a few questions for the site's ongoing Photographer Spotlight series and I'm psyched to share it with you today.
Where were you born and raised, and were your parents into the arts?
I was born in New Jersey. My parents worked for a big corporation so we moved around a bit. Before ending up in Texas, where I was raised, we lived in New York and Pennsylvania. My mother made crafts and sold them at fairs and markets. She sewed small gift items such as tooth fairy pillows for when kids lose their teeth and B.Y.O.B. bags. The latter being very popular in South Texas.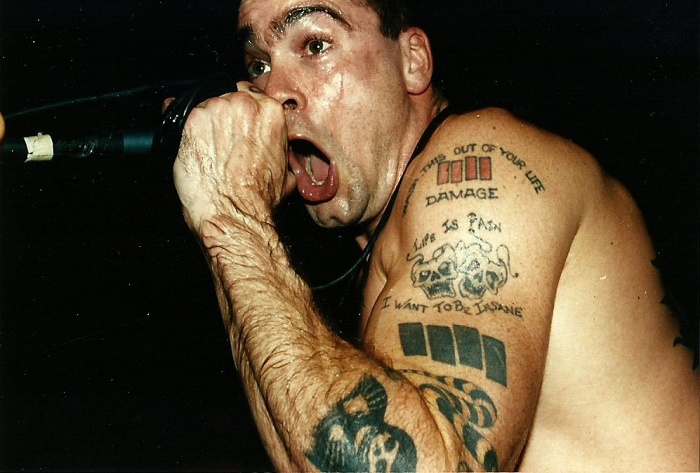 What was your first musical love?
I never remember a time when I wasn't listening to music. Whether it was in the car with my parents or at home raiding their record collection. The first band that really made a life-changing impression upon me was the Dead Kennedys. My older sister was dating a kid in the early to mid-'80s who was into them. She gave me (or I stole) their first LP, Fresh Fruit for Rotting Vegetables, which she had on cassette. When I put the tape in my boombox and played the song "I Kill Children," it scared the hell out of me but I loved it. This was around '85 or so and there was no internet, clearly, so everything was word of mouth. During '86 or '87, my family moved to the Dallas/Fort Worth Metroplex from the south Texas coast. I found a radio station from Dallas, KNON, and they had great music shows; this find was revelatory. I heard so much new music that it was almost too much.
What is your camera and post set up?
I shoot with a very simple and reliable Canon Eos RebelT5i with a Neewar speedlite flash. The camera is a workhorse and works wonderfully in the spaces I shoot most often. To edit the photos, it is the old and reliable Lightroom and Elements.
Who are some of your favorite bands to shoot?
In general, I prefer to shoot those bands that elicit the most visceral reactions from their audience. Recent examples would be P.R.O.B.L.E.M.S., Lebenden Toten, Lumpy and the Dumpers, Pressing On, Sucklords, Glue, and Gag.
If you could go back in time, who are some bands that you would have loved to shoot?
Bands that I would love to have shot and never saw would be the Big Boys, the Dicks, Hüsker Dü, Anti Cimex, Downcast, SSD, Heresy, Really Red, Gism, and the Hard Ons.
What are the toughest aspects to shooting live shows?
Personally, the toughest part is remaining creative. It is far too easy to be lulled into a state of weak or little creativity in shooting shows. I fear falling into a rut and just going through the motions of shooting bands. Practically, getting into spots where you can get good shots or compelling angles can be difficult of dangerous. I, like most photographers I assume, want to get "the shot" but I don't really want to get covered in beer or knocked on my ass all night long. Thankfully, I choose to shoot bands in bars in Portland and that latter rarely happens.
Is it getting tougher to carve a space out at venues since there are so many people shooting these days? How do you feel about that?
In Portland, there are only a handful of people shooting shows. I would say that we cooperate well and try to avoid interfering with each other. I am a fan of more people shooting shows. Each camera is in essence a different voice. It is important to me that these voices be heard. No two photographers are going to see them same thing at every show. I want to see how other photographers captured the show and what they thought important enough to capture on film or digital image. Obviously, it can reach a point of diminishing returns with too many people shooting shows.
Tell me about some newer bands that we should all be on the lookout for.
Some of my current favorites come from the NW region and are all newer having been together for under 3 years. I think U-nix, Physique, Sucklords, Impulse Control, Public Eye, Macho Boys, Mr. Wrong, Petite, and Putzfrau are all great live bands and worth seeing if they hit your town.
Who are some modern-day photographers that you admire?
My absolute favorite would be Teppei Miki. Their work is both visually impactful and technically wonderful. The variety of underground bands in their work is broad and current. The highest compliment I can pay a photographer is to say that I have never heard the band in their photo but from the photo I want to hear them! I constantly have this reaction to Teppie's work. I also enjoy the prolific Michael Thorn, who publishes Razorblades and Aspirin zine. Like Teppei, Michael's images are compelling, technically strong, and a great reflection of current punk/hardcore music.
Other photographers I think are producing interesting and compelling work as well are; Cecilio, another Portland photographer, Oscar Aranda, and Charlee Ramsey.
If you had to pick one of your photos that best encapsulates why you love shooting bands/artists, which one would it be and why?
This is a hard question to answer…what I enjoy most about live music is seeing people going off to the performance whether they are in the band or the audience. If forced to choose one photo, I would say Laffing Gas from August 2016 at the Black Water Bar in Portland, OR. It was a great show with U-Nix, Bugg, CCTV, and Laffing Gas. The crowd went off during every band. This image taken during Laffing Gas' set shows the crowd getting into the band. Those that are just watching are all smiles. It these visceral reactions that make punk/hardcore shows fun and shooting them challenging.
***
Follow Darren on Instagram.
Tagged: photographer spotlight