It's strange to consider running a label to be a key part of the staunchly DIY and underground hardcore scene but music is unfortunately a business and we need some kind of outlet for all these sick releases.
With hardcore labels being an independent venture, many will want to grab the up and coming bands in order to capitalize on their growing popularity and make a name for themselves. This way of business makes it hard for bands to really put their music out and build themselves, many will have to resort to publishing independently online.
In the early 2000s, Bridge Nine opened the floodgates for hardcore bands and for kids looking for faster and aggressive ass hardcore. This is where Rob from Crimewave Records took his influence in making his own label, picking up bands that remind him of that early '00s hardcore scene… emphasis on the "hardcore" part.
Though the label hasn't been around long, Rob has already procured some great bands on his roster including Street Power, Hard Target, Time X Heist, and Neighborhood Shit. Each group brings its own unique style and sound to the label but they all are rooted in the hardcore sound and the scene at large.
I recently was able to speak with Rob on Crimewave Records' mission, his history in the scene, and the bands he's invited onto the label's roster so far.
When did you start Crimewave Records, and what was your mission goal?
Crimewave Records is a new label that had its first release in the summer of 2022. The goal is to be a label that has consistent releases, whose sound could fit within a box of what some people would describe as having a '00s Bridge 9 Records era' influence.
This includes straight edge hardcore, Youth Crew, hardcore punk, and avoids heavier, more metal-influenced hardcore. If the band is heavy, it must have traditional hardcore at its core.
What was the music you grew up with and how did you eventually find yourself into the punk and hardcore scene?
I got into hardcore as a young teen by being at the right place at the right time when a friend and I found a local artist section at a record store and decided to get a CD based off a cool looking cover. The CD ended up being Hatebreed's Satisfaction is the Death of Desire, which had just been released.
Afterwards, my best friend at the time came back from a Christian rehab center with a massive binder of christian hardcore CDs because it was all they were allowed to listen to. My favorite Christian record from his stash was Strongarm's Advent of a Miracle and it got me into more metalcore/melodic hardcore.
I found out about my local hardcore scene after seeing H2O at a non-hardcore show and getting a flyer for a local hardcore show. After that I followed flyers like breadcrumbs to everything and found out about shows eventually though a couple websites that had upcoming hardcore shows posted.
What was your first hardcore show?
The first hardcore band I saw live was H2O and my first hardcore show was Groundzero at the Hanover House (RIP). It was at the Hanover House in Connecticut that I really found out about the local hardcore scene and community.
What have been some of the most memorable shows you've been to?
The first time I saw early Hatebreed in Connecticut was my first memorable show because I never saw anything as explosive as Hatebreed during their Satisfaction years. After that, American Nightmare really changed what types of hardcore I listened to when I first saw them playing in support of their first EP on Bridge 9; I didn't know hardcore punk was so hard hitting since I wasn't really exposed to it until then. I literally followed AN all across the northeast and ate up everything on Bridge 9 from that point on.
A couple years later, I could swear I had an out-of-body experience seeing Modern Life is War play "By the Sea" at a show with Bane and Mental around the time of their Martyr Records My Love, My Way release. The unified energy in the room and the pile-ons to the ceiling were so powerful and moving, especially during the mid-time buildup in that song (listen to it!). The whole (very packed) room was one massive shared ball of positive energy that just exploded.
Other shows I really loved were also ones I was lucky enough to play around that time and through the following years with bands like Verse, Have Heart, The First Step, Outbreak, Guns Up! (who I was lucky enough to tour with for a couple weeks with one of my old bands)—basically a lot of bands that were either on or ended up on Bridge 9, Rivalry, Youngblood, 1917, Malfunction, or Thinkfast!.
I feel very blessed to have been part of that scene and era of hardcore. Everything coming out of New England (especially MA) was the center of the universe for me and many others at this time who listened to this style of hardcore.
What band did you play in back in the day?
Many years ago I played in a band called Signs of Hope.
What are some labels and records that influenced you to get into the record label game?
One of my good friends was the label manager for Stillborn Records, and it really inspired me to do a label because he was involved with so many great releases/bands. Having a full-time life in hardcore was a dream for me because I already thought about it 24/7. I would bother him with tons of questions, and he was always there for me with answers.
Being able to support the music, message, and community made me want to do a label to be able to spend time outside of shows on hardcore (aside from playing it, listening to it and thinking about it all the time).
Did you start by working for another label?
I learned the most about running a label when I worked with Indianola Records, which was basically a screamo/metalcore label that was distributed by Lumberjack and later a subsidiary of Sony. I would do their web work, banners, ad designs, and would never shut up with questions about how the label operated.
I would do A&R for them as well. I was there when they put out the first A Day to Remember release, so this was in 2004-2005-ish timeframe. I wasn't into screamo but I did like melodic hardcore from bands like Across Five Aprils and Life in Your Way, both of which were on the label at the time. I was very much into hardcore-punk and Youth Crew during this time, which made me working with a screamo label funny (when looking back); I remember begging them to sign Have Heart (not that HH would have agreed since it was a screamo label, but I kept telling them they would take over the world one day).
My friend and I co-ran a label called Detonate Records for many years. Our first release was Signs of Hope, and the last release I did was in 2015 from Pale Horse. The label had lots of different hardcore styles on it, and a lot of it was due to me signing certain bands when I put things out (The Homefront, Heavy Hearted, Palehorse) and my friend signing other bands with very different styles.
There were some really great releases, but no consistency with sound with the bands across the label. You could think one band was the best thing ever and want to use the next band's CD as a frisbee—even though they were good/it just could not have been the style you would want.
Instead of continuing with Detonate Records, I decided to start a new label that would have an entire catalog where if kids liked one band, they would probably like them all. I wanted to put out releases under the umbrella of my favorite type(s) of hardcore, and that's when I decided to create/define the box whose sound bands would have to fit in if I were to put out their record. Protecting the label sound means everything to me.
Give us a quick rundown of the Crimescene Records roster so far.
We've put out releases from:
Statement of Pride (now on Youngblood Records, FFO: Have Heart)
Hard Target (FFO: Bitter End)
Brass Tongue (FFO: Mindforce)
Neighborhood Shit (FFO: Product of Waste)
Force (FFO: Go It Alone)
New Death (FFO: Comeback Kid)
We also have releases coming from Time X Heist (FFO: The First Step), Street Power (FFO: The Mongoloids), Princess (FFO: Jivebomb, Scowl), Dead Wrong (legendary CTHC band), Lasting Dose (FFO: Terror ), and Dare to Forgive (FFO: Inside Out).
If anyone wants to listen to new releases, we host them on our Bandcamp and have more things being put up after their pre-orders.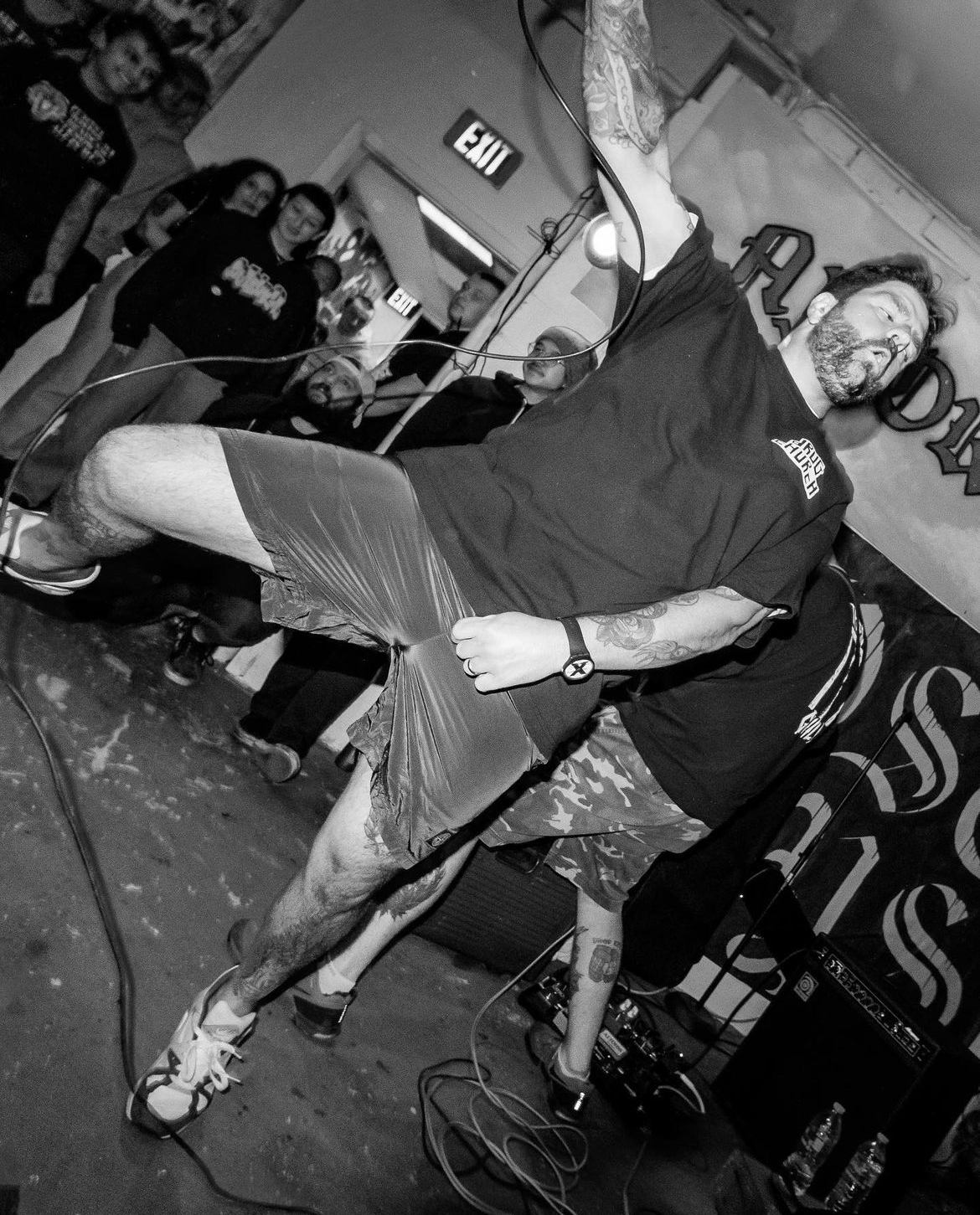 What's the process of physical releases like these days? How can an underground label get access to vinyl?
For a while it was tough to get vinyl because the record plants were backed up around 8-9 months, and the only way to get it within (two) months was to pay through the roof with an accelerated option. With the first three vinyl releases, I ended up paying an insane amount of money because I wanted to get the records out without forcing bands to wait what might as well have been an entire year.
The timelines have now gotten much better, they are cheaper per unit—but it still costs a crazy amount of money for a vinyl release. I'd say the skills required to make your life a lot easier when sending something to press (to end up with a physical release in your hands that looks and sounds great) requires having solid skills in management, graphic design, and music production.
What do you look for in a band in order to sign them to Crimewave?
The first thing I look for in a band is how they sound—not just that they are really good—but they have to be able to fit within the sound barrier I set for Crimewave Records bands. I've had great bands send me stuff, but if it's too metal or too punk that's outside of the sound/scene I'm promoting I can't do it—even if I love the band. If a band on my label changes their sound to be outside that box, the label can no longer put out their records.
It's also very important that a band is active. I'm currently only looking for bands that are playing out regularly in their region, and touring or actively planning to tour.
Every band says they want to tour, so you can't trust anyone when they say that—a band needs to show they're playing out and are currently working hard. Booking a small tour is not difficult, I booked tours when I was a teen, so if the band has been out for a while and still hasn't done a weekend and is telling me they want to tour, I can't take it seriously.
It really comes down to trust—a band trusts me with their release, and I need to trust that they will work at minimum as hard as I do. The only exception to touring/showing lots of activity is when a band is new and they have members who haven't been playing that much with the band because they're already touring with another band.
I trust personal track records, and people from established bands have this while newer kids may have not established theirs yet. When someone who has been touring a lot hands me a great piece of music to listen to and tells me that they are going to be doing shows and looking to tour with it in the future—I trust that.
Any advice for anyone trying to chase their dreams in the artistic world?
You can't have success without hard work. Also take baby steps—don't get your head lost in trying to do too much at once (the only reason why have been able to do so much out the gate is because of so many years of previous experience and planning).
Is there anyone you want to shout out before we end our chat?
I'd like to shout out all the kids supporting their local scenes by going to shows, supporting bands, and actively working to grow and support this community of ours. I'd like to shout out all the Crimewave bands, I love you guys and thank you for trusting in me and the label with your amazing records.
I'd like to shout out the labels we have agreements with for full catalog distribution worldwide (beginning April 2023): Ugly and Proud Records (European Union), Double Turn Records (Canada), Loudmouth Records (Australia), Set the Fire Records (Indonesia/east Asia). Also shout out to Retribution Records (Japan) for carrying our releases, and all the other US-based hardcore labels I talk to—we're in this together.
***
Crimewave Records on social media: Instagram | Twitter | Bandcamp
***

Tagged: brass tongue, hard target, princess, record label profile, street power, time x heist