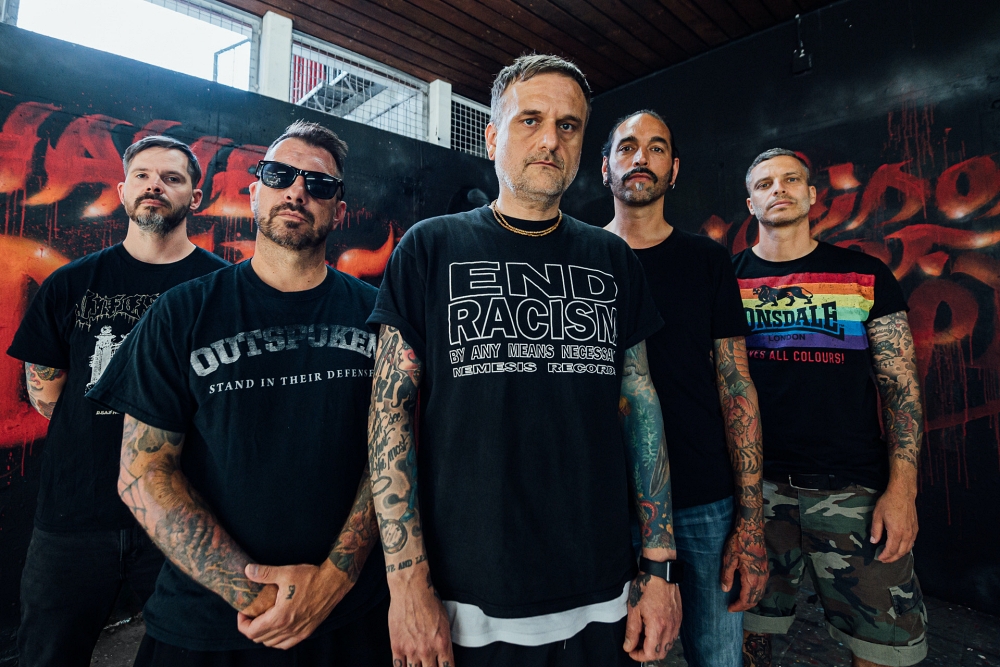 Formed in late 2021, Prison of Hope is a hardcore band from Stuttgart, Germany. "Our drummer, Jogges, came up with the idea to start something new because after 20 years he wanted to play drums again," vocalist Hagen told me in an email. "He had done the vocals in some substantial German hardcore bands in the past. We all played in bands before, but in the case of both guitar players, it was 15 or more years ago."
Prison of Hope's demo dropped last month, and according to Hagen, the stylistic blueprint was clear from day one. "We play '90s influenced chugga chugga mosh with some double bass parts here and there. '90s hardcore by '90s hardcore kids.
"We all grew up in that era, so it felt super natural to play that style because we all love it until today. When we started Prison of Hope, the blueprint was Chokehold's Instilled 7-inch, but it was clear very soon that we have a bigger musical variety. So, yes, other influences of the good stuff from that decade found its way into our sound, for example, Unbroken, Strain, Earth Crisis, and Indecision. And, of course, some death metal elements also influenced our style."
Hagen discussed some of thoughts on the lyrical side of Prison of Hope. "Everything I write about moved me in one way or another. I wrote a song about my dysfunctional family system, to be part of my coping strategy to overcome it all.
"We have lyrics about misogynism and sexism, about police brutality, and a completely outdated system of values which some folks try to force on others. When I think about what happens in the United States (Roe vs. Wade, just to mention one single topic) it feels like time turning back."
As I usually do, I asked about the local scene Prison of Hope is part of to try and get a better sense of their hardcore community. "There are some bands around, but I would say it's hard for all of them to get their feet back on the ground in this stage of the pandemic. Empowerment are still on top of the food chain. Bike Age are very active, so are Hell and Back and Minus Youth. But these are all dudes in our age and I have to admit that I maybe lost the connection in the last two years.
"I don't know many new or younger bands, unfortunately. Soul Prison are highly recommended, and they play super tight metalcore styled stuff. Also check out Vordt, they play modern antifascist black metal, great singer by the way. I would love to have more DIY locations for shows here, almost everything shut down."
Prison of Hope on social media: Instagram | Bandcamp
***
Help Support What No Echo Does via Patreon:
***
Tagged: prison of hope