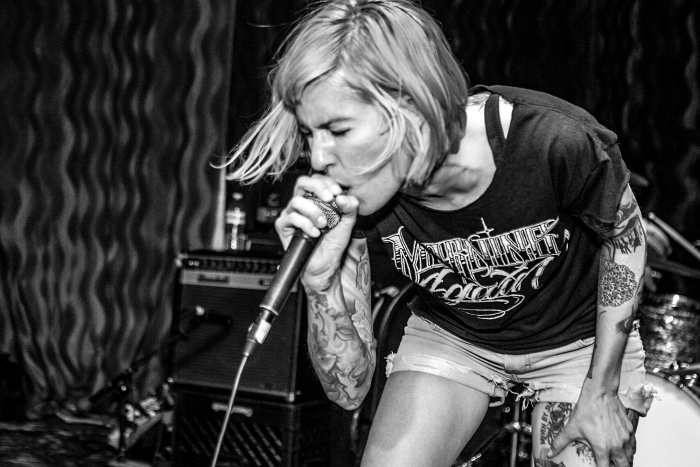 The purpose of this piece is to introduce you to Power Alone, a new hardcore comprised of musicians from southern and northern California. "My brother Dustin, Allan, and I were all in a band together called Gather, which broke up in 2007, and Dustin and Joven were in a band together called Lockstep, which broke up in 2012 or so," says vocalist Eva Hall, who prior to this band fronted Rats in the Wall. "Even though some of us lost touch with each other for a while, and we were in different bands since then, I'd always missed playing music with Dustin and Allan.
"When we decided to start a new straight edge band, we asked our friends Joven and Sean to join to complete it. We live all over the place, from San Francisco down to Orange County, so this band has given us an excuse to get to hang out with each other more than we normally would otherwise."
This coming winter, Power Alone will be releasing their debut album, a self-titled collection recorded by Paul Miner (Terror, Adolescents). No Echo is happy to present the premiere of "Something Real," a track from the LP:
"We were very excited to record with Paul Miner, since he recorded some of our favorite bands back in the day," Eva tells No Echo. "We had a lot of fun working with him. We decided to release 'Something Real' first because we feel like it's not exactly what would be expected from us musically, being mostly members of Gather. The lyrics reflect something I think about quite a bit: the sense of alienation that comes with getting older (I'm 36) yet still holding onto my ideals from my youth, and still being consistently involved with punk and hardcore. It's about the longing for a scene that feels more like a community again."
Power Alone will be released by Dave Mandel's Indecision Records (Skullcrack, Unbroken). "Rats in the Wall played at Programme Skate & Sound in Orange County quite a bit. Dave from Indecision had seen us play there. When Programme decided to start a label, they wanted to put out a 7" for us as their first release, and it ended up being a split release with Indecision.
"I quit Rats, but I knew I wanted to join this new band, and since I remained friends with Dave, we decided to release this on Indecision as well. He's been so helpful with everything, it's been great!"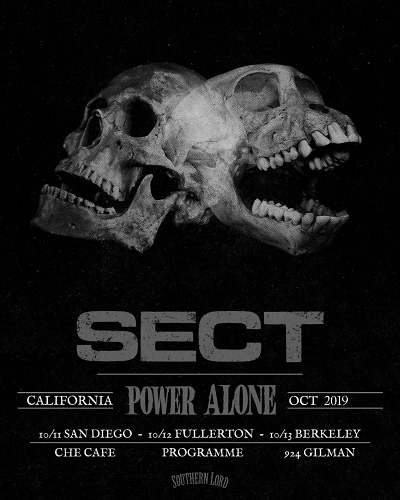 As far as gigs, Power Alone already have some dates coming up with SECT next month, but Eva admits it's not easy from a logistical standpoint: "Since we live so far apart, it's not realistic to be able to play one-off shows, so we are hoping to plan strategic little tours here and there and just keep writing and recording."
Power Alone have set up an Instagram page, and stay tuned for their album's release date coming soon from Indecision Records.
***
If you dig No Echo, you can donate a few bucks to help with the site's operating costs:
Tagged: power alone