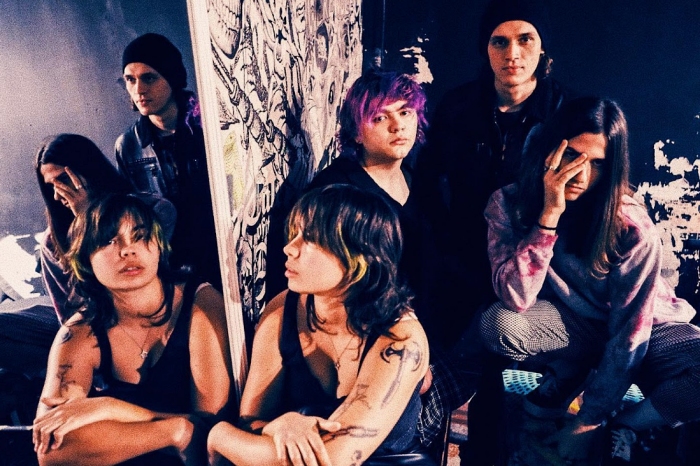 Palomino Blond is a band that has been busting their asses since forming back in 2018. With the help of handful of demos and a killer live show, the Miami-based group built up a following and even garnered praise from Iggy Pop, whoc called them "one of Miami's brightest lights." Not too shabby, folks.
Sonically speaking, Palomino Blond's sound is a melding of everything from '90s-kissed alt.rock to goth to shoegaze. All in all, it's a catchy approach that wouldn't sound out of place on modern rock radio right now.
The last time Palomino Blond released new material was late 2021's debut 7-song mini-LP, ontheinside. The group is currently working on their next record, but to tide listeners over, they're releasing a single called "Machine" tomorrow across all digital streaming outlets.
The track was produced by the band and former Torche guitarist Jonathan Nuñez, who they've collaborated with in the past. No Echo got a jump on "Machine" to give our readers an early listen:
Palomino Blond singer/guitarist Carli Acosta sent No Echo the following thoughts about the song:
"There are a couple of themes in this song...Feeling like the world is changing so much and so quickly that you need to play catch-up with it constantly...and then there's also being alone with yourself and all the reflection that comes with it.
"[The lyrics] 'slip on a surgical mask' were written in 2019, which was really eerie to me after I actually had to start wearing masks due to COVID about a year later. It reminded me of when I was a kid and I used to think I had prophetic dreams - they were really just little coincidences that I'd notice in my dreams that would happen in real life."
***
"Machine" is out June 16th on all digital platforms.
Palomino Blond tour dates:
06/15/23 - Rain Dogs - Jacksonville, FL *
06/16/23 - Tin Roof - Charleston, SC *#
06/17/23 - Radio Room - Greenville, SC *
06/18/23 - Slash Run - Washington, DC >
06/20/23 - The Undercroft - Baltimore, MD >
06/21/23 - PhilaMOCA - Philadelphia, PA >
06/22/23 - Berlin Under A - New York, NY >
06/23/23 - Cantab Lounge - Cambridge, MA >
06/25/23 - The Burlington - Chicago, IL
06/27/23 - The End - Nashville, TN +
06/28/23 - The Firehouse - Birmingham, AL +
06/29/23 - The Handlebar - Pensacola, FL +
06/30/23 - New World Music Hall - Tampa, FL +@
07/01/23 - The Abbey - Orlando, FL $
07/02/23 - GRAMPS - Miami, FL ! @
Tickets on sale now @ palominoblond.com
Support:
* = Rugh
> = Her New Knife
+ = MOLD!
$ = Cathedral Bells
! = Smelter
@ = Novely
Tagged: palomino blond