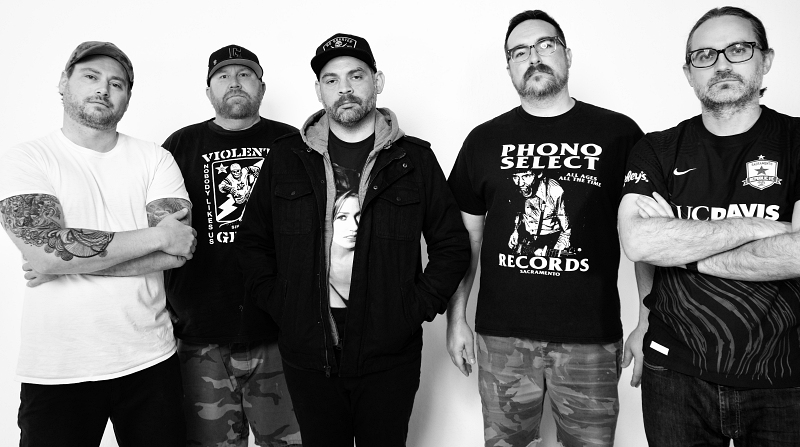 Original State is a hardcore band based out of California's capital city of Sacramento. Though they've appeared on No Echo before, let's allow bassist Phil Mengell to bring us up to date a bit on their history together. "Prior to Original State, Trevor [Baxter], Grant [Hodgdon], and I played together in various other projects," Phil told us during a recent chat about the band.
"Trevor had played in US Roughnecks, Pains of Sleep, Hellcrew, and a few other bands from the Sacramento/Bay Area, while Grant and I had played in Five Victims Four Graves on New Age Records for years, and a few projects before that even. This project lets us continue most of the things we loved doing with our friends, pushes us to keep growing in our writing, and gives us an excuse to travel to see old friends.
"Original State really got going with the addition of our longtime friend Dan Vanderpool, we caught some steam and started playing a lot more, we really clicked in writing and put out an EP we were all really proud of. Jobs and moves happened and we needed to phone a friend for a vocalist, TJ Joubert came on, COVID hit, and we hibernated, writing a few tracks in the off time. Start of 2022, TJ brought in his long time friend Ryan Saunders on second guitar, and that's where we are today, knee deep in writing for the next release."
The refreshed lineup can be heard on Original State's latest single, "Regression":
Phil spoke about the new track. "It's our first single since 2019's three-song EP, It'll be over before you know it..., and is grounded in the events of the past few years, from the protests centered around the anti-Black police violence in the US, similar struggles against governments around the world's push towards more authoritarian measures, and really culminating with the reproductive rights protections being gutted by our SCOTUS.
"I think, for me, TJ's lyrics that hit the hardest is 'If there is blood on the branches, burn it down', referencing the branches of government having blood on their hands, responsible both by action and inaction, for the deaths of women seeking to exercise their bodily autonomy.
"Watching people organize in Mexico and Europe to fight against those trying to erode their rights was inspirational to me, and drove the direction of the video for this release as well. We are working on a few other tracks for an upcoming release, but we didn't want to wait on this one, we wanted it out there."
Phil offered this about Original State's playing style: "We didn't really set out to have a set sound, per se, I think you will find elements of melodic hardcore bands from the '90s and '00s in there, some thrashy/punk riffs that we basically just play as fast as we can, some grooves and bounce mixed in, just kind of whatever we are feeling.
"If I had to name some influences, long list because we all draw from different places: 7 Seconds, Descendents, Paint It Black, Ignite, Madball, Kid Dynamite, Modern Life Is War, In My Eyes, and Comeback Kid, but I wouldn't say we sound particularly like any of those, just a blend of our favorite parts. Don't ask us to do a FFO!"
The last order of business was Sacto hardcore. "Sacramento's scene has been rock solid, and growing in the past few years. Ben & Gabby at The Colony/Cafe Colonial have given a defacto home to a ton of regional bands too, not just Sacramento bands. People roll out regardless of the bill, and lots of people are stoked to hear and see new bands come up there, tons of variety in shows, rad grind/thrash festivals, punk bills, plenty of power violence comes through, and on the other end of the spectrum, sludge/doom, and indie stuff that is punk adjacent too.
"COVID was hard financially, so we need to keep coming out and making sure we keep this institution going. Outside of that, there are quite a few venues going right now, kind of cater to different audiences, and there are tons of DIY promoters doing all sorts of good things and bringing in acts from all over the world, + Hard Times Shows are booking Sacramento a lot more often now too with absolutely stacked bills.
"We have a ton of bands right now, Kind Eyes, The Cutthroats, and Midori are on that heavier side, really out there pushing to make things happen for themselves. Thrashy end of things Sick Burn and Fast Case are two absolute rippers who just get better and better. Punk/hardcore I would say Sissyfit, and Rise & Strike are pretty much adopted as locals at this point and are community-minded hardcore outfits out to build up a scene, with SadxDad Productions coming together to put together fests and benefits together for the joint 916/209 area.
"Mastoids & Lightweight holding down the more melodic/pop-punk slots and pitching in for benefits and local fests too. I also want to shout out Lee at Sacramento Punk Shows for putting in the work to keep everyone stitched together with their IG and calendar of shows, absolutely pricess. Point is, there is a ton of talented great people here making it happen."
***
All of Original State's social media links can be found here.
***
Help Support What No Echo Does via Patreon:
***
Tagged: original state