Due out this Hallows' Eve is Pop Sounds, an album title so misleadingly sweet as to be this year's greatest trick of all.
The hardcore punks in Riverside's Moxiebeat have at long last crafted an absolute monster of a long player. Released via Ethnospine Records, it marks the band's debut full-length in nearly 20 years at the helm of the label.
Operating as both a band and collective, of sorts, Moxiebeat has also long invested in the creation and maintenance of safe spaces for artists and activists. As founding members of the now sadly defunct Blood Orange Infoshop, a once vital space for the Riverside community, the group's lean discography instead belies a band who's resolute mission statement goes beyond the recording studio.
With members having served time in bands Dogs of Ire, RogueState, Restrained; they've been collectively pummeling the Inland Empire for years. Lest I ramble, however glowingly, I'll leave you with the band's own succinct summary of their thematic through lines across the LP "death, despair, isolation, vulnerability, justice, activism, and destroying shit."
No Echo is starting the week off on the site with the premiere of "Narito Kami," a ripper from Pop Sounds:
"Narito Kami" is a bite-sized blast of righteous indignation that tours manically through Moxiebeat's myriad of influences. From the opening notes, the trio absolutely mangles their instruments, choking out violently bent and squealing guitar lines.
As discordant as it might first appear, they know their way around an earworm, however venomous. Clocking in at just north of a minute, it's brimful approach works tremendously, filling each moment without feeling claustrophobic. There's a sludgy and bludgeoning swagger that captures both noise rock's disdain for song structure and the chaotic end of '90s metalcore.
The rhythm section rumbles just beneath the surface and the final 10 seconds are injected with a sense of abandon by a subtle digital manipulation that hisses its way into the final moment. It's a thrilling and forceful way to preview the album, which elsewhere sees them blasting from passages of steamrolling D-beat, noise-laden punk, and straightforward hardcore.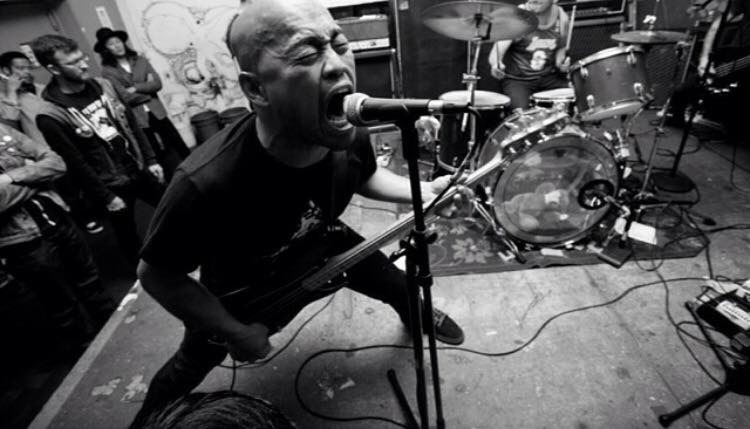 Quality typically garners attention from the right folks, and Moxiebeat is clearly onto something, enabling them to record with Torche's Jonathan Nuñez. With mastering handled by Audiosiege's Brad Boatright, the LP manages room for the thumbprint of both to be heard on the proceedings.
Though sonically dissimilar, it finds the band melding the melodically off-kilter and heavy imprint of the Meanderthal mastermind with something far more feral and chaotic.
For a song that so brazenly flaunts its brevity, it's certainly no surprise the lyrics are an exercise in economy. Sung in Filipino, they channel the unknowable weight of colonialism, struggle, and attempted erasure.
Ultimately, the song feels both furious and liberated, culminating in a furious meditation on resilience and survival. This is an essential document of survival and the visceral, cathartic art it can prompt. Fans of Rorschach, Deadguy, and Born Against take note.
I thought it necessary and helpful to include a quote regarding the unique importance of this song as it relates to the ethos of the band. When asked, bassist/vocalist Brenton Aragon elaborated on "Narito Kami":
"This song is for Filipinxs in the motherland and of the diaspora. 'Narito Kami' is the journey of our people from the day Magellan arrived on the shores of Cebu and died in the hands Lapu Lapu. The ongoing efforts to fight, preserve, and decolonize our history is a long and tiring tradition.
"From Spanish colonizers, secret wars, American and Japanese occupation, US backed dictators, and now in 2020 over 30,000 murdered by police and military under the guise of "war on drugs" through authoritarian rule of President Duterte. The bloodbath continues.
"As first-generation Filipinxs ourselves in the US, we often ponder the complication of 'who we are, and why we are here.' It is a common theme amongst Filipinxs around the world who hold or discover their identity. The caste systems set in stone by our colonizers have erased our true selves.
"We have embraced internalized racism and their historical accounts defining who we are. In every attempt to completely obliterate our cultural existence we've managed to keep our languages, told our stories through oral histories, hidden our fighting styles through dances, killed colonizers with sticks and knives, and ended a dictatorship through civil resistance.
"To the Filipinx, don't forget the spirit, the journey, the fight, and who we are. 500 years of resistance and survival. Narito Kami.
***
Pop Sounds will be out on October 30th via Ethnospine Noise Records. Pre-order it on vinyl or digital.
***
Donate a few bucks to help with No Echo's operating costs:
***
Tagged: moxiebeat