Based out of Prince Edward Island in Eastern Canada, Knull first appeared on No Echo in 2021 when we profiled the band's two killer EPs: Glass Chewer and Absolute Carnage.
The hardcore-minded quartet wanted to keep their winning streak going with the release of their third EP, Devour, last year but due to unforeseen circumstances, the initial recordings we're all deleted, and the band was forced to start from scratch. Instead of harping on the setback, Knull got busy again and expanded the EP idea into a short film bound together by separate short films for each of the five tracks.
Guitarist/vocalist Kyle Gallagher wrote a concept and treatment for each video as well as the overall narrative of the short film. "This was my first time attempting something like this, but I've always been interested in trying this sort of thing," he explains.
"I'd say the main theme of the short is self doubt and how it's always there while creating things. When you play in a band it can feel like you're just in a repetitive cycle of creation, self doubt, and release. Even if you try to break it by doing something different you just find yourself in the same cycle."
The Devour short film was created by videographer Al Douglas, with lighting design by Alex Pickles:
During the editing and scoring process, a decision was made to release physical copies of the short on VHS. Wanting to keep each unit of the limited physical release unique, the band purchased 25 different VHS tapes from the local thrift store, and dubbed their short film on each individual tape.
"We made it so that our video was placed in a specific spot of each tape, so you could watch old movie trailers, then our film would start. When our short finishes, the rest of the original motion picture from the tape will continue playing."
Artist Cain Cox designed custom box art for the Devour tapes: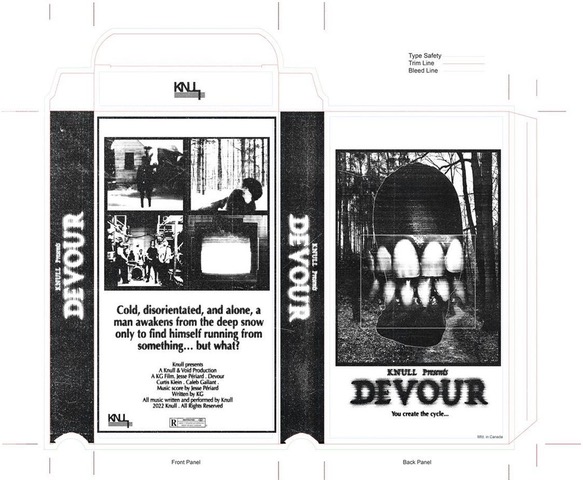 Devour is streaming everywhere now.
Knull on social media: Instagram | Bandcamp
***
Help Support What No Echo Does via Patreon:
***
Tagged: knull