Who the Hell Is Wild Side? is the question at hand in this No Echo post. Let's start off with the basic details, shall we?
Wild Side is a Canadian band from Niagara Falls who many of you might have seen during their many appearances on hardcore bills throughout the last few years. The general impression I get from listening to their brand-new debut album—yes, it's called Who the Hell Is Wild Side?—is how there's a rock 'n' roll/hard rock vibe running through the songwriting.There were many hardcore bands that had that kind of vibe back when I was growing up in the '80s, but not so much these days. "I feel like we have always had that influence coming through in our sound, mostly because we are all rock n roll/hard rock fans," the group's guitarist Emmett Morris told me during a recent conversation.
The Wild Side guitarist broke it down for me: "We grew up on punk, hardcore as well as heavy metal and rock 'n' roll. I guess there were probably more hardcore bands doing that in the '80s because it was the most popular kind of music at the time — the soloing definitely adds to it cuz my style is bluesier rock type shit."
Seen above, the Justin Friskie photo on the album cover for Who the Hell Is Wild Side? features a souvenir store front at the top of Clifton Hill, the main strip of tourist attractions in Niagara Falls. Since I've never been there, I asked Emmett about the city. "My friend Harold describes Niagara Falls as 'Vegas meets Venice Beach on crack,'" the guitarist laughed. "If you've never been you should definitely visit."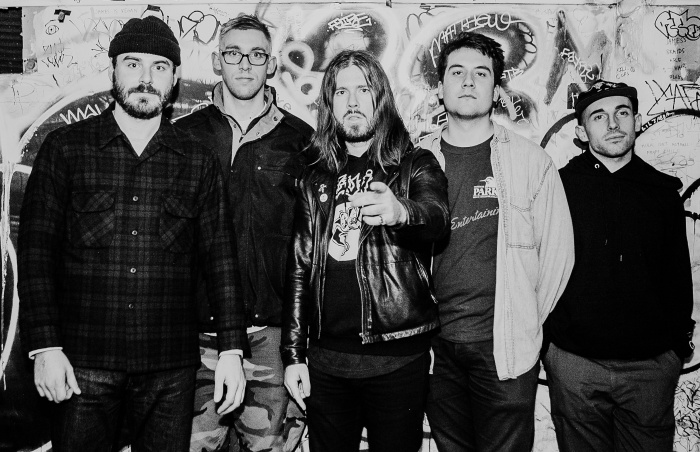 Who the Hell Is Wild Side? arrives in stores this week, but according to Emmett (and some of the band's fans), it probably took longer than it should have. "We started tracking the LP in 2016 at Candle Recording in Toronto with Dylan Frankland (recorded the Mil-Spec 7" and tons of other good shit), and finished January 2019. Vocals were recorded in Niagara by Davis Maxwell. [Laughs] Some have called this record 'the Chinese Democracy of hardcore.' I just say good things come to those who wait."
At time of my conversation with Emmett, I had been living with the Wild Side album for a few days, so I asked him about some of its specific tracks. With an attention-grabbing title like "No Man's Hoe," I went with that first. "The song is about refusing to be controlled, manipulated, or taken advantage of. Something everyone can relate to." My favorite song on Who the Hell Is Wild Side? at that point was "Then and Now" because it contains the elements I love about Wild Side: the NYHC-like spirit, the rock 'n' roll, the street mosh, and the hooks. "Whoa, interesting pick," Emmett said. "For me, personally, it's 'Street Action.' The lyrics are killer, lots of attitude in the riff, good groove, and a lil tasty lick at the end."
Who the Hell Is Wild Side? is being released by Triple-B Records, a label that has done a huge of work for the hardcore community for well over a decade now. Founded by Sam Yarmuth (read my 2016 interview with him here), Triple-B has also backed releases by such groups as Ecostrike, Candy, and True Love. Emmett spoke about Wild Side's working relationship with their label. "Sam put out a 7" for a band I was in called Demolition. He came on tour with us, and I played his fests in a few other bands, so we knew each other pretty well. Wild Side played AHC Fest in 2015 and he asked us to do an LP and we said 'hell yes!" Sam is real easy to work with and eggs us on when we wanna do dumb stuff like get a billboard with our album title on it."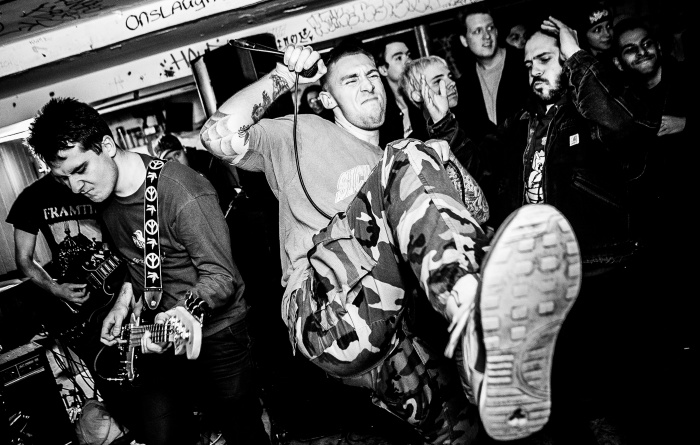 With their album finally hitting stores, Emmett clued me in on some of Wild Side's upcoming road plans. "We're having a big record release party in Toronto on May 25th with Mil-Spec, Ekulu, and Raze. That will be a lot of fun. After that we're doing a week of dates with Fury and Diztort on their US tour, and in July we'll be playing a Sound and Fury aftershow in LA and maybe some other California dates. That's all that's confirmed for now but we'll be taking the show on the road as much as possible."
***
Who the Hell Is Wild Side? is available now via Triple-B Records at this link.
Tagged: wild side