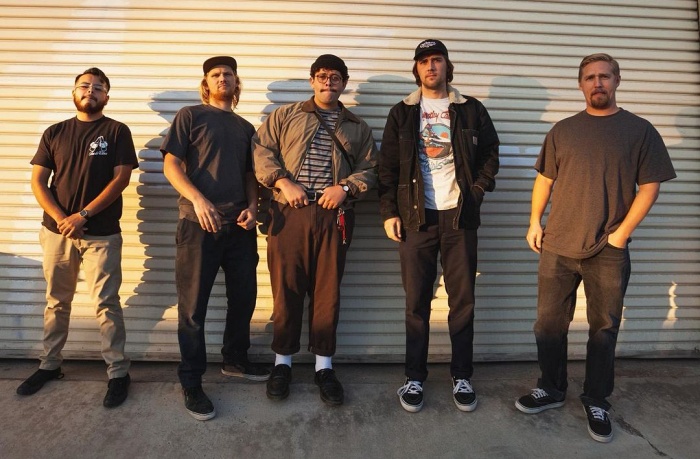 Project Sell Out are a band that have witnessed a thing or two. The band have taken all the turns and twists that life has thrown at them over the years and channelled all their expression and emotion into their brand new record, Soul Doubt.
David Orozco (bass) explains his personal experience with connecting to music and why punk music is always the prevailing force for him and the skate punk band. "For me personally, making punk music is my only therapy. I use it as an outlet to release anything confusing or frustrating. It also gives me and the band an opportunity to expand on our thoughts and understand ourselves."
The band have taken this attachment and loyalty to the genre and injected it all into Soul Doubt.

Orozco continues to explain how the skate band approached the lyrical content for this record and the main themes covered in each song. "A lot of personal struggle, emotions, and experiences are covered. Simon used this record as an opportunity for therapy and to work through some of the things he has faced in recent years and ultimately how he has been able to overcome those things.
"At times, the lyrics may seem darker than past records, and they are, but with a different light it can be seen in a positive way because of how he worked through those things."
Proving how Project Sell Out is intellectually channeling their inner expressions into their art and taking the punk genre into their own hands in every intriguing way they can.

However, having honest art comes at the cost of a very high work rate. Project Sell Out have truly given this album their all and ensured it is the best release it can be. Orozco goes into detail about the band's relentless ability to constantly create.
"For this album we grinded our fucking asses off. We made three whole ass albums worth of music. We rent out a studio in Spring Valley and we go in there one to two times a week for a good couple hours.
"Still to this day we do that. We just come with ideas and expand. The songwriting process is pretty funny sometimes because Zak [Prescott] comes up with full songs in his head and Noah has to translate his voice into riffs. We all just come prepared and ready to create. We're all creative and we can't stop."

Soul Doubt will assure listeners and fans of the modern punk movement that the music and message is still completely alive. Orozco leaves a final comment on just why you should invest your time into this album.
"I think Soul Doubt is the perfect album for people to discover us because it has every element we've been trying to incorporate. It has punk bangers as well as welll-written melodies and intricate riffage.
"Soul Doubt is a transition record for sure. Us coming from an exclusive punk rock sound into an inclusive, unique, alternative that everyone can enjoy. We're bringing our roots up to the masses and this flavor is for everyone. Not to mention, it's our best recorded album yet."
Soul Doubt is out now via Irish Voodoo Records.
Project Sell Out on social media: Facebook | Instagram | Twitter | Bandcamp
***
No Echo has launched a Patreon with 3 tiers offering all kinds of hardcore-related goodies to help support the site:
***
Tagged: project sell out, pso