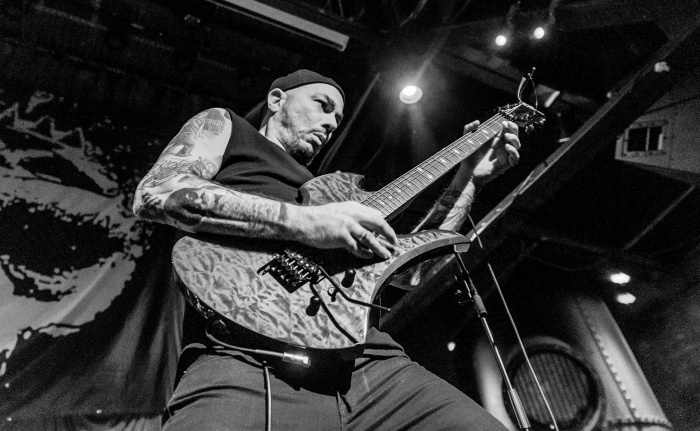 The folks at Relapse Records have just unleashed a beast in the form of Live at Northwest Terror Fest 2018, a new digital album packed with songs spanning the group's 30-year history.
With audio mixed by Len Carmichael at Landmine Studios, the album features such tracks as "Hollow" (from 1996's Humanity Is the Devil EP), "Diseased Prey Within Casing" (from 1997's Seasons in the Size of Days album), and "Harder They Fall" (from 1991's Those Who Fear Tomorrow album).
The set also includes the band's superb take on G.I.S.M.'s "Document One," and "Sons of Satan," a track originally recorded by Vermapyre, a solo project from Integrity vocalist Dwid Hellion.
Check out Live at Northwest Terror Fest 2018 below:
Live at Northwest Terror Fest 2018 tracklist:
Intro/Vocal Test - Live
Hollow - Live
Psychological Warfare - Live
Hymn for the Children of the Black Flame - Live
Taste My Sin - Live
Scorched Earth - Live
Abraxas Annihilation - Live
Sons of Satan (Vermapyre Cover) - Live
Rise - Live
Diseased Prey Within Casing - Live
Judgement Day - Live
Document One (G.I.S.M. Cover) - Live
I Am the Spell - Live
Darkness - Live
Die With Your Boots On - Live
Armenian Persecution - Live
Systems Overload - Live
Micha/Those Who Fear Tomorrow - Live
Jagged Visions of My True Destiny - Live
Harder They Fall - Live
Integrity on social media: Facebook | Instagram | Bandcamp
***
Donate a few bucks to help with No Echo's operating costs:
Tagged: integrity