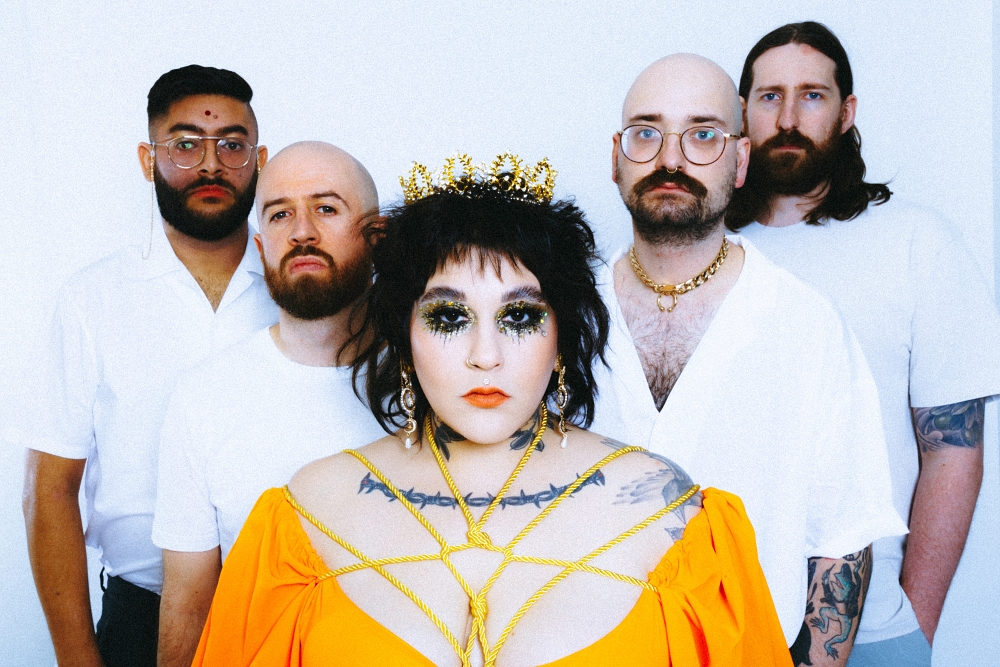 I first became aware of Ithaca soon afer the release of their 2019 debut album, The Language of Injury. The London, UK-based quintet formed with metal hardcore as their sonic blueprint, but they've been etching out their own interesting space within that framework along the way.
After a fruiful few years of working the road in support of their first record, Ithaca is preparing for a busy schedule ahead as their sophomore album, They Fear Us, is slated for a summer release.
With its gorgeous cinematography and arresting visuals, the music video for the album's massive-sounding title track (seen below) doesn't look like what you would expect from a band playing such heavy music, and that's the kind of vibe we need more of around here.
I spoke with Ithaca vocalist Djamila Azzouz about the music video's stylistic direction, the band's evolving songwriting direction, and her feelings about breaking through in the American market.
Firstly, the music video for "They Fear Us" is superb. I love it when heavier bands go out of the box with their visual presentation. Tell me a bit about the process behind making the video and how much you were involved with its art direction.
Thank you! That's super nice to hear, we've been overjoyed and baffled in equal measure by the reception the video has had. A lot of the ideas behind the visuals came from the They Fear Us album cover art (that we art directed ourselves) and the track itself—once our director, Paul Cooke, saw the art and heard the song he ran absolutely wild with it.
We knew from the beginning that we wanted a video that matched the energy of the song and really captured not just the themes in the lyrics but what we're about as a band. Anyone who knows us knows that we've never shied away from color and drama, and we wanted to push it to the maximum. Our whole thing has always been doing the exact opposite of what people expect of us and I genuinely believe that this one of the reasons people like us.
Luxe, opulence, richness and extravagance are not things you necessarily visually associate with metal music videos but the song itself is about discovering, harnessing, and reclaiming power, so for us it was a no brainer. There's also vengeful undertone, and I think that shines through in the video.
We had a lot of reference points: experimental cinema, religious iconography, and pre-Raphaelite paintings.
One of the things I love about this video is the fact that the main location was in a stately home of the British landed gentry, to create a contrast between us and the colonial imagery on the walls, representing us kicking down doors and taking up space. This felt quite poignant to us. Our director, Paul, did such an incredible job of piecing all of these ideas together and brought it to life in a way we never thought possible, we owe it all to him really.
When you were writing the new material, how conscious were you about the stylistic direction you were heading in? Perhaps it's more organic than that? I ask since Ithaca's sound is so eclectic, with many elements going into the sonic stew.
We've never gone into writing anything with a specific sound or idea in mind but inevitably it all comes together in the end! It's a real tough process, a real labor of love. There are so many different influences within the band it would be difficult for us to do something contrived, I think. However, [Ithaca guitarist] Sam [Chetan-Welsh], who does the majority of the writing, has such a wonderful way of taking all of our different identities and musical influences and creating riffs that somehow just sound like 'us.'
I do feel that we've definitely honed and refined our sound since our last album, The Language of Injury, and I'm so proud of that.
I often find it difficult to describe what our music sounds like to people who haven't heard us before because I just hear sounds and notes, and the way we put them together, never the whole songs. But I remember sitting down and listening to the album when the recording was finished and just thinking, "This is it. This is the one. We did it."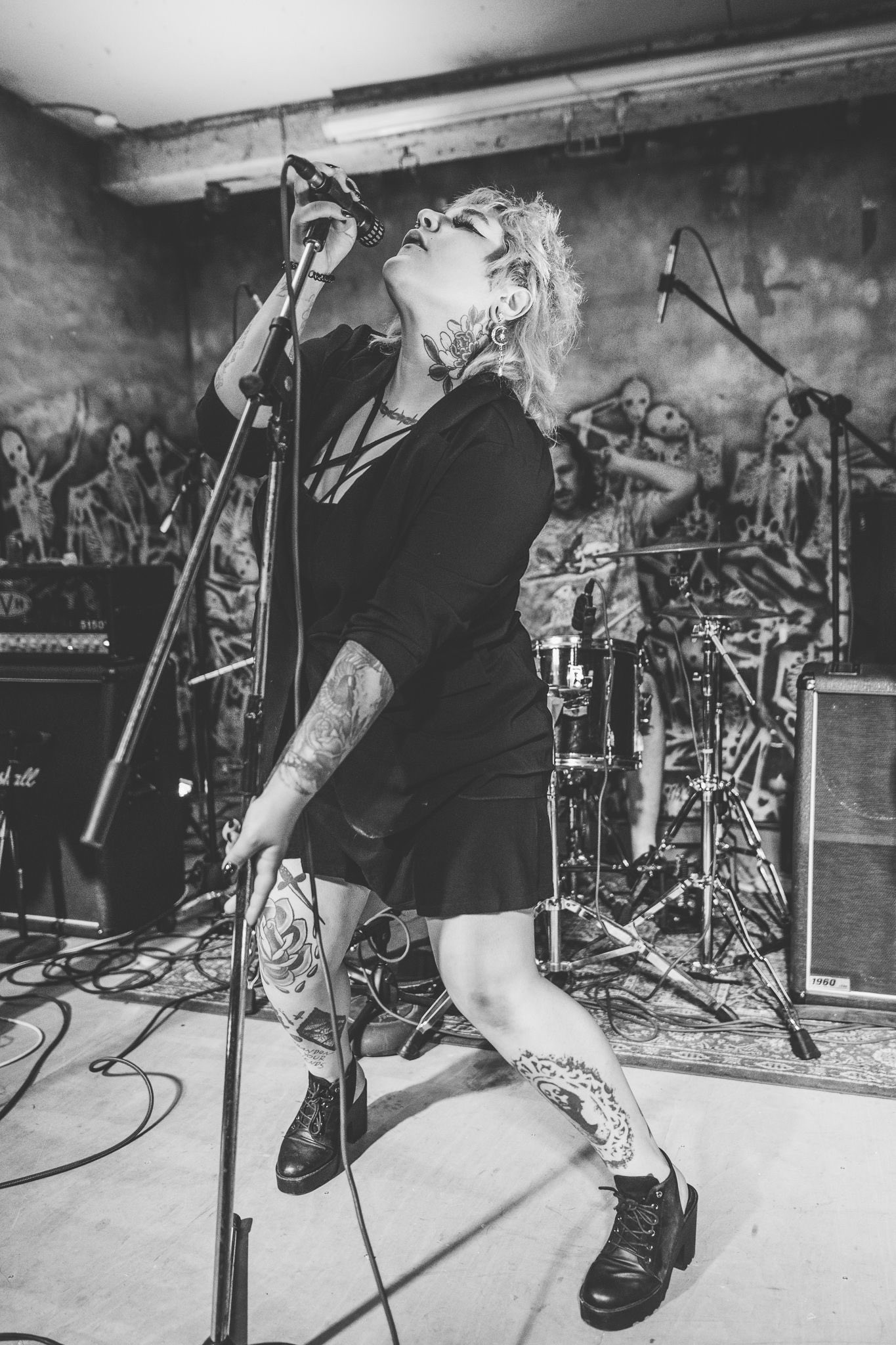 On the same kind of wavelength, Ithaca does a great job of coalescing the myriad of influences into something that still comes off memorable. Many other bands that try to do that fall flat. In other words, Ithaca pens songs that can connect with people who aren't necessarily well-versed with most of your influences since your material is so catchy.
Do you find that your music is reaching a wider audience beyond the metalcore one more and more these days?
Definitely! And thank you again, that's so kind. It's so hard to practice restraint when writing—the temptation is to just smash everything together and hope for the best, but ultimately I think that's where a lot of people go wrong. If we're good at anything, it's channelling all of our bonkers ideas into something that sounds cohesive and like an actual sound of its own. I think that's the Ithaca sound? I'm not sure if that even makes sense.
Also, we're really lucky that we have so many different personalities in this band that we're all very good at not only encouraging each other wild ideas but editing them too. Sometimes you don't need an aggressively '90s style 20-second fade out no matter how much you want it...
I don't love to be boxed into a genre but I do love that we sort of fit into so many different categories. I think this is because we've only ever written music for ourselves. We write music that makes us happy and we're just really lucky that there's a bunch of other people that like it too. I really pity people who sit down with the intention of writing a 'metalcore' album or a 'blackened hardcore' album or something specifically. How boring.
How important is it to break the band in America? That's a subject as old as the Beatles, but I'm curious about your thoughts on that.
We've had way more attention and coverage in the States than we ever thought we could, which is so exciting.
The conversation about representation and experimentation in heavy music feels like it's maybe a bit further on in the US than the UK, so what we say and our values seem to resonate with a lot of people over there and perhaps lands better? Who knows.
We have a lot of amazing fans in America and we wouldn't be here without them.
What are some of the other bands Ithaca has played with, or is connected to, that No Echo readers should be checking out if they haven't done so already?
The UK heavy scene is in such amazing health right now that it's hard to narrow it down! Hopefully your readers will already know Pupil Slicer and Heriot, who are both just crushing, and we were super impressed by the debut track from a new band called Burner.
There's also some really exciting things happening in non-guitar based music like Grove's eerie dancehall/grime. Beyond that, the heavy band we're probably most excited about right now is Zulu, but we have absolutely no connection to them... yet!
***
They Fear Us will be out on July 29th via Hassle Records.
Ithaca on social media: Facebook | Twitter | Instagram
***
Help Support What No Echo Does via Patreon:
***
Tagged: ithaca