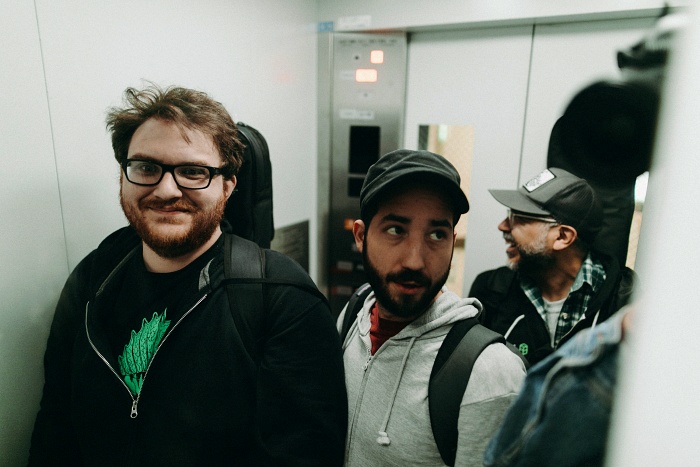 The origins of San Antonio-based band The Grasshopper Lies Heavy can be traced back to 2006 when musician James Woodard started it as a instrumental project while he was still in college. Since then, The Grasshopper Lies Heavy has released a slew of albums and EPs, toured a ton, and even traveled to Japan for a run of dates.
These days, the trio is rounded out by bassist Mario Trejo and drummer Steven Barrera, and Woodard is also handling vocal duties on top of guitars and synths.
Their latest full-length, A Cult That Worships a God of Death, will hit stores next month, and the album finds The Grasshopper Lies Heavy exploring a sonic landscape that includes elements of post-hardcore, metal, and noise rock—among other like-minded styles.
No Echo has partnered with The Grasshopper Lies Heavy to bring you the music video premiere for their new track, "Charging Bull," an absolute riff onslaught from the forthcoming album:
"This song is about the ennui of someone in their mid-30s stuck in an unfulfilling office gig; the realization that money and happiness are in fact intertwined, and the desperation that people feel making ends meet while their bosses buy second houses," Woodword offered to No Echo.
"Money is their God, and the Charging Bull is their Golden Calf."
A Cult That Worships a God of Death will be out on July 16th via Learning Curve Records. Pre-orders are up now at this link.
The Grasshopper Lies Heavy on social media: Facebook | Twitter | Instagram
***
Help Support What No Echo Does via Patreon:
***
Tagged: the grasshopper lies heavy