The Distillers, Cypress Hill, and Eagles of Death Metal are just a few of the bands Dan McKay has worked the road with as a Tour Manager and Audio Engineer throughout the years.
When the global pandemic struck earlier this year, the Montreal-based father of two had to face the reality that he wouldn't be able to work his trade. Instead of wallowing in self-pity, Dan took charge of things, starting Finless Skateboard Co. with his son Harley and daughter Daisy Jo.
Finless decks are hand-crafted out of eco-friendly materials, and feature clear grip made of recycled crushed glass. Dan and his kids have launched a Kickstarter to help them get things rolling.
No Echo chatted with Dan about his background in the music business, working with his kids, and his outlook on the challenges he's faced this year.
How did you get into the tour management side of the music business? Did you get started by playing in bands and learned the ropes that way, or were you a roadie?
I started playing in punk rock and hardcore bands at 14 years old, by 15, I started learning about live sound engineering, got my first gig working in a small punk rock venue in Montreal. That escalated to bigger venues and then tours.
Touring as a sound guy. At 23, I got hired on a tour and 3 months into it, the tour manager quit and I just jumped in and became the Tour Manager. Never looked back since.
What are biggest highlights from tour managing adventures so far?
Thats a hard one, there are so many, good and bad. What I take back the most are the amazing bands I have been able to work with, shows that were absolutely electric.
I can't imagine how scary it was for someone who makes their living traveling like you do once things started getting serious about COVID-19 on the news. Tell me a bit about that and how you turned that into this idea for Finless.
It was scary in the fact that we weren't sure how serious or how long this was gonna take before we get back to touring. And scary in the simple fact that, all our careers just stopped and we were powerless, there was nothing to fix, we just have to wait it out.
Thats when I told myself that I would not feed into the depressing situation 2020 brought upon us and turn it around to make something positive about it. Start a family based, sustainable company with my kids and show them that when the going gets tough, turn it around and make something awesome.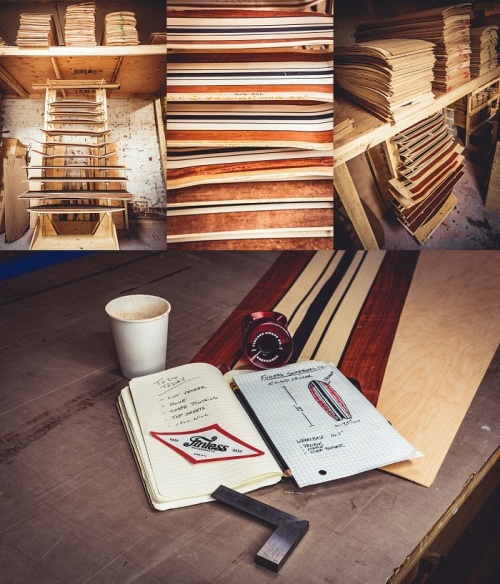 What's your background in skateboarding? Also, when you decided to start Finless, did you turn to people in that industry once you got serious about doing it?
As many of us know, punk rock and skateboarding come hand in hand. And being a kid in the early '90s, skateboarding was very much part of the counter culture scene that punk rock was. Thats all we did. And now, starting this company, I feel so fortunate that people in the industry are so helpful.
The skateboard industry is very much like the music industry, its no bullshit, its sacred, you cant fake your way into it. And I am glad its like that, I am all about being genuine and authentic, so hitting up people in the skateboard industry I kinda feel at home, learning so much from them. It's awesome.
Are you shielding your kids from any aspect of this project so far, or are you giving them full access to the ups and downs of it all from a business/operational angle?
FULL ACCESS. Thats part of the journey. Dad loses job, that sucks, Dad starts a business, it's gonna be hard, its gonna be stressful, plans are gonna change, and thats exciting and fun. It's teaching them about focus, passion and being driven.
Nothing comes easy, and if it does, its probably not worth it or its not gonna be around for long. Adapt, I guess thats the key word here.
How do you feel about taking the project to a show like Shark Tank? Would you be open to something like that?
Meh…. I don't think so. But hey, if there is something I've learned about starting a business is that if you plan on something going a certain way, it probably won't, so never say never.
Why you got a in?
Is there any word of advice you'd like to offer folks out there who are reading this who might find themselves stuck in a rut because of the lockdown?
Sometimes in life you just have to dive in, you burn the bridges behind you so there is nowhere else to go but forward. It takes a lot of courage to do that, but once you do it, there's no turning back. The only option is to succeed.
I think as much as it sounds crazy, that's the kind of thing you need to be able to overcome to succeed in anything.
***
Hit up the Finless Skateboard Co. Kickstarter page here.
***
No Echo has launched a Patreon with 3 tiers offering all kinds of hardcore-related goodies to help support the site:
***