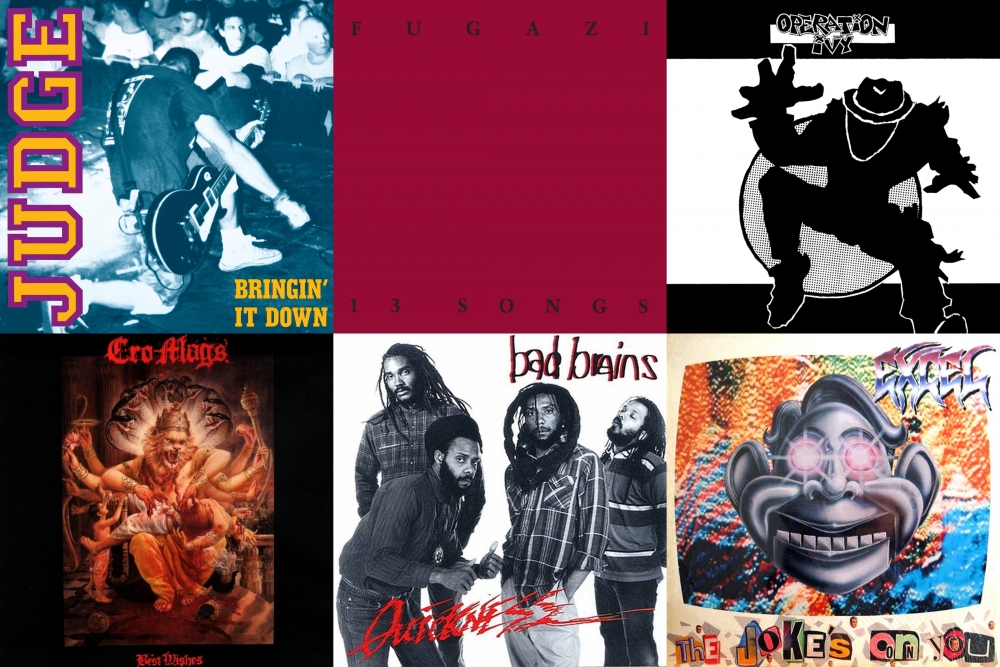 While purists might insist that hardcore was pushing up daisies by 1983, those of us who missed the supposed glory days often point to 1989 as reason to celebrate. Many of the original hardcore punk heroes had long since called it a day by the final year of the 1980s, however, others were just getting started. Out with the old, and in with the new it was. A lot of freshman and sophomore albums hit the streets with wild abandon in '89 and would go on to be considered classics by a new generation of hard dancing throngs. The message of the OG movement remained in-tact, while the music and production values were stepped up significantly to territories previously unimaginable.
Punk and hardcore may have aged sort of like a half-empty (half-full?) bottle of Mad Dog 20/20 since its earliest days, but these albums are proof positive that the youth will definitely have their say, with a right hook to the chin for good measure. Here's a look at 14 releases eating cake for their 30th birthdays this year:
Cro-Mags, Best Wishes
Possibly the most anxiously anticipated album on the 1989 hardcore release schedule, the Cro-Mags' sophomore joint, Best Wishes was met with mixed feelings. A decidedly more "crossover" effort overall. While tracks the likes of "Crush the Demoniac" and "Death Camps" are as crucial as any output the Mags ever unleashed, the absence of vocalist John Joseph is felt often and throughout. Nonetheless, Best Wishes' influence can be felt to this very day, and I mean that in the best possible way, Power Trip.
Sick of It All, Blood, Sweat and No Tears
The premier long-player from Queens, NYs most bludgeoning NYHC band was dubbed a classic from the first time you lent your ears to it. Whether it be the ultra-short and fast style of "Rat Pack," or the more groove intensive "Disillusion," Sick of It All rips through the album's nineteen songs in a little under 29 minutes — just the way great hardcore was meant to be!
Agnostic Front, Live at CBGB
One of the best features of live albums tends to be their track listings, which, in most cases, proves to serve as a greatest hits package. AF's blistering set recorded during the summer of '88 at the grimy venue where it all started, is no exception. You can feel the sweat dripping from the ceiling and the blood trickling down the punters' faces beginning with the opening notes of "Victim in Pain," all the way through to "The Eliminator."
Leeway, Born to Expire
NYHC's greatest crossover album! Following in the footsteps of Corrosion of Conformity and D.R.I., Leeway connected the urgency of hardcore, the power of thrash metal and the groove of the Big Apple near flawlessly. AJ Novello's guitar tone alone was a game-changer, as was Eddie Sutton's b-boy flavored vocal attack. If the opening moments of "Rise and Fall" didn't get your blood pumping, you were probably already dead! It's a damn shame this album sat on a record label shelf for two years after its creation.
Judge, Bringin' it Down
This straight edge hardcore supergroup's lone LP rocked a hardline message, along with proportionately hard riffing courtesy of Youth of Today/Shelter axe man Porcell. Interestingly — especially considering the group's purist hardcore stance — Bringin' it Down is decidedly more metal sounding than its SEHC peers. Mike Judge's gruff and menacing vocal delivery could frighten almost any alcoholic beverage out of one's hands.
Bad Brains, Quickness
The follow-up to the universally adored I Against I is a solid and crunchy concoction, albeit sadly controversial. While the Brains continued successfully in their quest to meld styles upon styles, tremendous tunes the likes of "With the Quickness" and "Soul Craft" were at times dwarfed by the stink "Don't Blow Bubbles" caused with its apparent homophobic leanings. Thankfully, the band has since distanced themselves from such tenets.
Gorilla Biscuits, Start Today
A straight-up banger from one of the most celebrated straight edge outfits there has ever been. The front-to-back energy of Start Today is every bit as exhilarating as it is exhausting. Loaded with passionate, no-frills hardcore anthems, this LP slammed GB onto the map alongside hardcore's elite bands.
(Rest easy, Alex Brown)
Operation Ivy, Energy
The fellas in Fishbone might want to argue the point, but Energy might just be ska-punk's finest moment. Op Ivy mixed up the, um...energy of hardcore punk with the rhythmic hop of ska into an addictive stew. This, their one and only "proper" album, quickly became an underground classic, and the band regrettably called it a day shortly after Energy hit the streets.
Killing Time, Brightside
Another sterling debut out of the NYHC stable. Heavy without resorting to too much metal damage, and hardcore without faulty, rickety studio work, Brightside is an unapologetic haymaker to the face of those who oppose. Vocalist Anthony Comunale is that guy! Straightforward, pissed-off modern style NYHC! I dare you to try to stand still through the breakdown of "Backtrack."
Fugazi, 13 Songs
Although not "officially" Fugazi's first album, most fans simply consider it to be just that. You know... The one with "Waiting Room" on it. The track list is a combo of the band's first two EPs, yet 13 Songs is as worthy as any of their more traditionally compiled LPs. Post-hardcore was never the same after Ian and co. got their mitts on it.
Murphy's Law, Back with a Bong
One third of NYHC's "Big 3" produced one hell of a hardcore party 2.0 with their sophomore album, Back with a Bong. Of course, the humorous intensity of frontman extraordinaire, Jimmy G. was as in-tact as ever, however Murphy's Law added some branches to its hardcore tree; namely, ska, which fit quite neatly alongside their trademark, smile-inducing hardcore punk. "Panty Raid" plus "Quest for Herb" plus "Ska Song" equals Back with a Bong. You would have sworn at the time that the band was set to explode. There was some radio airplay, videos... Alas, it wasn't in the cards, but we'll always have Murphy's Law to thank for decades of ear-to-ear grins mixed with hardcore.
Nuclear Assault, Handle with Care
Yeah, yeah — it's technically a metal album, but as many would agree, Nuclear Assault were always more hardcore than many supposed hardcore bands. Handle with Care, NA's third LP, is devoid of all generic thrash metal trappings, and replete with hard-as-nails selections, lyrically addressing a wide array of subject matter; from racism and human rights to vivisection and the environment. By far, the most unique and thought provoking of all crossover bands launching from the metal side of the equation.
Excel, The Joke's on You
Sure, their first album, Split Image, contains several of Excel's "classics," however, The Joke's on You may be their finest recorded moment. Continuing where they left off with Split Image; preaching the aural gospel of Venice, California's hardcore punk scene, Excel's brand of polished crossover stylings hits its peak on this 12-song crusher. They shoulda been a much bigger band.
Madball, Ball of Destruction 7"
What started out as an Agnostic Front jam session, designed to entertain 12-year-old Freddy Cricien, became quite another thing. This single, which feels an awful lot like AF's United Blood with an angry kid on vocals, set it off, if you will, for Madball to morph into a world class hardcore juggernaut, still slayin' 'em to this very day.
***
If you're shopping for vinyl, CD, and cassette hardcore titles, head to No Echo's partner store, Reverb LP, to see what they have available. Every purchase you make helps No Echo with site costs.
Tagged: agnostic front, cro-mags, excel, fugazi, judge, killing time, madball, murphy's law, nuclear assault, operation ivy, sick of it all