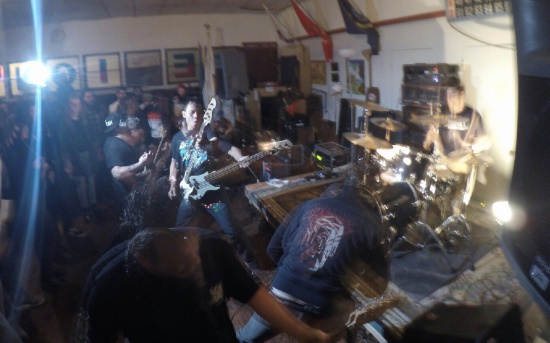 Featuring former members of such bands as Ten Yard Fight, Backlash, and The Dead Unknown, Portland's Unrestrained itch a certain '90s metallic hardcore itch I seem to never get rid of. Formed in 2007, the way the quintet weaves together dissonant and jagged guitar riffing with off-kilter rhythms and abrasive vocals impresses. It's no surprise that other outlets have compared Unrestrained with bands like Turmoil and Indecision.
In this exclusive, we've partnered with Unrestrained to bring you the premiere of their forthcoming 7" EP, Inside My Head, Black Meets Red. The 3-track collection will arrive in stores via Indecision Records on Record Store Day, which is this coming Saturday, April 22.
Unrestrained drummer Jon Sinko had the following to say to No Echo about the new recording:
From the set up of the drums at Audiosiege/Falcon Studios (where Poison Idea recorded Kings of Punk) I knew I was gonna be proud of this record. It'd been a while since I recorded in a proper studio. Honestly, since probably 1994 when Backlash recorded at Trax East in NJ with Steve Evetts. Derek Leisy, aka D-Wreck, our producer and engineer at Audiosiege, had done a lot of projects too since our 12" and you could tell it was gonna be a killer sound from the first take. To me, this is my favorite record I've had the pleasure of playing on.

As far as the record being on Indecision, I think I speak for all of us that we are beyond stoked and for sure honored to be on the roster with bands we've grown up with and are friends with from Unbroken to Death By Stereo to Adamantium and tons more. Not to mention, Mandel. Dude's a legend himself. Killer fanzine, amazing label, halfway decent photographer and downright solid dude. What more could a band ask for. And the fact that the Precious 12" is also coming out on RSD makes it that much more special to me. I've known Dave for over 20 years and it's been a very cool thing for us to work on something together. Thanks, Mandel."
Inside My Head, Black Meets Red is available directly from Indecision Records. Head to Unrestrained's Bandcamp page to check out more music from the band, plus Facebook to keep up with their upcoming live appearances.
Tagged: hardcore, unrestrained