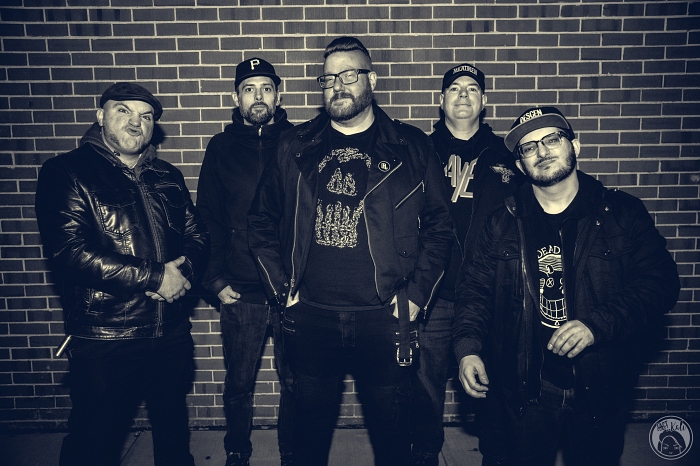 "Imagine Link Wray or Dick Dale sitting in with Agnostic Front, or Suicidal Tendencies binge-watching Sharknado."
The crazy descriptor above comes courtesy of ChumHuffer, a New York band that formed at the end of 2021. "We've all known each other from bands in the past that we've played in and with," vocalist Shawn Refuse told No Echo via email.
"I was in Boston's Refuse Resist, [guitarist] Matt is in Blackout Shoppers, and [guitarist] Joe founded Hopeless Otis, but he's not in that band anymore. Joe and I had taken some time away from bands to focus on life and getting things back together. But music has always been the driving factor in our lives. Matt, who plays bass in Blackout Shoppers, wanted to play guitar in a band. It was a great pairing of misfits."
After the original rhythm section of bassist Marc Noiz (Two Man Advantage) and drummer Mike Flaherty (Car Bomb Parade) parted ways with ChumHuffer, the group invited bassist Ryan Paige and drummer Jimmy Duke into the fold.
Shawn described his band's sound: "We play all sorts of hardcore punk. Layered is a good way to describe it. Matt holds down and write hard and fast guitar riffs and Joe embellishes with lead lines and accents.
"Our influences are from all over the place. I'm into West Coast and Boston hardcore punk ranging from Dead Kennedys and TSOL to Slapshot. Joe is into bands like Decendents and Iron Chic. Matt is into everything from GG Alin to Slayer. Ryan is really into Avail and Whores. Jimmy is into all things punk and Oi! That's what builds our sound."
Today, ChumHuffer announced the release of their forthcoming debut album, Orgy of Hate. It's the follow-up to their Blood in the Water EP from last year:
"Orgy of Hate is a great mixture of hard topics and just having fun. It has 7 hard and fast songs. I have a tendency of getting too deep sometimes and Matt is there to lighten the mood. I was going to call the song, which became the title of the album, 'Hate will Breed Hate.' Matt suggested that orgies are more fun [laughs]. So it became an Orgy of Hate. Joe's song 'Cancel Me' showcases his singing and talks about the fun culture we live in today."
Shawn shared some of ChumHuffer's immediate future plans: "We will continue to play and write. There are two release shows in April. One in Boston on the 22nd and one in NYC on the 30th. I'm from Boston, so it'll be a great homecoming."
***
Orgy of Hate will be out on all streaming sites on April 21st.
ChumHuffer on social media: Instagram | Bandcamp
***
Help Support What No Echo Does via Patreon:
***
Tagged: chumhuffer