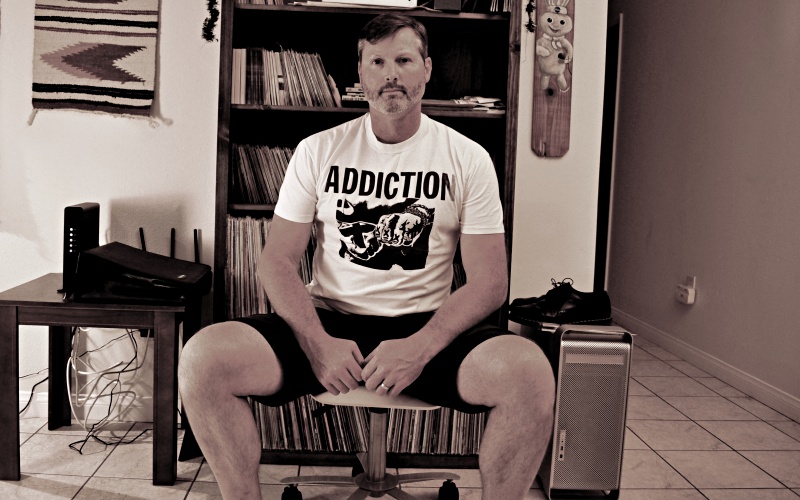 Pillsbury Hardcore, Pissed Happy Children, End to End, Process, Charred Remains/Man Is the Bastard... these groups all have one member in common: Shawn Connell. That's some good shit right there! Though I've never met Shawn, his work greatly influenced my former band, Black Army Jacket. My good friend and former bandmate, Andrew, suggested I profile Shawn for the site's Record Collector series since he's got a dream stash at his house, so here it is!
How long have you been collecting records?
Interestingly, I am not not sure when the phenomenon occurred whereby an individual buys and keeps records to play and somehow through the supernatural power of it, becomes a "collector." Most likely, by passive osmosis I learned from others that being a collector means you will have something you might not have otherwise. Keeping in mind that in the early to mid-'80s there was no YouTube, no CD burners and unless someone was willing to make you a cassette tape you would not get to listen to something. I was deeply in love with punk/hardcore and sold out to the scene.
It was essential that I have access to this music. Fortunately for me, I had access to Toxic Shock Records in Pomona, California. Arguably one of the best punk/hardcore/alternative record shops in the world at the time. Kids would come from all over Southern California to find records. It was there that I met people like Bill Tuck and Bob Durkee who would help me understand what it was like to be a collector. It also was easy to understand that press numbers were very low for many releases so if you did not find something and get it quick you might not ever find it—also no eBay or Discogs or places to find rare treasures.
So as a 14 or 15-year-old kid, naturally, I had to find a way to buy these treasures too. Paper route, food service, landscaping, you name it, if I could do it, I did it and most of that money went into either band equipment or records. I'll stop beating around the bush and answer directly, I'd say I became a collector (mindfully) about 32 years ago, about 1985 starting and ending about 1991 when I left for college. I have only recently restarted my former love of collecting and I have to say, its a lot of fun.
Where/how do you usually find your records these days?
Since I have a pretty decent collection (reference to my access to Toxic Shock as a kid), there isn't much that I am actively seeking, although if you know anyone who has Effigies' Haunted Town, give me their number....mostly I look for records on line and also survey what people post on Instagram. When I am in "the City" like LA or SF on business I'll look up local shops off google and take a look just to see what they have. For me, personally, I didn't pay much mind to the average record that was for sale back in the mid-'80s, like Black Flag's Jealous Again, Descendents, etc. so I am having fun tracking those down now, and they are pretty easy to find at 40 or 50 bucks. Finding them at 20-30 bucks in good shape isn't easy so those are things I am looking for. Getting back to the question, its good to know people who collect. I have made several friends on the Internet who collect, they have collector friends so, finding someone to buy or trade with is actually quite easy these days.
What is the most you paid for a single record, where/how did you obtain it, and what was it?
The most I ever "paid" for a record was SSD Control, The Kids Will Have Their Say. Although I did not put down any money that was one of the records I wanted the most in 1985. I dropped a modern day fortune in Misfits records to obtain it. In today's money the SSD is valued about $600-700 bucks depending on condition. Those same Misfits records today would likely be valued collectively at about $3000 or more dollars but for me, I still got the better end of that deal.
If you to pick one record label you feel had/has the best track record of quality releases, who would that be and what are some key titles you love?
So this is easy, I'm going with Dischord Records. I've been a sucker for DC punk/hardcore since I got my first infusion of Minor Threat in 1982. From there getting all the early Dischord records was my first collecting goal. Key titles, Teen Idols, SOA's No Policy, Government Issue's Legless Bull, Youth Brigade's Welcome to Washington, Iron Cross' Skinhead Glory, Faith/Void split LP, Faith's Subject to Change, Minor Threat's EP, Filler, and In My Eyes...I could go on and on, The Snakes, it's all good. I stopped buying like I mentioned about 1991...so by the time Fugazi was on the scene I was winding down. I'll also say that Dischord has an undeniable history of providing high quality consistent releases at reasonable prices. I think there is a lot to be said about that as it keeps records flowing into the hands of people who want it. They also have a nice repress history, which keeps the frustrated buyer sort of happy.
Of everything in your current collection, what is your most prized record and why?
I hate this question [laughs]. Damn. Its a coin toss. Sort of. Well, it's either Teen Idols' EP, Youth Brigade (Test Press) or my SSD Control's Get It Away on Xclaim! I think, however, for the music alone, if I was stranded on a deserted island, SSD's Get It Away, hands down the best hardcore punk record ever made, my opinion only of course.
Is there anything that frustrates you about the current record collecting scene?
Greed, misinformation, obfuscation, people trying to get over on someone for a fast score. It's like you just found out your next door neighbor died. He was in his '90s. He had a 1966 triple black Mustang fastback since he drove it off the lot. The widow is strapped for cash, no children and you offer her $1000 dollars for it. FUCK YOU! That is what bothers me about the collecting scene and its a human condition, so go figure, I'm sure that same exists in all areas of collecting from stamps to baseball cards. I think being fair about a trade makes record collecting good for both sides, its a win-win, is that too much to ask?
Which records are still on your want list that you've had a tough time tracking down through the years?
I've mentioned Effigies' first. I also would love to get some of the classics I never thought to get when I was younger because I was too busy with hardcore exclusively, like The Clash and LA punk. Finding test pressings is always fun if you can afford it. I am still shocked I found the Youth Brigade Test Press EP, at DC's Yesterday and Today records in 1987 when I was on tour with Pillsbury Hardcore... out in the bin for 12 bucks. So was the cashier, but ...it was a legit sale.
***
Follow Shawn on Instagram.
Tagged: record collector