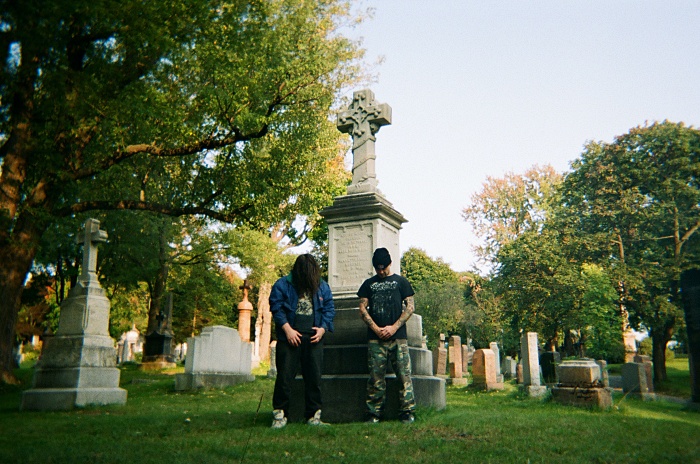 Category 514 is a new musical project comprised of Gazm members Seb (vocals, guitar, bass, beats) and Joshua (drums, backing vocals) that started last summer. With the lockdown in full swing, the two Montreal-based musicians wanted to get busy since they couldn't go out and tour with their main gig.
"Initially we wanted to do a pure '90s death/doom revival record but we realized that that pool of bands is too saturated right now," Seb tells No Echo about Category 514. "As history has shown again and again, it's OK to be 3 years late to a metal trend if you claim it's a hardcore band and talk shit on the mic [laughs]."
"Musically speaking, the whole idea was kind of like, what if every kind of heavy evil music from the mid-'90s was put together. Imagine Bulldoze and Carcass with a touch of Evil Pimp thrown into a blender to make some real potent dumb idiot juice."
If that isn't a hard-as-fuck musical description, I'm not sure what is. Anyway, take a listen to "Punk Motherfucker," a track from Category 514's forthcoming debut demo, No Love for Fakes:
"Lyrically, the songs are all about how sometimes, people don't grow with you and you just gotta cut them out," says Seb. "Acting like there's nothing you can do to change your life especially when you have a safety net is extremely corny behavior.
"You have to do what makes you happy and not let people drag you down. You gotta be aware of yourself and your surroundings and act accordingly. To us those are facts and if you deny those facts, you're fake."
The No Love for Fakes demo will be out on Apr 23rd on all streaming services as well as the Category 514 Bandcamp. A limited edition version of the demo is available now via Ice Island Hardcore.
***
Help Support What No Echo Does via Patreon:
***
Tagged: category 514, gazm