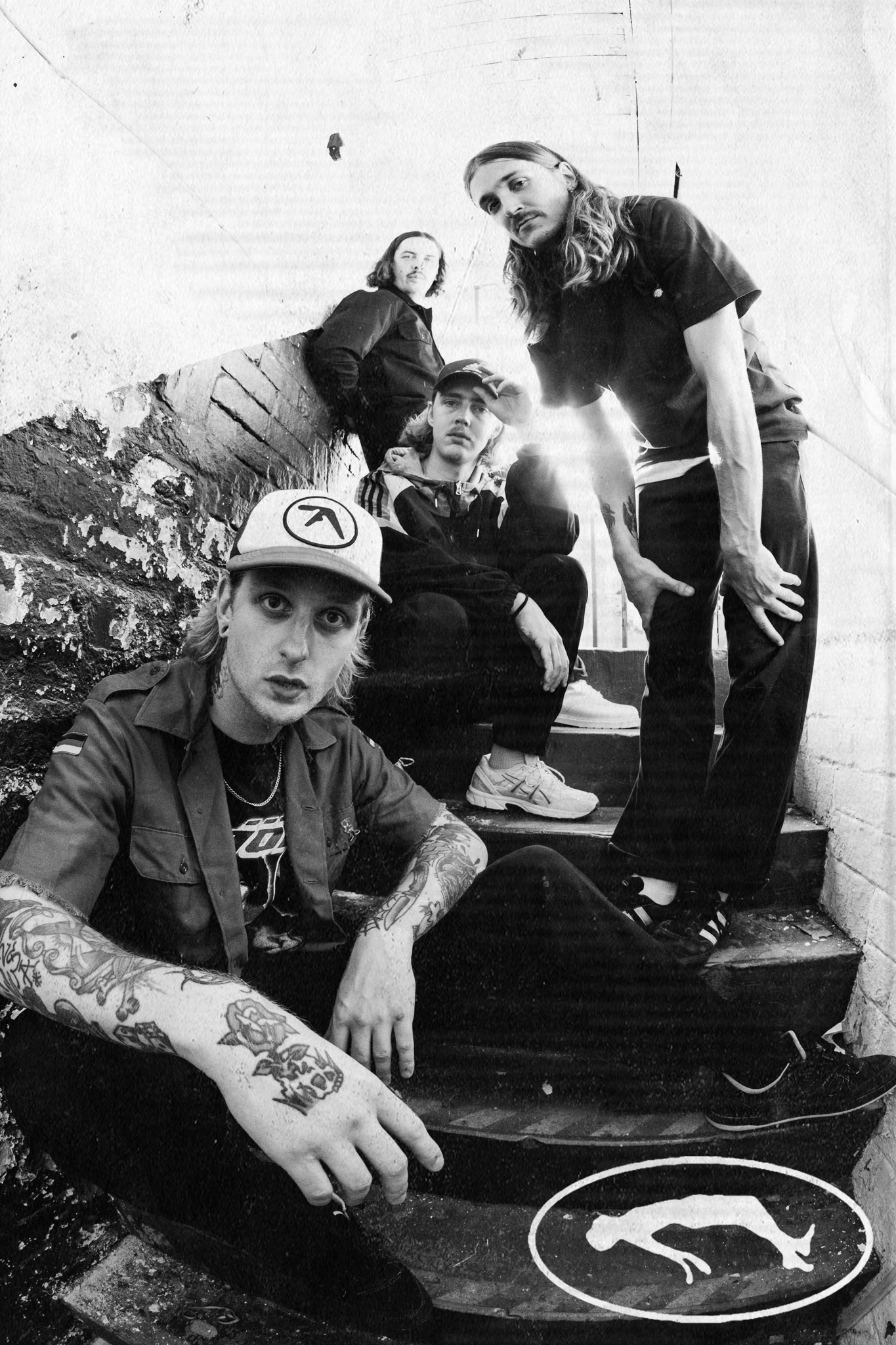 Band: Bodyweb
From: Leeds, England

Their formation story:
(Louis Hardy, guitar/vocals): "Me and Ben started jamming in Feb '22 after he saw a vid of me riffing on IG. We kinda knew each other through the scene in Leeds but not particularly well. It essentially sparked the beginning of a beautiful friendship. Gradually, we started writing some experimental shit which was quite atypical for both of us. Over the next year we steadily chipped away at the project, jamming where we could, recording in our houses, and the studio above Boom.
"We didn't really have a full band until the record was almost done, but we knew we needed someone to handle electronics coz there was a lot of sound design/sample stuff to consider. I'd sent the songs to my old mate Pete from Nihiloxica and he was mad open to the idea of playing in the band. He came to Leeds from Kampala to lay down some synth parts and it enhanced the record so much. He was one of the first people I ever made music with as a kid and a childhood best friend I grew up with, so it was sick to be back in the room together rocking after so many years. A real full circle moment.
"Bass player wise, we tried a lot of people, both friends and strangers. I had this prerequisite thing in my head where it had to be someone new, which honestly held us back. Ethan was such a logical choice. Me and him have rocked together in Higher Power for like 8 years so we know each other inside out. We have laughed, fought and cried together. He has really powerful energy, so as soon as he entered the room with us, it was perfect."
Their sound in their own words:
"I just wanted to make a band that is discomforting and dark at the core, but has the widest creative parameters possible. Describe it however you wish.
"Influence wise, it's the sum of a trillion things in the pot. The entire year I was just curating the darkest shit I could find: Dystopia, Stalaggh, early Ross Robinson records, some '90s/'00s metalcore/emo, movies like Irreversible, Lilya4Ever, Killing of A Sacred Deer, etc. the list goes on…
"We wanted to tap into different genres so I listened to a lot of Michael Andrews, Brian Eno, Björk, Aphex Twin, Venetian Snares, Radiohead, Team Sleep, etc., especially for the melodic/clean vocal parts. There's always jungle blasting in my car so that influence crept in too."
Latest release info:
"train_wreck_simulation is a concept record. So many of us live our lives repeatedly playing out the same sequence of trauma. We inherit behaviours and flawed blueprints from our parents and then get sent out into the world expecting to know how to handle things like love and impulse control.
"Not everyone is raised equal, some people get taught valuable lessons about emotional understanding and self-awareness, some people have to learn it later. Some people's family buy them cars and houses, other people's family beat the fuck out of them. We're not all born with equal opportunities or equal knowledge. Still, this isn't about resentment for those who have more, it's about being the best version of yourself you can be, despite your circumstances.
"My life felt like a reoccurring train wreck for a while. I've spent so much time blindly making stupid mistakes, bad choices and pushing people away because I didn't truly know myself. I was mistrustful of love, and ultimately didn't care about myself or facing my demons. One day I just woke up like 'fuck this, I have to change. I want to grow and be better. I want to heal and be closer to God, I want to help every single person I ever meet for the rest of my life, starting with myself.'
That's what the record is about—breaking the trauma cycle and healing yourself."
Future plans:
"Honestly, just to write and create art together. The purpose for me is to expel dormant feelings that rot inside. Anything that comes as a byproduct of that is lit. We're scheming some more shows and a tour later this year, alongside a bunch of new releases so there's a lot in the pipeline."
What other bands from their region should we check out?
"Leeds is insanely diverse. Check out Static Dress, The Flex, Last Wishes, Mourning, Implement, Mortuary Spawn, Belk, Churchgoers, The Annihilated, Motive. Shout out the boydem Luso, Venuq + White Brizzy. Shout out Adam Rogers, Boom, Damaged Goods, Atko, Lecky, etc.
Far too many to name! If I missed you I'll get ya next time."
***
train_wreck_simulation available on CD and cassette via Northern Unrest.
Bodyweb on social media: Instagram
***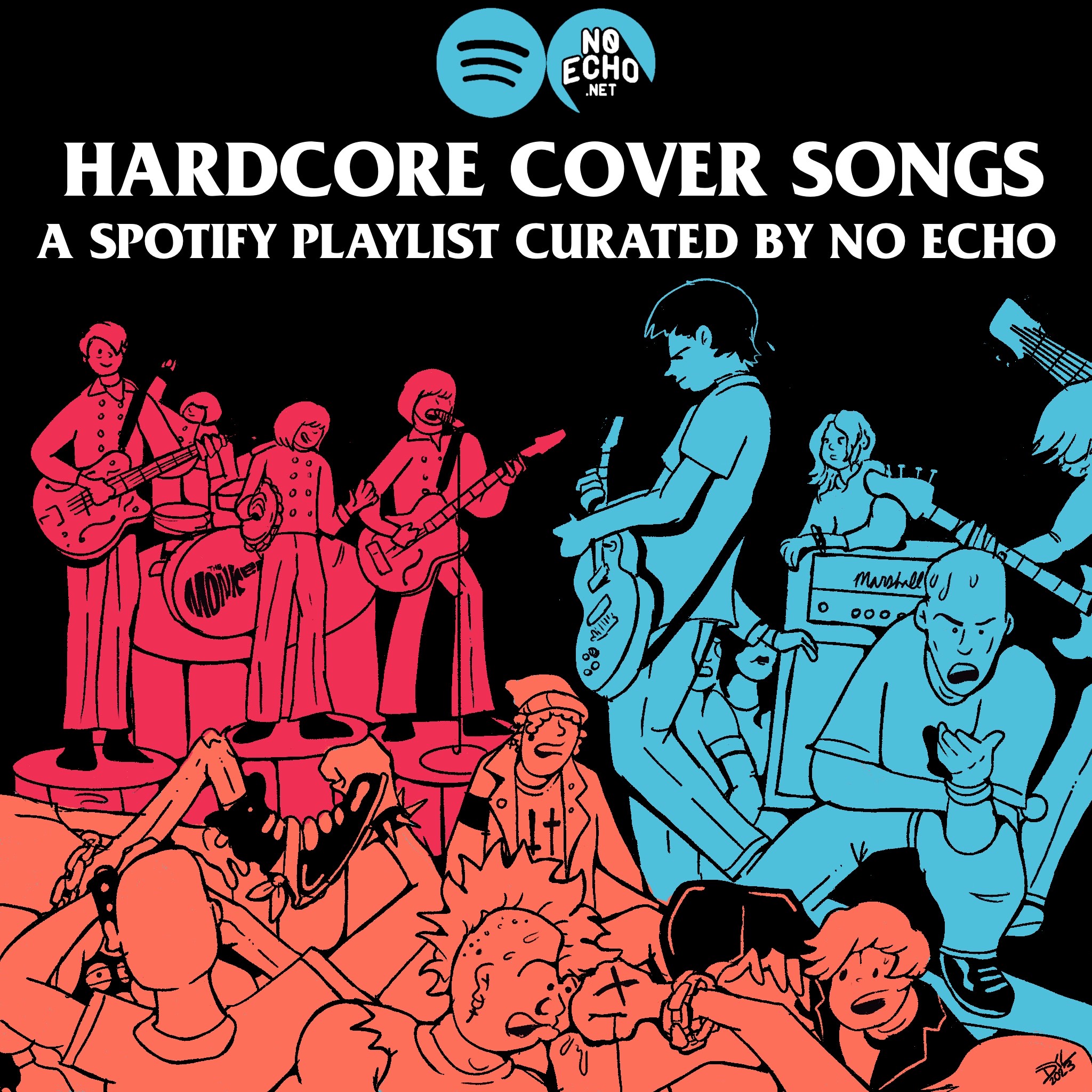 Tagged: bodyweb