Back during their original run in the late '80s and early '90s, Viol-lence inspired a polarizing response from the metal community.

It seemed people either loved or hated the Bay Area-based outfit, and most of that was centered around frontman Sean Killian's vocals.
His delivery matched the intensity of thrash greats like Paul Baloff and Tom Araya, but Killian's stylistic approach infused both a certain hardcore punk swagger and higher-pitched attack that many metalheads weren't ready for at the time.
Speaking for myself, Killian's vocal presence was always one of the most appealing aspects of Vio-lence's style, if not the most. The Johnny Rotten-equeness of it packed punch and helped set the guys apart from the rest of their contemporaries
In the years since their initial time together, Vio-lence's pedigree gained ground, and they've gone on to be recognized as one of the great bands of their era, influencing the likes of Power Trip and Municipal Waste along the way.
It's been close to three decades since Vio-lence graced us with new material, but the quintet's new EP, Let the World Burn, finds them bringing forth 5 tracks that sound like the natural continuation of their first two studio albums: Eternal Nightmare (1988) and Oppressing the Masses (1990).
Let the World Burn's first track, "Flesh from the Bone," sets the tone with double-bass-driven tempos, Killian's unmistakable vocals, and speedy guitar riffs from original member Phil Demmel and new addition, Bobby Gustafson, who as a member of Overkill during their peak years in the '80s helped define the thrash sound.
Vio-lence 2022 also includes OG drummer Perry Strickland (he's a beast on this new EP) and Christian Olde Wolbers, a Belgian bassist who you probably know from his work in such bands as Fear Factory, Beowülf, and PowerFlo.
The Strickland/Olde Wolbers rhythm section proves to be a 2-man wrecking crew (a little Overkill pun there for ya) throughout Let the World Burn, especially on "Gato Negro," an absolute cyclone of a thrasher that the veteran musicians hold down with ease.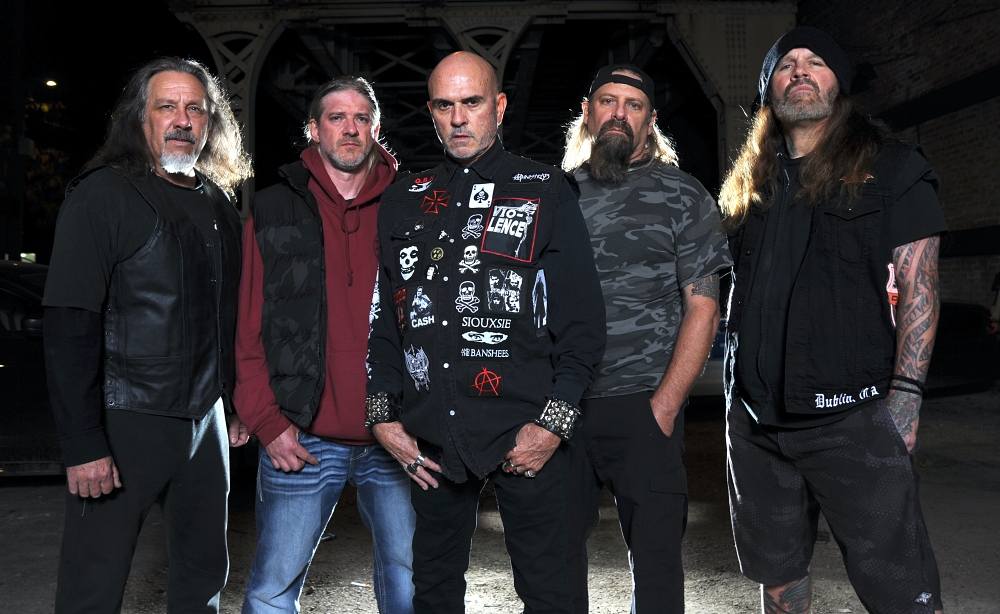 Elsewhere, "Upon the Cross" is going to go over brilliantly with the punters in the pit whenever Vio-lence busts it out in their setlists. There's some mosh so tasty being thrown down on this cut that it's not tough to imagine even the most staunch hardcore listeners buying completely in.
Tracked at Trident Studios in Pacheco, California by Juan Urteaga (Machine Head, Exodus), mixed by Tue Madsen (Heaven Shall Burn), and mastered by Ted Jensen (Alice In Chains, Death Angel), Let the World Burn sounds as massive as a thrash metal album should.
If I'm being honest, I was a bit worried when I heard that Vio-lence planned on returning with new material. We all know how much of a bummer it is when one of the bands you loved as a teen makes a new record decades later only to make you wish they stuck to playing the classics. But Let the World Burn not only stands toe-to-toe with the superb quality of their first two albums, it also makes you hope this isn't merely a one-and-done reunion for Vio-lence.
Get It
Tagged: vio-lence