A few bands into Incendiary's 10-year anniversary show, an old friend turned to me and opined, "Heavy is back on Long Island." He's a friend who I've gone to shows with for over twenty years. He's seen the ebbs and flows of the Long Island hardcore scene. And while I'm not sure that heavy ever left, he certainly had a point about what he'd seen at that show. Sanction, one of the bands on that night's bill, has become an increasingly more influential player in the heavier end of Long Island hardcore. Their newest release, The Infringement of God's Plan, is evidence thereof. Released earlier this month on Reconsider Records, the new EP burns with heavy discordant angst. But it does so with a strong sense of musicianship and character.
For Sanction guitarist Mike Marino, the band's influences have been as dynamic as their song writing. "The influences behind Sanction have pretty much changed steadily through all of our releases. Our earlier material derived more influence from late 90's and early 2000's metal-core bands like Zao, It Dies Today, Martyr AD, etc.," says Marino. Those influences can be heard in the more foundational components of Sanction's sound too. But the band also wanted to continue a forward push, especially in writing for The Infringement of God's Plan. Marino reflects, "Moving on into our more recent material I wanted to approach a darker and heavier sound so I started digging up inspiration from early releases of bands like Through the Eyes of the Dead, Suicide Silence, All Shall Perish, and so on." Moving amongst these different influences has served Sanction well. It's helped fill out their already dynamic sound, and it's set Sanction up to achieve what most of their aforementioned influences all did. Defy genre and diversify audience.
The new EP's third track, "Sixhundredthirtyone," hits with the genre-bending power that Marino and Sanction seek to embody. It opens with punishing mid-tempo rhythms that speed up to the vocal patterns of frontman David Blom. The song swings into a layered and heavy breakdown that draws on harmonics and punching drum beats. As it moves towards closure, the song brings out great dissonant driving guitar rhythms. To frame it would be to think distinctly back to Marino's influences but also to consider the band's resolution to bring out a full-bodied sonic assault, regardless of influence or genre.
Unsurprisingly, Marino rallies against cornering Sanction into any single genre. He explains, "I don't necessarily like labeling our band with a genre because it's definitely controversial. But I think when it comes down to the line, our new material is borderline death-core. Everyone loves to call us a metal-core band though so I'll take it." So while Sanction's members might view their music in one light, others see things a bit differently. And that's ok. In fact, it's probably for the best. Their compelling sound offers them diverse opportunities. They've shared the stage with indie acts like Somerset Thrower and hardcore powerhouses like Incendiary. They are slated to play the LI record release show for ambient metal rockers Stray From the Path. And they're currently on a three-week tour with recent Closed Casket Activities signees Vein. Genre politics be damned.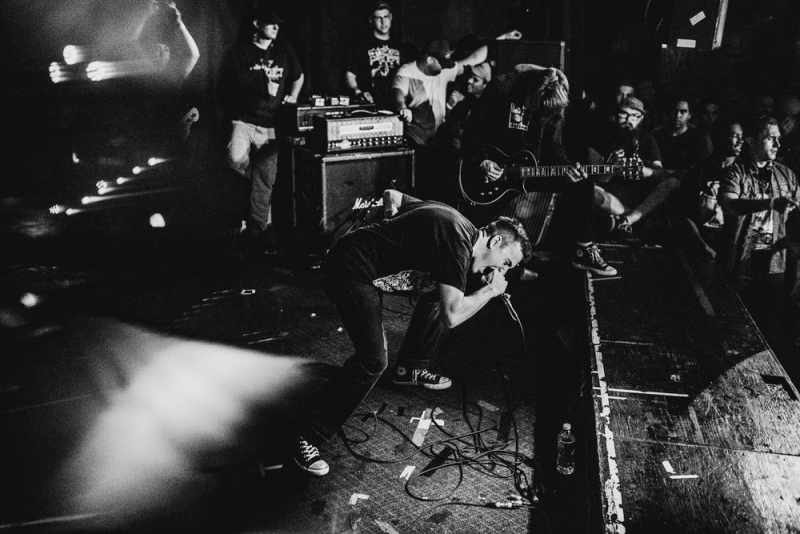 One of the strongest songs on The Infringement of God's Plan is "The Prophet Who Saw Fire." The song draws heavily on some of the melodic sensibilities reminiscent of Zao or Martyr AD. The guitars groove with a manic start/stop rhythm that also brings up memories of Harvest. But the drumming of Dillon Perino on the song harnesses the otherwise chaotic energy offered by the guitar and vocal work. Perino certainly does not shy away from his crash cymbals or his double-bass pedal. However, the tight-popping sound he captures on his snare creates the perfect balance on the song. Interestingly, Marino admits, "That was the first song that came together for this EP, and I think it's quite a bit more reflective of our old material. As we continued writing the EP after that song was finished we pretty much ditched the whole melodic sound and went straight for dark." Despite Marino and Sanction not seeing the song as particularly representative of where they wanted to take their sound, they kept it on the new EP. That's impressive. It shows an understanding that a band's sound can be fluid without being messy.
The Infringement of God's Plan is a strong effort by any measure. It cracks with heaviness and aggression. It moves with layered power and musicianship. And when the songs are played live, it punches with furious energy. With all of this swirling in their corner, Sanction is a band on the upswing. According to Marino, their tour with Vein is going great: "It's pretty much the first time we're playing most of these areas and a good amount of kids have been coming out which is surreal to say the least." There's something refreshing to that humility. And when asked what he hoped to achieve with Sanction, Marino simply offered, "The fact that kids go out of their way to listen to music that I wrote is cool enough to me."
Their new EP, The Infringement of God's Plan, is available now through Reconsider Records and Sanction's Bandcamp. The band is on tour with Vein and Buried Dreams until August 29th.
Tagged: sanction hardcore band