California '98 is the initial offering from Los Angeles-based, spooky hardcore punks, Overexposure.
Right away, the album's title sets the stage for the band's sound: it's the late nineties and the East Bay hardcore sound is taking over California, converging the speed of skate punk, the intensity of hardcore, and the look and feel of goth.
The album's artwork, designed by HE Creative, conjures up images of the banality of a suburban existence, which is often part and parcel with many a narrative of those drawn to the exhilaration of the hardcore scene within the aforementioned time period spelled out in the title. This has often been true of subsequent and preceding generations, who may feel the lure of this record based on the strong visuals alone.
So often, bands in this category repeat tired visual tropes of Halloween or live and promo shots superimposed with distressed features. Right off the bat, this screams something fresh for a subculture rooted in tradition, often plagued with overused motifs and symbols.
California '98 begins with an eerie piano drawl, keyed by AFI's own Hunter Burgan, akin to the works of Danny Elfman. The final downbeat of the intro resolves into the bounding bass gallop of "Static" that transitions the pace of the album into a running start.
The music video for "Static" features Rotting Out's Walter Delgado berating a version of himself that has succumbed to the allure of television and breaking out of it by skateboarding through the streets:
The pairing of Delgado's voice with Overexposure's singer Ryan Doria is a duet of high-pitched growlers, not unlike Ray Cappo (Youth of Today, Shelter) and Eric Ozenne (The Nerve Agents, Redemption 87).
The next track on the album, "Time Flies," is my personal favorite. It keeps the momentum of the record flowing with a quick-paced, straight-ahead hardcore riff akin to Orange County straight edgers Uniform Choice, plus an immaculate bass tone, coupled with a creepy crawl breakdown that's bookended with a revisit of the intro. A perfect song in under 2 minutes:
Not to be missed are the array of lyrical themes interspersed by Doria that cover such topics as interpersonal relationships, negative effects of religious and political oppression, as well as personal and emotional strife. Also present are the most important lyrical aspects to any hardcore or punk release, the declaration of one's personal convictions against the modern ethos that is hellbent on tearing down these beliefs through misinformation, apathy, and divisiveness.
These topics are punctuated with vocal collaborations in a way that is familiar to hardcore, but in recent times has been reverberated and amplified within modern pop and alternative music, so much so that the presentation of their albums gives the impression of "appearance stacking," in an effort to entice prospective listeners, which is particularly advantageous to a brand new band, such as Overexposure.
Such collaborators include Eva of Power Alone, Brenna of The Last Gang, Geoff formerly of Tiger Army and AFI, and more. The choice of collaborators is as varied and wide-reaching as is the music itself and adds to the many deliberate layers embedded within each song.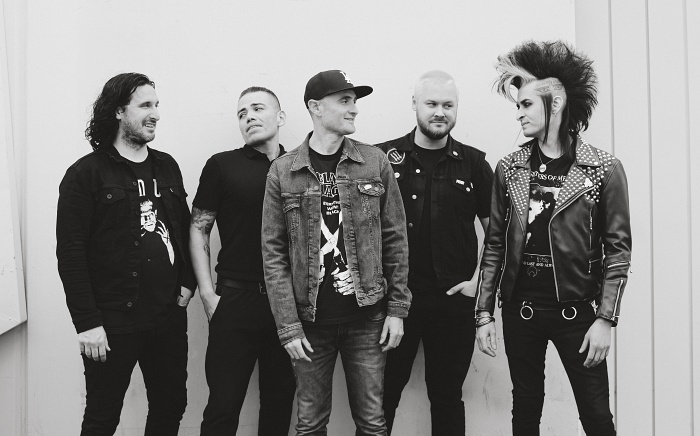 Another feature worth noting is the number of tracks on this debut release: 15. Back in the '90s, a full-length record was a band's opportunity to put out as much music as possible, which was a plus for the consumer, who maybe could only afford a small handful of CDs/tapes/vinyl in a year. This was also a chance for bands to show off their songwriting prowess and include genre-straying material that might appeal to someone outside of the hardcore or punk world.
This model has gone away in recent times and bands are having to commodify their craft to cater to short attention spans and the incessant appetites of listeners who recycle through music vapidly in a disposable digital age. Putting 15 songs on a debut release is a risk for a new band, but Overexposure takes on the challenge with ease by sandwiching the record between the previously mentioned piano pieces and interjecting a well-placed interlude, marking the middle of the record.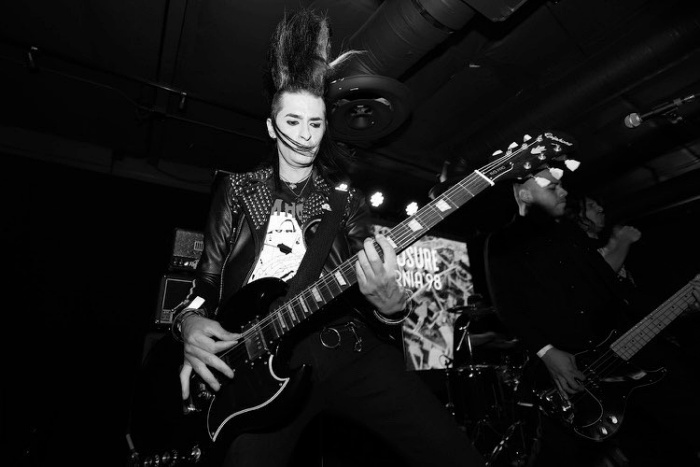 This band shows a mastery of pacing by keeping all of the songs on Side A around 2 minutes, then bringing the atmosphere down on Side B, following the interlude with the mid-tempo track "Under My Skin," and then bounding to the finish line with a series of credo fueled bangers. A banger of note is the animal rights charged anthem, "We've Gotta Change," which stands out from the pack by breaking up the album's dark overtones with a melodic verse and chorus, reminiscent of 7 Seconds.
Side B's ultimate crescendo of power occurs on the track "Open Your Eyes" with an operatic appearance from Death By Stereo's Efrem Schulz, who suspends the intensity of the entire record with a crushing vocal performance resulting in a cathartic release of energy that can be felt as the final piano outro sends us to the end of a truly refreshing and complete musical display of excellence.
Many cite The Nerve Agents or AFI as influences, but in reality, bear no true resemblance to these goth punk titans. Overexposure delivers on that promise in a way no other band has done before. I can't think of a better band to pay tribute to the legacy of East Bay hardcore. California '98 will stay on repeat for me for many years to come.
Get It
Tagged: overexposure