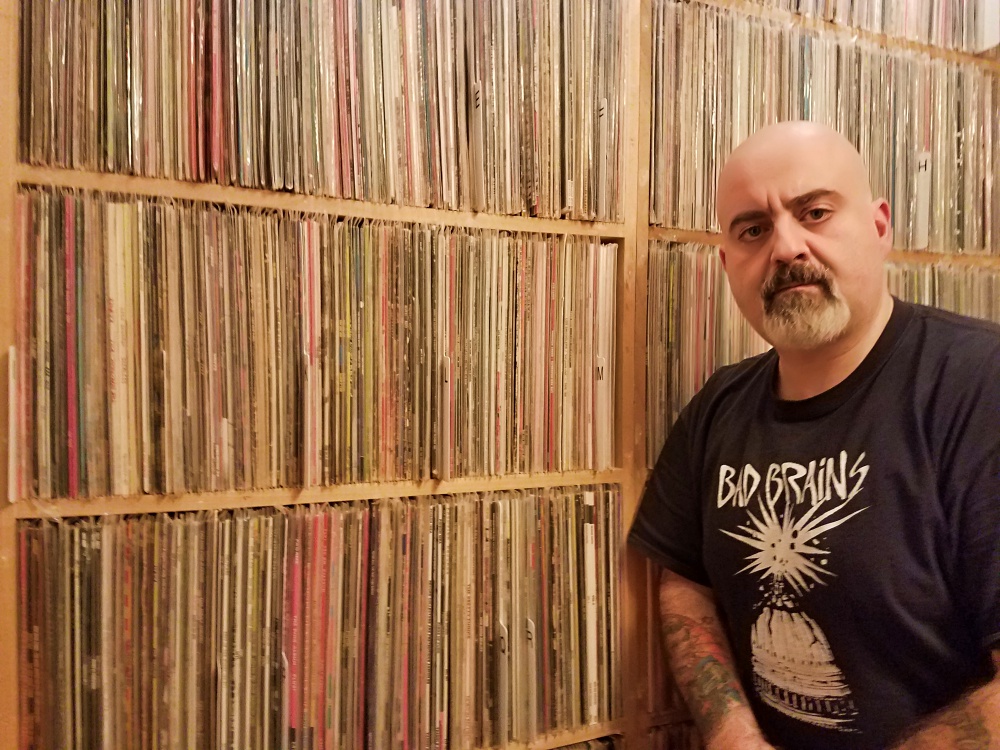 Spag (yeah, not his government name) is the frontman of long-running hockey-loving punk group, Two Man Advantage. Based in the Carroll Gardens neighborhood of Brooklyn, the native New Yawker works as a Senior Principal for a Global Architecture Firm, but he tells me that the title sounds more impressive than it really is. OK, fancy pants!
Anyway, Spag is a massive music head, and since he's a big vinyl guy, I invited him to join the site's Record Collector club.

How long have you been collecting records?
I started to get into music at a pretty young age. My mom was always spinning her soul/Motown records when I was a kid. She always had music on when I was little. I recall when I was like 11-12, I had asked my parents if they would buy me the first Run-D.M.C. record. We were in a TSS department store in Elmont, Long Island and the record store in the front had it on the wall. At the time I was into hip-hop. I was friends with some older kids that lived on my block and they were into rap and breakdancing. Rap was the first music I was introduced to as a kid that wasn't something my parents played for me. I spent a few years ('83-'87) listening to DJ Red Alert on KISS FM and Mr. Magic on WBLS every weekend. I would tape those shows and I would make notes of my favorite stuff then go to Shoppers Village to find records my parents would buy me.
It wasn't until '87 that a buddy that I use to skate and ride BMX bikes with older brother introduced me to punk rock. At first I was like what is this, "kill your mother, kill your father" shit. I has no idea what punk was. Most people that got into punk when I was younger were into metal or rock. I always hated that shit. I got into punk from rap. Once I got hooked on punk buying records was a pretty regular thing. Taking the bus to Slipped Disc or going to shows at the Sundance, Right Track Inn, Ritz, Pyramid Club, and CBGBs is how I got most of my hardcore/punk records in the late '80s.
Where/how do you usually find your records these days?
Discogs is the easy way since I don't have much time to go dig for hours, even though I hate it. I also feel that there are no good records to be found in the NYC area without a huge price tag. I do a lot of my shopping on the road. Whenever Two Man Advantage goes on the road, we make sure we hit a record store in almost every city we play. Being that all the guys collect records, it's so much fun to go shopping together. All of us are music junkies so it's pretty easy to get them motivated to hit the next city early for record shopping. On tour, we've had to ship boxes of records home to make room for the rest of the tour. I also travel to Japan each year with my wife. I usually do really well in Japan. Records are crazy in Japan. You can find a lot of great stuff for cheap or rare stuff for super expensive. If I have a weekend to shop for records I'll hit the local record shops/conventions around Brooklyn/LI/NYC. I wish I had more time to actually dig for records in stores.
What is the most you paid for a single record, where/how did you obtain it, and what was it?
This is a tough question. I typically don't buy expensive records. I really don't consider myself a collector that I need to buy the first press of the first SSD record or some other record that people think is the holy grail of punk rock record collecting. Most of my records that are rare are records I either bought when they came out or someone gave me. I've had two buddies in the early '90s give me a bunch of hardcore records for nothing. But to answer your question, I paid $50 bucks for a copy of Hell Comes to Your House on Bemisbrain Records. I had to get it. I was up on the wall at Clockwork Records up in Hastings on Hudson, NY. Me and my buddies went up for the day and Mike had it on the wall for $60 bucks. I didn't buy it at first. I walked out and when I got in the car my buddy Stevo was like "You got to buy this." At the time he was right. I spend about five years driving around with him listening to this record in his car. I went back in and Mike gave it to me for $50. About two years later, I found it again for $20 at Academy Records, so I picked it up again. It's actually the only record that I've picked up a second copy that I already had on purpose. Most of my doubles are because I forget that I have them.
Also, recently I picked up the Krimewatch 7" for $60 bucks on Discogs because it killed me that a new record from a band that was from Brooklyn, and is current, had a record that I couldn't find. A few weeks ago I found the repress at a shop in Brooklyn and I was pissed. It was $7. I would have settled for the repress. I made my buddy buy it.
If you to pick one record label you feel had/has the best track record of quality releases, who would that be and what are some key titles you love?
This is super tough because I like so many different types of music so I'll cheat and break it down. For reggae, it's Studio One. Coxsone Dodd was the pioneer and his record company is like no others. So many reggae artist have played on Studio One recordings. I'm a fan of the stuff between '65-'75 Skatalites, Alton Ellis, John Holt, Ken Boothe, Horace Andy, etc. For hip-hop, it's Profile. Run-D.M.C., Beastie Boys, Special Ed, DJ Quick, Rob Base, Disco 4. They also had some great hardcore like Leeway, Cro Mags, Murphy's Law, and Motörhead. For hardcore, it's Dischord, especially any release before '93. Revelation till about '91, and I would buy any record I could get my hands on that came out on Frontier, Dangerhouse, Posh Boy, and Mystic. For stuff that came out in the '90s, all the Rip Off and Estrus releases are my favorites. The Rip Offs, Zodiac Killers, Mummies, Mono Men, Teengerate, and The Makers. The '90s garage punk stuff was killer. So many great bands came out of those two labels.
Of everything in your current collection, what is your most prized record and why?
It's the first Suicidal Tendencies record because this was my introduction to hardcore punk. I've never heard something so powerful. It was a life changer for me. Because of that record I went on to live a life where I've met some of the greatest people and gone to see so many amazing bands. This record changed my life as young kid. This record is not worth much in money or it's not even something that is considered the holy grail but it's something that was able to change a young teenager for life. That's what it did for me. This record opened the doors to me to so much music that I would never heard if I was only listening to KISS or WBLS on the radio.
Is there anything that frustrates you about the current record collecting scene?
Cost of records are out of control. I use to like when people where just like you want them, take them. I don't need them. When CDs came out, everyone started to buy CDs and labels stopped putting out vinyl. It was like it was over for record buying. I really cleaned up those years picking up some really great records for cheap. God, I miss those times. Now that the Digital Age is here music is so accessible that it doesn't feel special unless you own it so I guess people are buying the vinyl and now cassette versions.
Which records are still on your want list that you've had a tough time tracking down through the years?
Well if money was not an issue, I'll say the first four Dischord 7"s. But that's not going to happen because I will not dish out that kind of money for records. I can live with the reissues of the (4) 7" on a 12" version. Currently I'm looking for the first two Pawns 7". They are a new goth band from NY that I just got into like four weeks ago. I'm obsessed with their album right now. I'm always looking to complete my Mummies collection. I would love to find a copy of the Mummies Skinnie Minnie. One day, when people stop caring about records, maybe I can score myself an original copy of The Middle Class Out of Vogue 7", or a copy of the Plugz Electrify Me LP for a price I'm willing to pay.
***
Follow Spag on Instagram.
Tagged: record collector