Amanda Schutzman is a well-known in the New York City/New Jeresey/Long Island record collecting scene, having worked at two record stores simultaneously as a manager and a buyer. In addition to that, she was also co-organizer of the Vinyl Revolution Record Shows in New York City and Long Island.
She runs those shows with her dad, Mike Schutzman, who formerly owned the legendary record store Slipped Disc Records on Long Island. Amanda basically grew up in the record world, so enjoy her knowledge and awesome taste in vinyl.
How did you get into collecting records?
My father was the owner of Slipped Disc Records in Valley Stream, New York, so I spent a lot of time in the store while I was growing up. I didn't really start collecting until Slipped Disc closed in 2008. Shortly after closing, my father started selling at more and more record shows until eventually I was working with him...and started to shop.
What was the first record you bought with your own money?
Iggy & the Stooges - Raw Power was the first record in my collection that wasn't given to me. I have been pretty lucky over the years, receiving gifts and hand-me-downs from my mom or dad's collection. I am surprised Raw Power was the first thing I thought to buy.
It seems weird to own it before the self titled Stooges album or Fun House. But it'll always be a favorite.
Tell us about growing up in a record store. How did it shape your collecting
I'm pretty sure growing up in a punk and metal store is the reason my collection is so strange today. Slipped Disc specialized in rare and import punk and metal LPs. So I grew up listening to alot of that.
And although I was born in 1990, I was really immersed in '70s classic rock, punk and metal. So I missed out on a lot of the stuff being released in the '90s and today, I find myself trying to catch up.
You would assume the first thing I'd think to buy when I'm shopping in a store is a Motörhead record. But in fact, it's the exact opposite. Most of my favorite records, all the stuff I grew up listening to, some if not most, I haven't gotten around to buying yet. It almost feels like it's always been there and the urgency to own it isn't great enough.
I find myself ooing and aahing at hip-hop singles I wasn't allowed to listen to. Or collecting old Capitol artists like Nat King Cole, Frank SInatra, and Peggy Lee because my grandparents loved it. Just about anything different than what I'd expect myself to fall in love with. I buy everything, from the Coasters to Corrosion of Conformity. It's whatever I'm feeling that day.
What were your favorite record stores growing up?
I think my favorite trip to take with my dad as a kid was to the original Newbury Comics location in Boston. It's pretty cool to think about what it's expanded to now. But to be honest, I spent so much time in Slipped Disc that my dad always felt bad dragging me around to other stores.
We would take an occasional trip to Mystic, Connecticut and stop in Mystic Disc from time to time. But I only really started getting to know the stores in my area, the more I started to work record shows.
Then I found myself going out of my way to travel to all different stores in the surrounding area just to see what they were all about. I have a couple favorite stores in each state near me. Some in New York, New Jersey, Connecticut, Pennsylvania, Rhode Island and Massachusetts.
But I will travel just about anywhere to shop if you give me an excuse. And I hope to find even more favorite stores as time goes on. I think it's kind of funny that I wound up working in a record store at all. It's not where I saw my life going. I just got really lucky with the job offers I've gotten over the years and I've always felt really at home in record stores.
What is your collecting philosophy? What do you collect and why?
I just love music. It's easy to get excited about. It's even easier to become obsessed with. Everything about getting a new record is exciting. I find myself buying doubles and triples of the same thing for various reasons. One is the original, this one just came out on color vinyl! This one is in shrink with the hype! This one is a white label promo!
Sure, maybe to the person next to me it's all the same but I always find joy in it. I think the sound quality of a record is better than anything else. I enjoy the packaging, the art, the inserts, everything.
There is definitely no philosophy behind how or what I buy for my collection. I really wish there was. If I can afford to buy it and it makes me happy, I buy it. Every title on my shelf is drastically different from the next and I can't say I collect only one genre. I have about 40 Melanie records. And my second most collected artist would be the Dwarves.
So….try to make sense of that. I would say most of my collection is rock with a mix of punk, metal, hip-hop, pop ,and funk/soul. I never did start buying any jazz/blues or country stuff. You'll find maybe one or two floating around.
We all have one record that we sold that we completely regret, what is yours?
Maybe the 3XLP Black Friday Exclusive of Type O Negative Bloody Kisses. Not even because I really wanted it. But because I sold it to someone sealed at the wholesale price, just to be a nice guy. And well, it's going for more than that...
You are the co-organizer of the Vinyl Revolution Record Shows here in New York. Tell the No Echo readers about what putting on a record show entails, the good and the bad.
I feel extremely lucky to not only have the experience of setting up and selling at a show, but also having the opportunity to run record shows. Is it a nightmare in many ways? Yes. But all in all, I love everything about organizing a show.
Many of the vendors at record shows I wouldn't have gotten to know otherwise. A lot of these guys are personal collectors, not store owners. So it's a much different experience at a show than it is at a record store. Although we have a few dealers that do most of our shows, we like to switch up the vendors as much as possible.
Our tables seem to sell out fast and when we announce a show and it is first come, first serve. But it's important to have a wide variety of vendors and not as much overlap in genre, just to make sure there is something for every customer.
There's a lot that goes into planning, so I'm not exactly sure how to give you a short answer, the good or the bad. We do really try to create a whole experience in the spaces we choose. I've attended a lot of record shows in lifeless rooms, with three different boomboxes playing music and it's just not the vibe we're going for.
Every little thing is important. From the vendors you have and the placement of their tables, to the venue dimensions, the music and the lighting. It's not all promotion on social media and dropping off flyers to all the local record stores (even though that is the fun part).
What do think about the values of rare punk records skyrocketing? Do you think the bubble will burst?
Unfortunately, the answer is no. I don't see the bubble bursting any time soon. With how limited these original pressings were to begin with, it's tough to find collectors willing to part with them and they'll always be fanatics searching for them.
Luckily, nowadays, everything seems to be getting a reissue and the people who couldn't imagine spending $500 dollars on a record, have the option of buying a reissue for $20 bucks. I suppose that's a good thing.
What's the most you ever shelled out for a record?
I bought Mars Volta - Deloused in the Comatorium for $200 dollars. I don't often spend more than $100 on a record.
My Discogs want list will stay chock-full of $400-$1000 records, until I'm financially capable of supporting a collection like that. But who knows if and when that'll happen.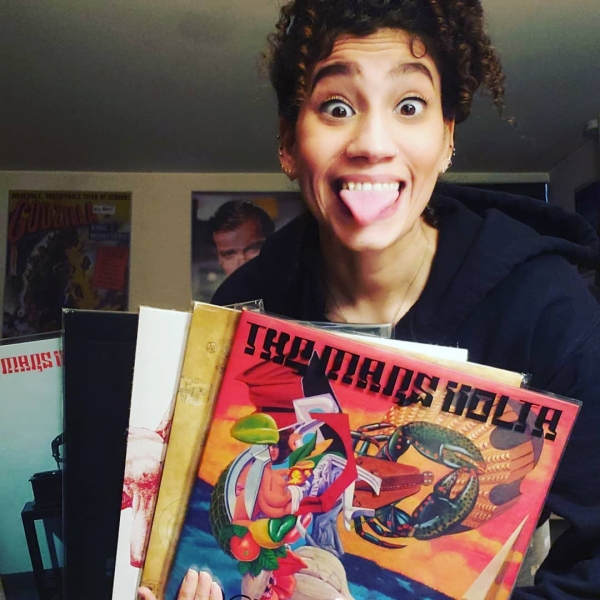 What records are still on the top of your want list?
Motörhead, S/T (UK Chiswick w Silver Print)
Iron Maiden, S/T (Japan, 1980 w OBI)
Heatmiser, Mic City Sons (OG 1996)
Zero Boys, Vicious Circle (US First Press)
Hellacopters, By the Grace of God (Black or White vinyl, I honestly don't care at this point)
Slayer, Hell Awaits (US First Press)
I don't know how long you have. Here's my (partial) want list on Discogs! Buy me gifts, go crazy!
Is there anything that really bothers you about the collecting scene?
I think all real collectors have problems with the collecting scene now and I do have a few complaints. But I think my #1 pet peeve is gouging. Price gouging is a real problem. I don't think I'll ever understand buying multiple copies of something you don't want, just to flip them online for triple or quadruple the cost.
I've been a buyer at record stores and I can see the demand, the want from actual fans and collectors.
People wake up at 6am to get on a line to buy something that may be limited to 500 copies. And the next day you see people online selling a copy for $200 dollars.
I'm sad that people who were genuinely looking forward to a record wind up missing out because greedy people buy them all up.
Do you plan on growing old with your records or do you have an exit strategy?
I'm sure there are records I will eventually sell, maybe just to make room for more records. But I do have an emotional attachment to just about every single one of them. And don't plan on giving up any of them just yet.
In 20 years I may read this and say "hah! yeah right!" but I already know what record I'd like to leave to what person and I'll most likely have a very long and detailed will. Every record I own, I bought with someone in mind. And I'm sure I'll know exactly where I want my records to go when I'm gone.
I'm not as concerned about making my money back. I'd like them to go to someone who will enjoy them...and then give them to the next guy (or girl!).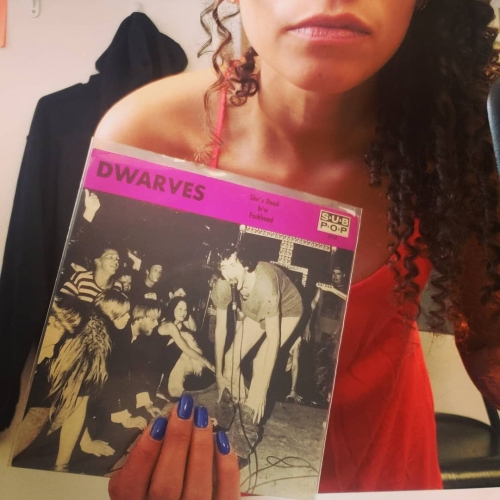 What's a record or genre in your collection that might surprise the readers?
I'd have to say hip-hop and pop singles are the one thing in my collection that may surprise someone that doesn't know me well enough. I've really been listening to the same music my whole life and most people know me to be into MC5, New York Dolls, Stooges, Clash, etc.
And I do mostly collect '70s punk stuff, but a few years back, a local roller skating rink, where I used to hang out with my friends as a kid, was closing. They called the store I was managing at the time and asked if the shop was interested in buying any of their 12 inch singles. The store wasn't but...I was.
It started a terrible addiction to buying hits and one hit wonders from the '90s and early '00s. Ya know, songs I absolutely hated at the time they were released. Just to have a fun story or picture to send to a childhood friend. Now I'm stuck with over 100 12 inch singles...for no good reason really.
***
Follow Amanda on Instagram.
***
No Echo has launched a Patreon with 3 tiers offering all kinds of hardcore-related goodies to help support the site:
***
Tagged: record collector