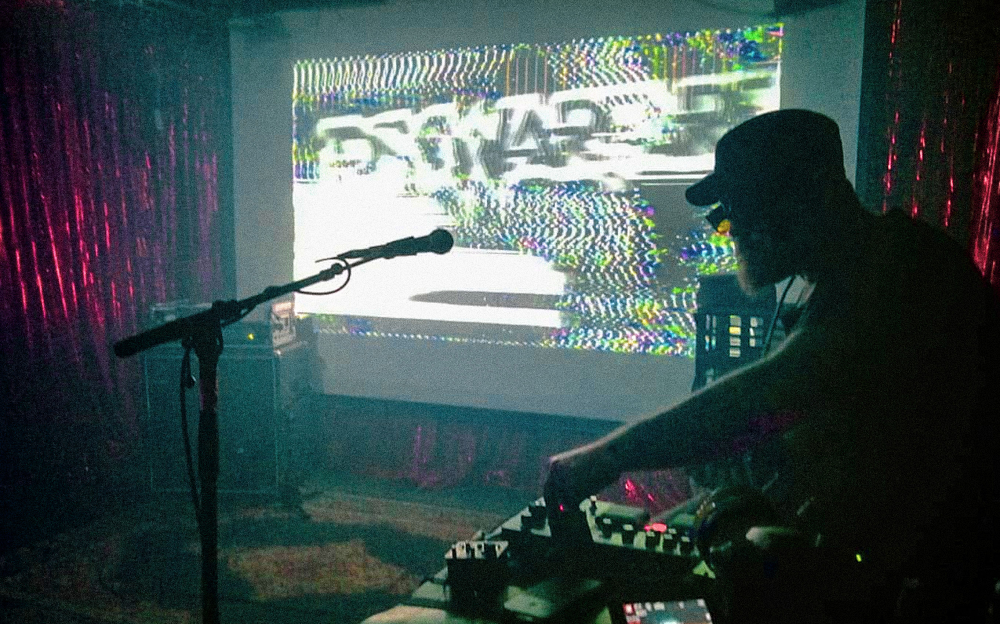 If I had to pick my own introduction to the genre of noise, it would be around 1992. We were skateboarding one night, and this kid that I kinda recognized from school rolled up with "FVG/\ZI" and the Crass logo spray painted on his grip tape. He had a mohawk and an army jacket, and a hell of a one-footed ollie. The next day, I went to the record store Noise Noise Noise and bought The Feeding of The 5000, and was hit by a 2-minute and 42-second dose of spoken word/noise called "asylum".

In 1996, Victory Records released a split 7-inch with Integrity and Psywarfare, and two years later a split 7-inch with Integrity and Lockweld. I may not have totally understood the sounds at the time, but I accepted them.
By 2008, I was experimenting with making my own noise and shortly after, struck up a friendship with Dwid Hellion that has resulted in more productivity and encouragement around my creative endeavors than almost anyone in my life.
For full disclosure, I run a record label called Contraband that at the time of this writing, has released 6 Integrity cassettes and two Psywarfare cassettes, with one more in the chamber from each. Working with Dwid has granted me not only the ability to make physical copies of these projects that I love, but an insight into the process of work that he does.
On the cusp of these 2 new releases from Psywarfare, Live @ Cherry Bar, and a collaboration with Θ (theta), I sat down with Dwid to discuss everything noise.
What initially drew you to noise as a genre, as something you wanted to listen to?

A combination of different elements initially drew me towards noise music.
Noise is the aggressive evolution of punk and metal music. I wanted to listen to music that was more ferocious, more painful, a sonic weapon assaulting all of my senses. I wanted to experience "more." Noise pushes the limitations of extreme music to beyond the breaking point.
Noise is often aligned with the Dada and Surrealist art movement(s). In fact, Dada artists were recording what could be categorized as noise music as far back as the early 1920s.

Noise is limitless.
What were your influences to start making noise?

I primitively began making noise in the 1970s. Making tape loops to use in my cassette recorder. I would make field recordings of sounds that I wanted to capture. Sounds that could evoke the memory of what was happening at the moment the recording took place. A sonic snapshot.
How did you choose the name Psywarfare?
Psywarfare is short for "Psychological Warfare." The name really embodies the spirit and intention of the project.

Psywarfare could be defined as a war against what is deemed musically acceptable by mainstream society.

It can also speak to how the project is often designed to deliberately provoke the listener. This type of provocation could be achieved through the music, the lyrics, the concept, the artwork or any/all of the above. Challenging perception & expectations.

Psywarfare is confrontational, disruptive and abrasive. It helps me explore vastly neglected regions of creativity that are both liberating and taboo.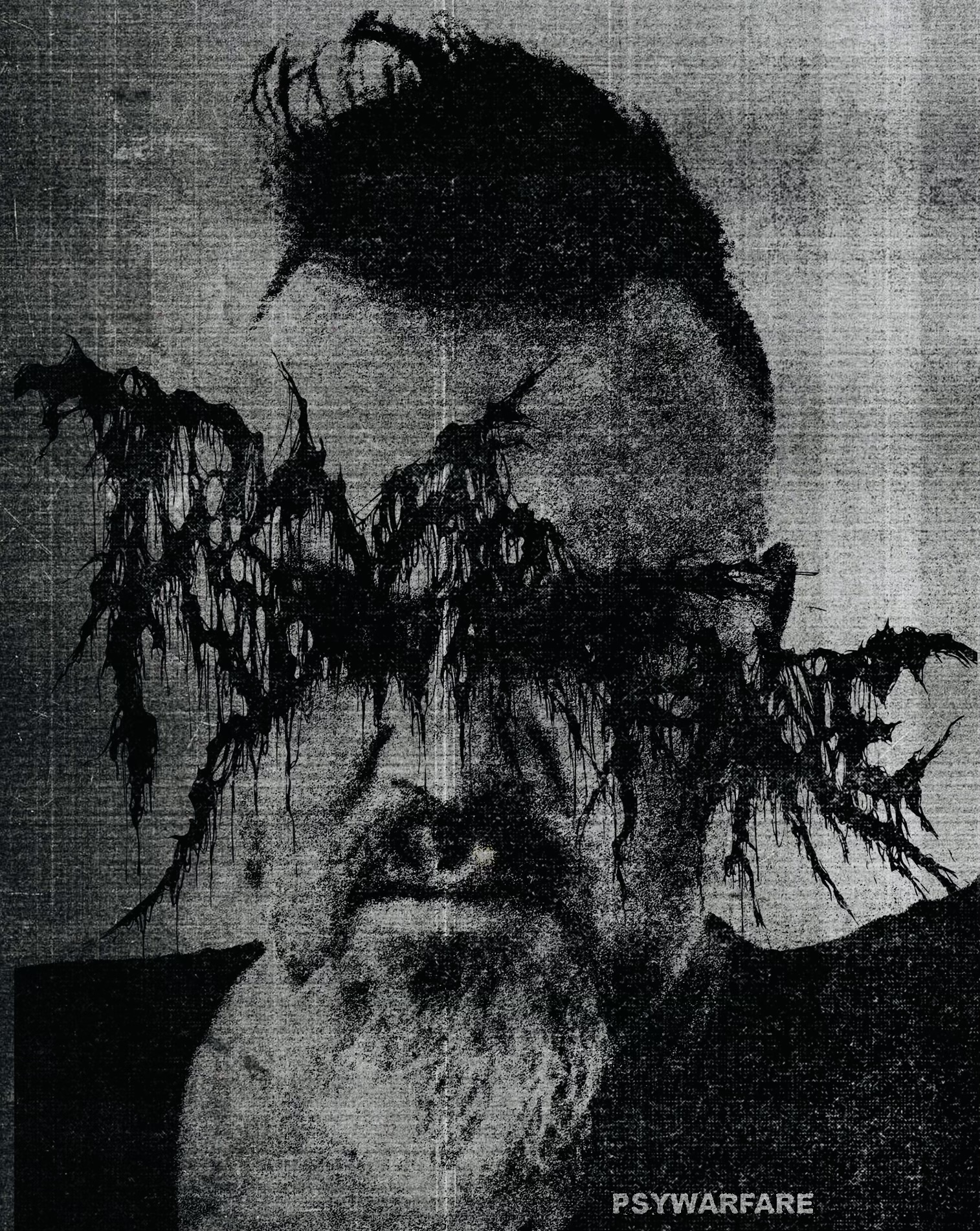 What was your first release with Psywarfare and how did you record it?

The first Psywarfare recording to be released to the public was titled, Curse of Untapped Intelligence. This was released in 1996 and each cassette tape was impulse-sealed within a thick, black plastic wrapping that was embossed with the Psywarfare name and 4P logo. These cassettes were distributed to the public by Relapse/Release Records distribution.
What specific equipment did you use?

For those particular recordings, I used several BOSS micro-rack effect systems which would be manipulated to process its own feedback back through itself, transforming the sound through each of the micro-racks' unique set of effects. I also used a modified CASIO SK-1 sampling keyboard. All of this was recorded on a Tascam portastudio 488 MKII 8 track cassette recorder.
Over the years, you have collaborated with many notable artists. What has been your favorite, and is there anyone else that you would like to record or perform live with?
I have enjoyed every experience with Psywarfare. Collaborating and performing with a wide range of creative friends has been the greatest accomplishment of the project.
The EXPO OF THE EXTREME was a great festival that Psywarfare performed at. Playing on the same bill as Rozz Williams, Mortiis, and NON was quite a memorable experience.
Opening up for Masonna and Merzbow is another incredible memory.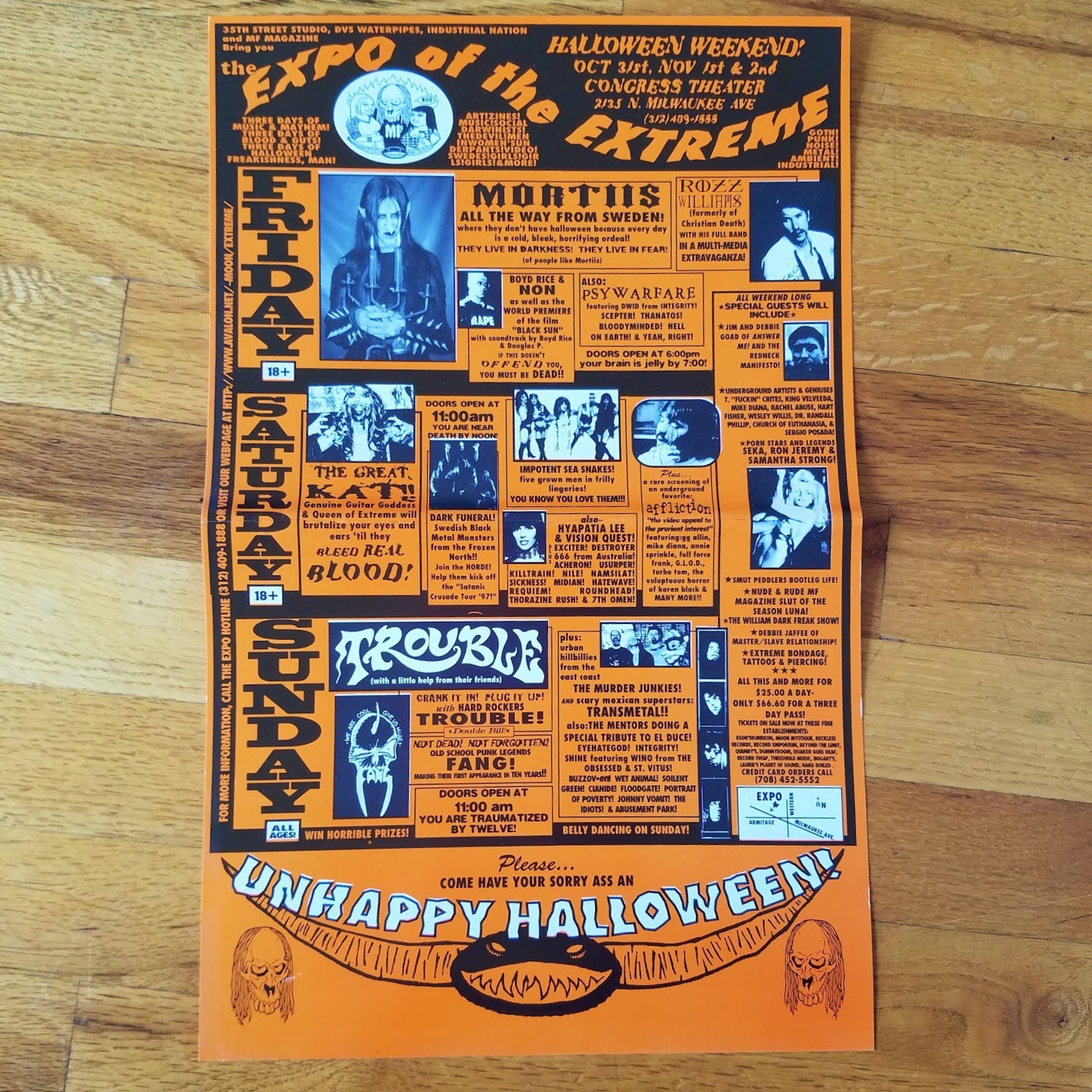 I always loved recording with Meketa (Steve Meketa, of the group Lockweld). He and I made dozens of recordings together. Meketa's use of power tools as his musical instrument of choice was always an exhilarating experience to behold.
I produced half of the NON album, God & Beast. That recording was a lot of fun to work on.
As far as who would I like to collaborate with in the future? I would love to record something with Kanye West & Lynnette Fromme.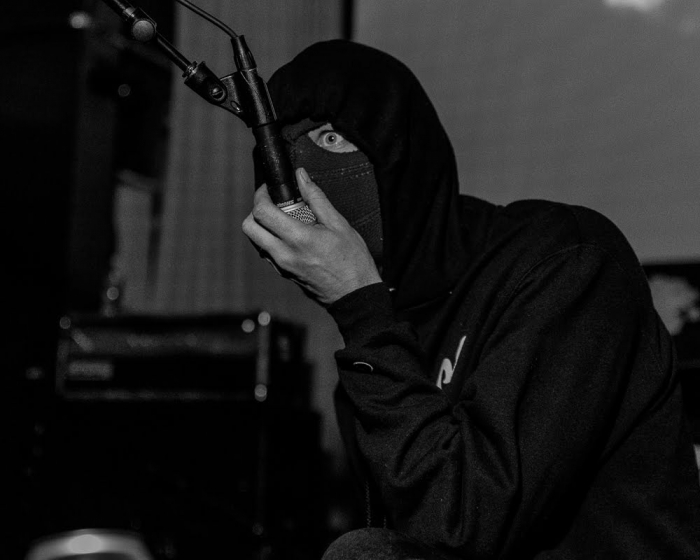 The past couple of years have been prolific for Psywarfare. How did the COVID lockdown influence the way you make music?

I have been focusing on refining my approach, trying to streamline my technique into only the most essential components necessary to clearly convey each songs intention to the listener.
The hopelessness of these uncertain times has definitely infiltrated the content and mood of my recent recordings.
Obviously, apocalyptic "End Times" has always been an integral part of my repertoire, so perhaps this is actually the perfect climate for my work.
Noise can be a daunting genre to approach for newcomers. What are some seminal releases that you can point people towards, and what are some current acts that you would recommend?

My personal foundation for noise inspiration would be Throbbing Gristle and WHiTEHOUSE. That's where it started for me, but there are countless others who have challenged and inspired my perception of what music could and should become.
As for modern acts that I would recommend, Sore Dream have been making some really incredible music. evicshen is always blowing my mind with her unstoppable creativity. Duma are challenging how metal music can be created and appreciated. Wolf Eyes push the envelope and conquer new horizons. Midwestlust are a force to be reckoned with. Betty White Noise haunts us with her siren-like voice.
Your project, Black Knot, shows the world your harshest side.
It is really an exciting time for extreme music. Labels like Deathbed Tapes, industrialCoast, Total Black, Damien Records, and so many others, have been releasing so much incredible music.
And innovative electronic equipment continues to evolve and be obtainable. We no longer have to rely upon deliberately damaged equipment.

What releases do you have on the horizon for Psywarfare?

Contraband has just released a couple of my recordings:
A live Psywarfare cassette taken from my 2020 performance in Melbourne, Australia and also a collaboration with Θ (theta) on cassette. A very limited 8-inch vinyl record was just released from freizumabriss kollektiv
I have a collaboration with 2K (from India) coming out on Damien Records and I have a collaboration with Sore Dream coming out on Damien as well.
A split with Harm Signals is in the works.
Finally, I have a full length Psywarfare album coming out on Relapse records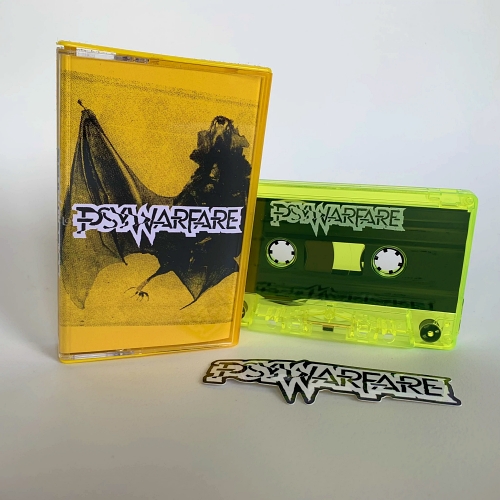 ***
Psywarfare's Live @ Cherry Bar is available on cassette in a limited edition of 50 copies via Contraband.
Psywarfare on social media: Facebook | Instagram | Bandcamp
***
Help Support What No Echo Does via Patreon:
***
Tagged: integrity, psywarfare