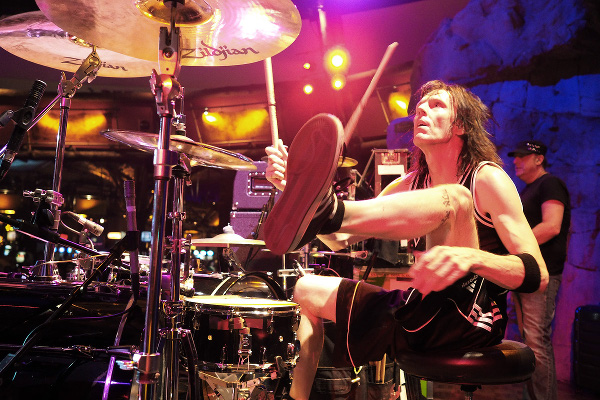 I haven't had the pleasure of seeing Zoltan Chaney play live yet. The Ohio native currently handles drum duties in both Slaughter and Vince Neil's solo band, but I hadn't heard of him until earlier this week. Mark Slaughter was a guest on Eddie Trunk's weekly show on Sirius XM and the subject of Chaney came up during the interview. Trunk talked about the drummer's insane performance style during Slaughter and Vince Neil live shows.
The first thing I did after listening to the interview was hit YouTube to find footage of Chaney doing his thing. As you'll see in the video embedded below, there's good reason why Trunk brought the drummer up during the interview:
I've had the pleasure of seeing some flashy hard rock drummers play live in my day (Tommy Lee, Randy Castillo, "Wild" Mick Brown), but none of them have come close to matching Chaney's bezerk style. The guy literally kicks his splash cymbal with his foot! Chaney must be a nightmare to the promoters that rent the gear for Slaughter and Vince Neil's fly-in tour dates. "This is the number one reason I don't like doing fly dates, because I am under the microscope with gear owned by a vendor," said the skinsman in a 2014 interview.
"The next actual phase for being a drummer with a drum kit would be seeing Animal on The Muppet Show and Buddy Rich as a guest on that show doing a drum battle," said Chaney when asked about his early drum influences, and that makes sense watching footage of him manning the trap kit for Slaughter and Vince Neil. What's most remarkable about Chaney's relentless live performances is that he never seems to miss a step, rhythmically speaking. The dude is always on the money.
Head here to watch more footage of Zoltan Chaney abusing drum sets across the globe.