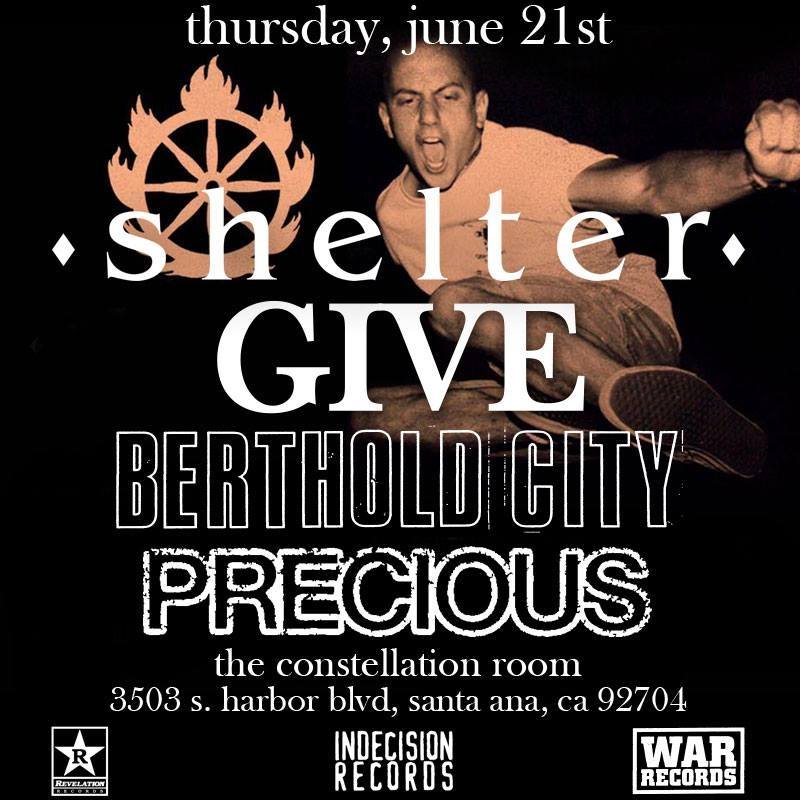 Just a couple of nights ago in Orange County, CA, Shelter, GIVE, Berthold City, and Precious performed together at the Costellation Room in Santa Ana. It was my first time seeing Shelter since their original run back in the early '90s.
Precious (members of Threadbare, Adamantium) opened the bill with material that was heavy and intensity but also made room for moments that recalled the atmospheric crush of '90s shoegaze.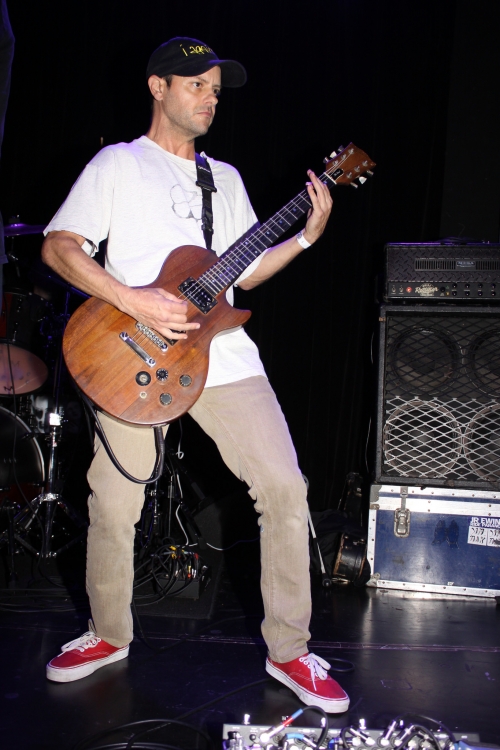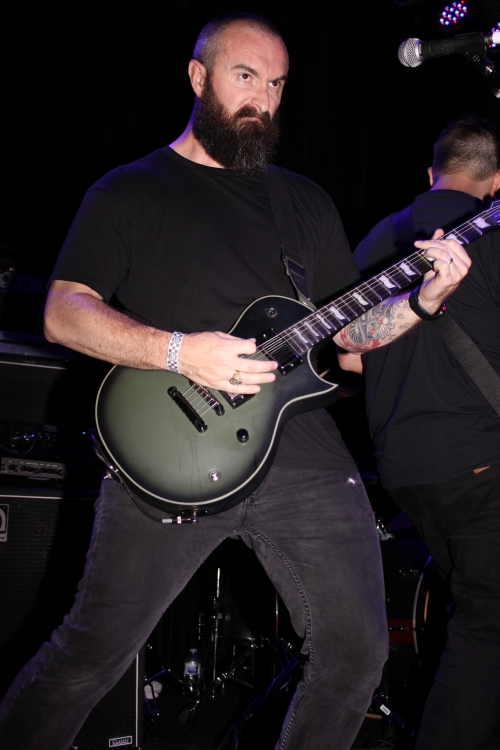 Berthold City (members of Strife, Internal Affairs) were just as impassioned, but their fast-paced hardcore was more in line with the straight edge anthems of classic-era Revelation Records. It was the second time I'd caught the band live and new drummer Eagle Barber is a perfect fit for their energized arrangements. Oh, after witnessing the quintet play it twice now, "Walls of Hate" might be one of my favorite hardcore jams of the year.
GIVE was the surprise of the night for me. Though I've enjoyed their records through the years, this was the first time I'd seen them in a live setting and they quite simply blew me away. John Scharbach's commanding vocals and free-spirited stage presence was powerful on its own, but matched with guitarists Ben Schultz and John Gianelli (on loan from Nails since their regular guitarist, Ian Marshall, is out on tour with Protestor), it was something truly special. Ben and John's guitar lines were mesmerizing, interlocking at times, while spiraling into opposite directions the next. I am now a GIVE believer.
If you've seen Youth of Today in recent years, you already know that Ray Cappo, Porcell, and Sammy Siegler still bring it live. The other evening in Santa Ana was no exception. While this time it was with Shelter instead of YOT, the fire behind the performances were still the same. Opening with "Message of the Bhagavat" from 1995's Mantra album, the band was greeted by a roomful of fans who had waited years to see them.
Filling in the lineup was bassist Krsna Caitanya (he appeared on the Shelter albums Quest for Certainity and Attaining the Supreme) and new guitarist, Madhuri Pura Dasa, and their backing vocals were a great touch throughout the set. By the time they closed the night out with Perfection of Desire track "Shelter," the group reminded me why I was willing to sit in 2-hour LA to Orange County traffic to see them.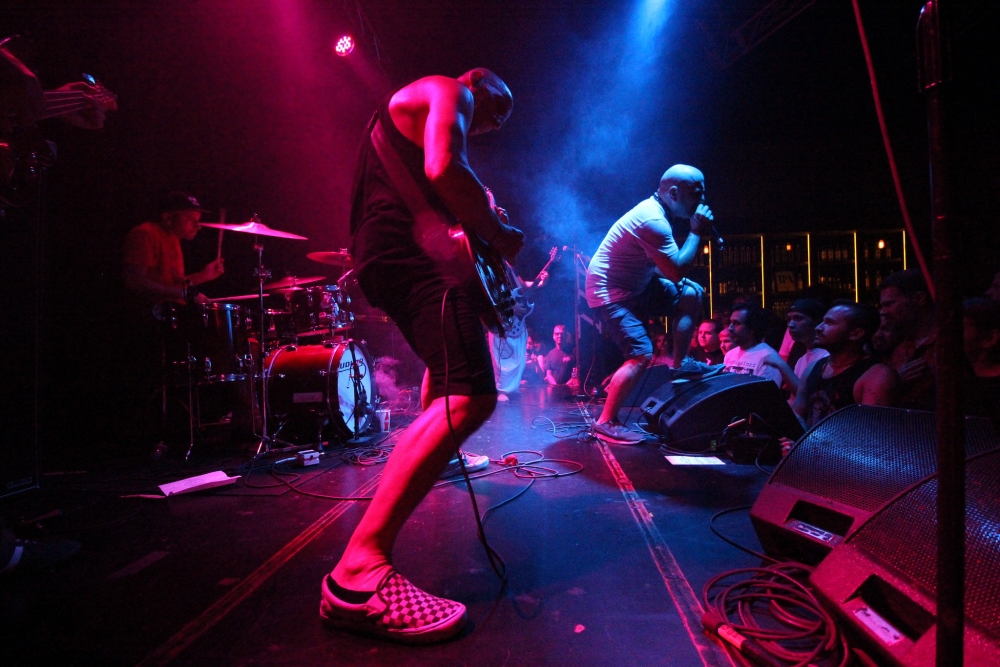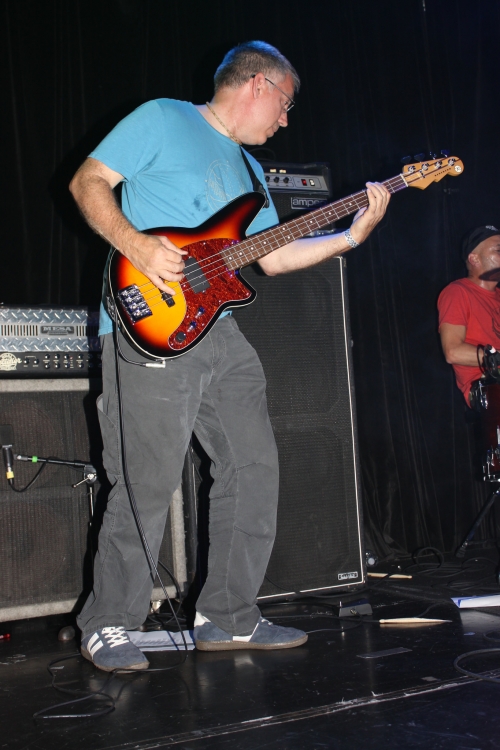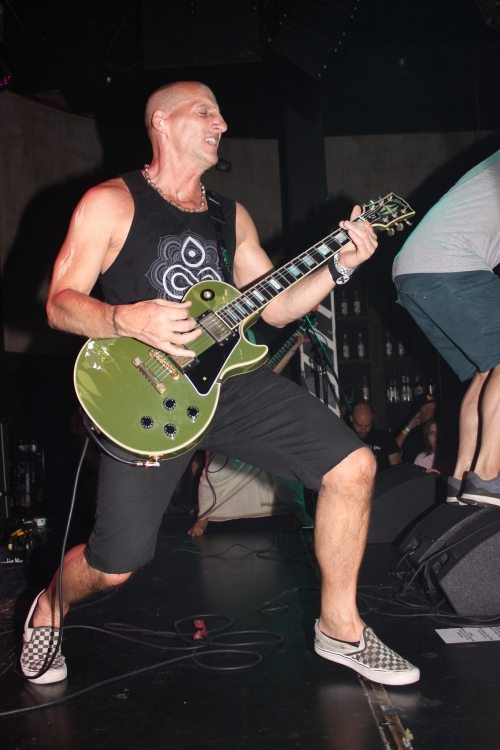 Shelter at the Costellation Room, Santa Ana, CA (June 21, 2018) setlist:
"Message of the Bhagavat"
"Quest for Certainty"
"Empathy"
"Better Way"
"Civilized Man"
"In the Name of Comfort"
"Freewill"
"Mantra"
"In Defense of Reality"
"Saranagati"
"The News"
"Here We Go"
"Shelter"
Tagged: berthold city, give, precious, shelter