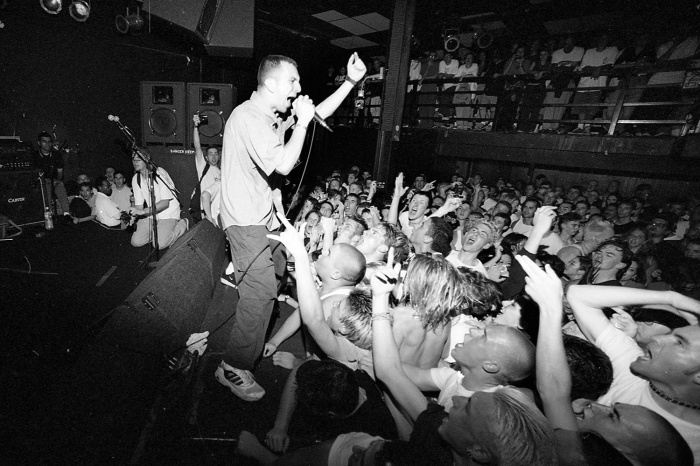 "I think the original California Takeover record perfectly captures the energy of what a live show was like in the '90s… The shows were chaotic, with the crowd participating along with the band," Strife guitarist Andrew Kline tells No Echo about The California Takeover… Live record that Victory Records released back in the day to commemorate the band's 1996 shows with Earth Crisis and Snapcase.
Andrew continues: "The message was as important as the music, and the on stage banter and speeches between songs reflects that."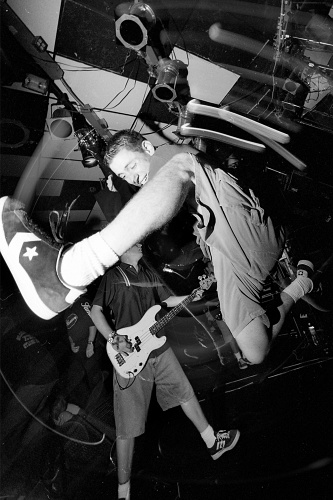 Today, we're chatting about The Return of the California Takeover, a new live live record Andrew's own WAR Records will be releasing soon capturing the 2020 shows all three hardcore bands played in Los Angeles and San Francisco.
Live albums are infamously known for musicians on them going into the studio and touching up mistakes and other audio issues in the studio. No Echo asks Andrew if Strife and the other bands ended up doing anything like that for this project. "The Return of The California Takeover was recorded 100% live at the Teragram Ballroom in Los Angeles with no overdubs and no touch ups.
"It was produced by our old friends Aaron Bruno [vocalist of Awolnation], who's old band, Insurgence, played the original California Takeover show along with producer Eric Stenman (Thrice, Deftones, Will Haven). They did an amazing job capturing the raw energy and power of a hardcore show. Eric handled the mixing as well, and my good friend, Arthur Rizk (Power Trip, Cavalera Conspiracy) mastered the release."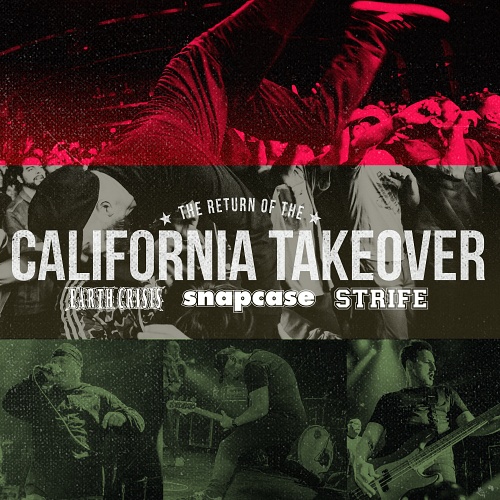 Since the Los Angeles performance was going to be recorded for this release, No Echo asks Snapcase vocalist Daryl Taberski if he approached the Los Angeles performance differently, or if it was business as usual for him. "I try not to think about the recording too much before or during the show, I believe that would only get in the way of being spontaneous and honest with the performance.
"It's important to allow your emotions take over when singing your songs and not to be too contrived. The funny thing is that when you get to hear the recording later you will always find things that you wish you had done differently [laughs]."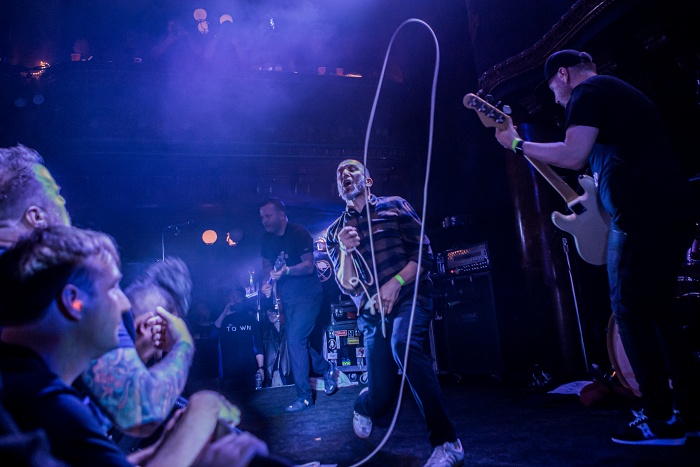 From strictly a performance standpoint, No Echo asks Earth Crisis guitarist Scott Crouse how he would say the band has evolved from the The California Takeover… Live era to now. "Well, for starters, I hope we have evolved and not devolved [laughs]. We are a lot older, but I know we still very much enjoy playing live, and do our best to feel it like we did when we were younger.
"Back then, we lived and breathed Earth Crisis 24/7, so I think the fact that we are still enjoying it, and doing a solid job on stage, is a testament to the hard work we have put in over the years."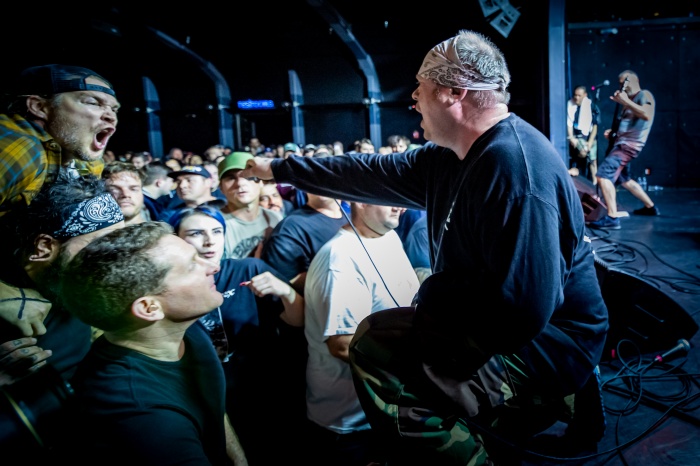 Since we're speaking with members from all three groups, No Echo is curious what other live albums the Earth Crisis, Snapcase, and Strife dudes have loved throughout the years. Scott is first up: "I can't say there's really any live album that I've loved, I generally prefer studio recordings. I will say that any band I have loved, I always had interest in hearing their live recordings. It's always a more stripped down organic approach, which I think is the appeal of a live album. That's what we tried to go for on this new California Takeover 2020 live album.
"What you hear is exactly what went on that night, mistakes and all. Hopefully, it properly captures the vibe that was in room that night because it was a good one."
While Andrew won't disagree with Scott's last thought, he definitely has some clear picks for live record favorites:
Agnostic Front, Live at CBGB's (The definitive live hardcore record of all time)
Free for All with No For An Answer, Wrecking Crew, Token Entry, and Rest in Pieces
Descendents, Liveage and Hallraker (classic sets with equally classic stage banter)
Sepultura, Under a Pale Grey Sky (recorded live at their final show with Max and Igor at the Brixton Academy in 1996... Spoiler Alert: [Strife singer] Rick [Rodney] and I join them for a cover of "We Gotta Know")
Slayer, Decade of Aggression.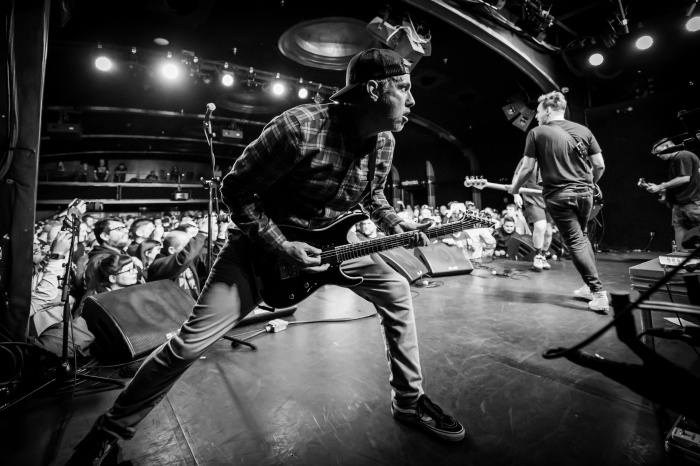 Finally, Daryl offers up his picks: "My favorite live records are probably Descendents Liveage or Black Flag Who's Got the 10 1/2? Both of those records got a lot of spins in my lifetime. Liveage is just great from start to finish and I actually enjoy the extended jams on Who's Got the 10 1/2?
"But, honestly, the best live album (which I hear is not truly live) for me is KISS Alive II!"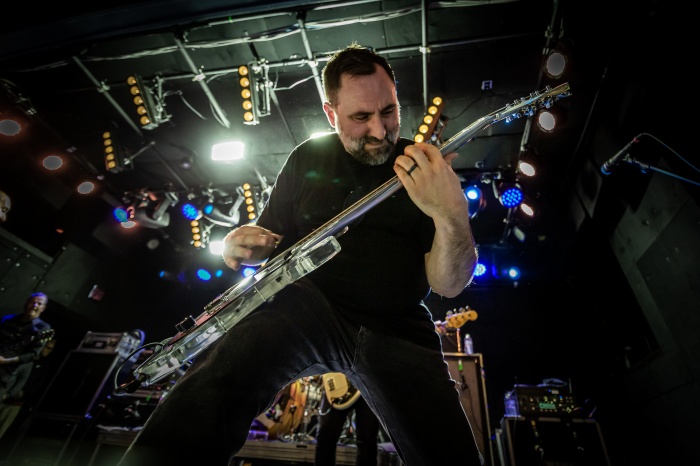 WAR Records will release The Return of the California Takeover on November 19th, on LP, CD, and digital formats.
The vinyl will be available in four variants: 300 color-in-color pressed as band exclusives, 400 on olive green available through RevHQ, BrooklynVegan, Hard Times, Revolver, CoreTex, and more, and two WAR Records exclusive pressings, with 100 on glow in the dark wax with Japanese OBI Strip and 200 tricolor California Flag pressing, all including a 24"x36" poster.
Check out WAR Records for the pre-order.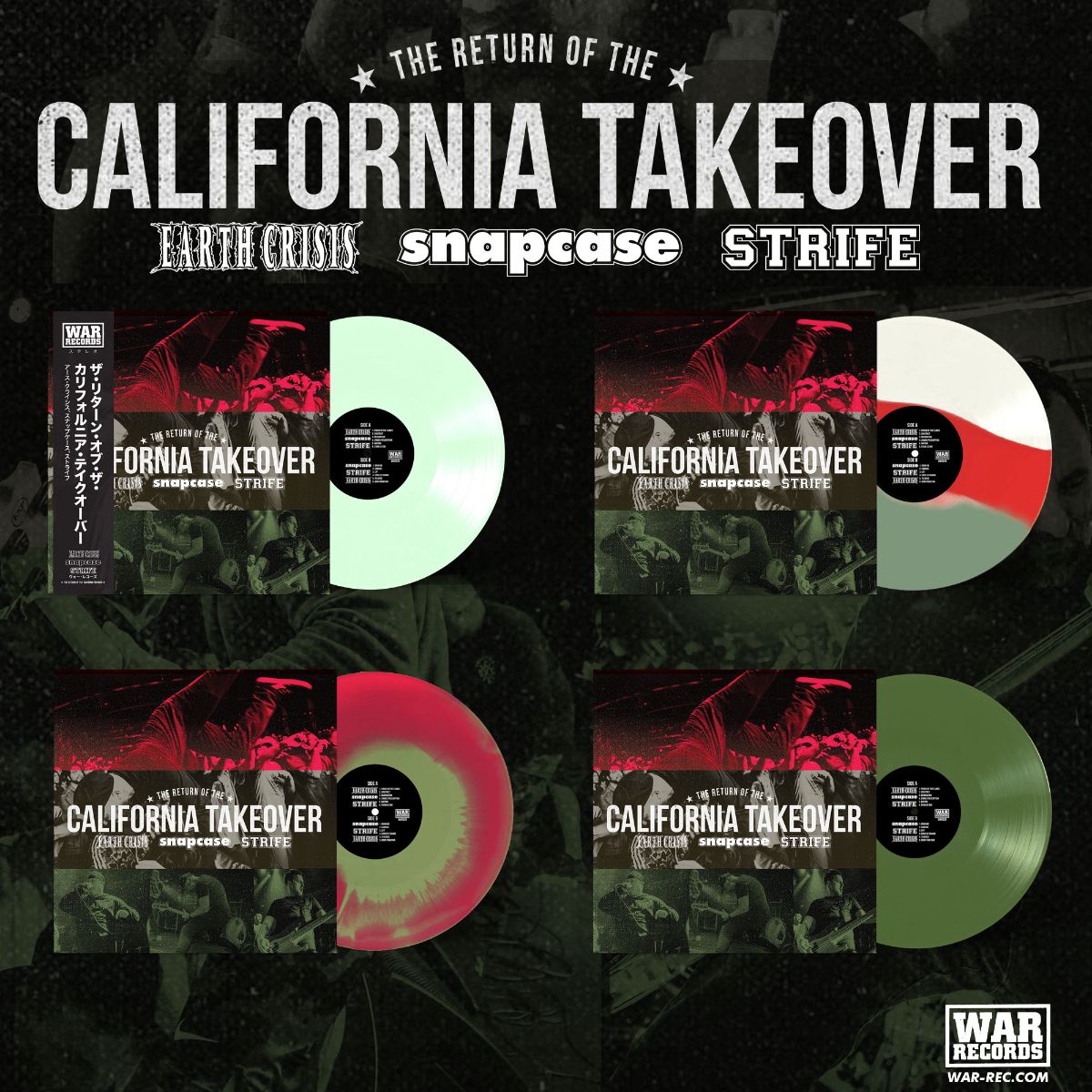 The Return of the California Takeover track listing:
1. Earth Crisis – Forged in the Flames
2. Earth Crisis – Constrict
3. Snapcase – Incarnation
4. Snapcase – Zombie Prescription
5. Strife – Waiting
6. Strife – Stand As One
7. Snapcase – Drain Me
8. Snapcase – Caboose
9. Strife – Lift
10. Strife – Force of Change
11. Earth Crisis – To Ashes
12. Earth Crisis – Born From Pain
(rescheduled) The Return of the California Takeover East Coast:
5/13/22 - Buffalo, NY - The Town Ballroom
5/14/22 - Philadelphia, PA - Underground Arts
5/15/22 - Philadelphia, PA - Underground Arts
***
Help Support What No Echo Does via Patreon:
***
Tagged: earth crisis, snapcase, strife