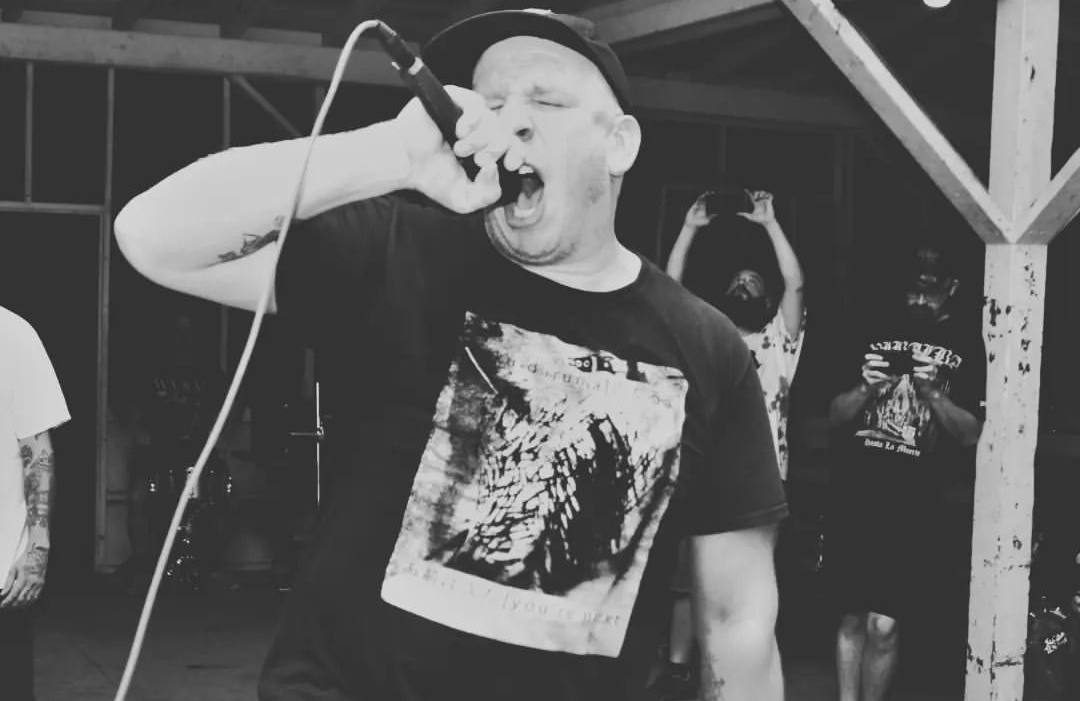 MIDWESTLUST self-identifies as "Pure Midwest hatred out of the dreary North." While the genre-defying unit stitches together the fiercest bits of noise, grind, and power violence into a melange most extreme, there's far more at play here.
Fiercely anti-capitalist and righteously indignant, the fire that burns at the heart of this group is what ultimately sets them apart.
The band recently dropped their definitive, self-titled sonic statement. No Echo recently caught up with Brett Ray to chat on all things, from the band's ever-evolving sound to putting on a fest in extremis.
For the uninitiated, introduce yourself to the No Echo faithful.
Thanks for having me. My name is Brett I do vocals and some noise arrangements in MIDWESTLUST, and the others are anyways we started it with Jeff on noise and myself noise and vocals. Then we collectively like a lot of styles of stuff and especially if we must label things grind and power violence punk/hardcore. But much more also too much to name.
So, we added right around that same time Aaron on drums. Also, his other bands, Martha's Got A Limpwrist and Democide, rule, and then our pal Tyler on noise he has a solo noise project called Tardive. After that, Jeff started doing guitar and noise. Then, recently, we added Ryan from Snuffed , Shrivel Up, and many more and just our pal on bass. Oh… I might add Jeff and I started this as a long distance project between St. Louis and Chicago, but everyone lives here except for Jeff.
MIDWESTLUST has continued a prolific run since forming in 2019. How'd the pandemic affect the recording of the S/T full length? It's very clearly the best thing you've done yet. How'd it all come together?
So, thanks for that. The self-titled release was originally supposed to be a split. Some of it with Bastard Noise. We won't go into that but then that got rerouted and we got to writing. Yeah, the pandemic threw us through loops with money. So, some of it was done with Andy from Weekend Nachos at his Bricktop studio with Pete Grossman, and we also did some recording with our pal Ben R. It was then mastered by Cody from Sanguisugabogg. Then we got it ready and did some tapes of it eventually also coming to vinyl.
We hit the road with our friends Knoll, Sarin, and Heel Turn for it last October. 3 out of 5 us have labels, so we all released it on Suspended Soul Tapes Records, Distorted Visons (Jeff's label), and Mutant Noise (Aaron's label). MIDWESTLUST has also seen a reissue on Tape House USA out of here, which rules as a label. Our pal Collin runs it.
Also, the release came together through personal struggles, but they are the same struggles we see so many other people going through. To all our fellow humans fighting for equal rights and health care and just a better living and a better future, and just sometimes pissed because I feel everytime we take a few steps forward some asshole comes along and brings us about 15 steps back. Also, I doubt anyone is going to find that first tape anymore. We put that out after an early performance after Tulsa Noise Fest.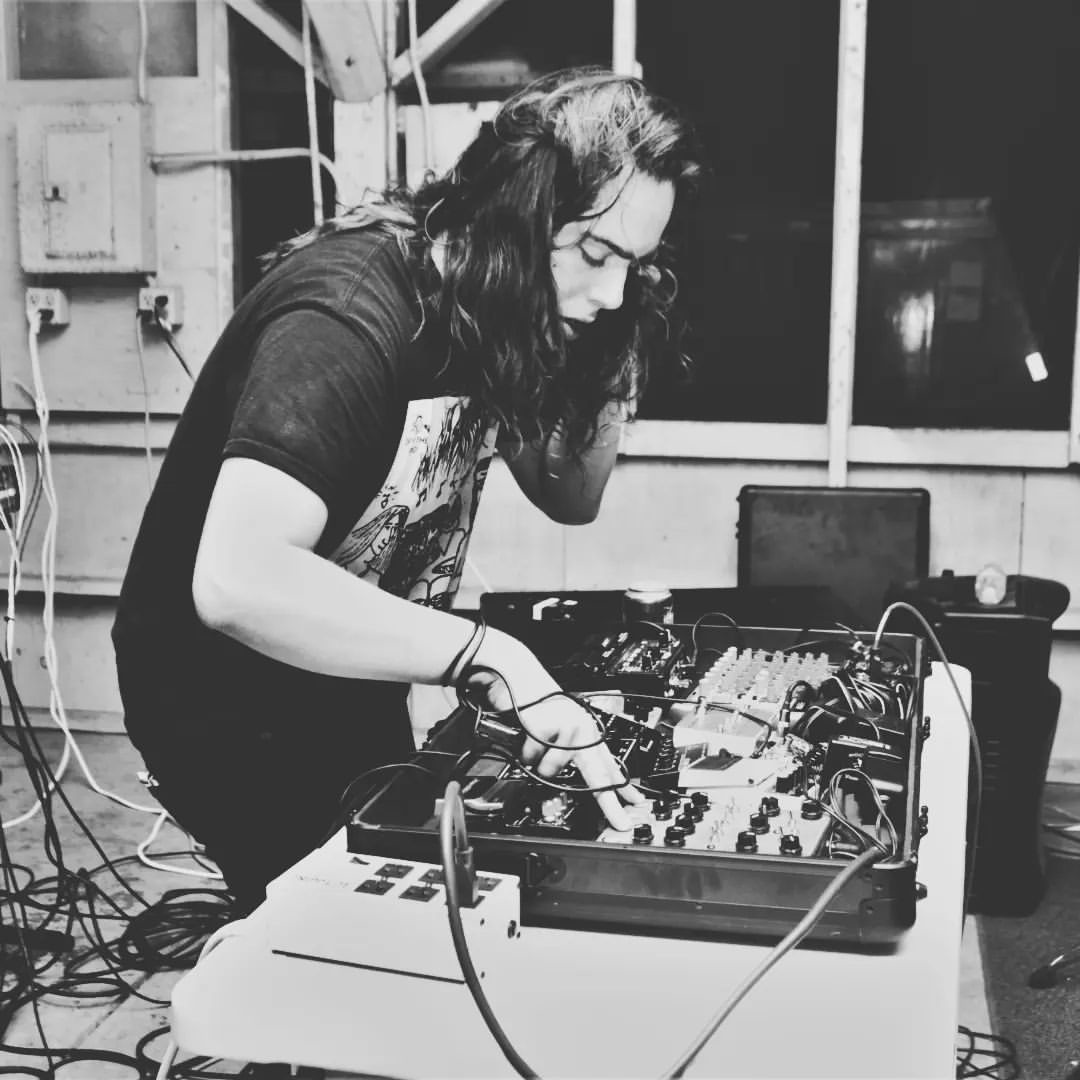 I'd always had the naïve idea that, as extreme music fans, we're open to all of it. How has existing on that continuum been for the band? Is it freeing to subvert genre or does it make it more difficult to find a scene?
It's interesting you ask this. I have thought about this a lot. How all the classification we use is set up to probably divide us, when really we could all be coming together. But, I guess, us as a species are always going to need to explain what something else is to someone else. But we really don't exist to fit anywhere. Some of our new stuff is going to have some industrial dance stuff mixed with pv with jazz and grind and everything.
I think we only hurt ourselves when we cut ourselves short with labels then it cuts into what we can truly create. But on this I can only speak for myself on this, and I am still guilty of using labels. But we really just want to be for anyone who needs creativity and especially for those that never have fit into this world's mold. Also, I don't know about scene stuff or care much about it. But there are a lot of people that have been there for us, between friends, family, bands, projects, labels, and promoters.
It'd appear as though Dreary North Fest was a resounding success. This year's fest is set for September at Subterranean, yeah? Give the folks the skinny on last year's highlights and hype up the forthcoming shows!
Dreary North Fest was a blast. There were a lot of jump ropes last year due to the pandemic. But we pulled it off. The name came from living in Chicago with the dreary, overcast weather and pollution haze of dreariness the sky can offer at times. But, last year Rush Falknor, my old band mate from Joint Dislocation, a lot of folks said he stole the show. Everyone can watch all the sets on Hate5Six which should be out to film again.
So, this year I got Tommy Wright 111, World Peace, Closet Witch, Black Leather Jesus, Kidnapped, Knoll, The Rita, Cloud Rat, and Psywarfare, just too many to name. Go to the Instagram page to see more. Tickets should be about $35 to $40 with a shit ton of acts each day.
It's going on Sept 9th/10th/11th 2022 at Subterranean Upstairs first day/night, and then day/night two at Beat Kitchen, then last day/night back to the same venue as the first night. Also, besides the fest I help arrange, everyone should check out Tulsa Noise Fest.
Suspended Souls Tapes sports a wildly diverse discography. Anything cool on the horizon for your label?
Yeah, I have a Frail discography in the works on LP 12-inch/photo lyric book for the old post-hardcore band made up of members to start The Tim & Eric Awesome Show, Great Job! , Ink & Dagger, Collapsing Scenery, and more.There I go using labels [laughs]. Then, a tape with Tape House and myself for a rad band called Vegas. I'm also getting ready to come out with a bunch of other labels Sidetracked, Surfer James, Methcamp, and Heckdorlan 4-way split 7-inch out here in February.
Yeah, my label has always been about putting out whatever I feel like doing but has also always been about supporting diversity to. Not just straight white males, you know, but I put out whatever because none of us can help how we are born.
Oh, also got a new tape in the works for Chip7 prolific half Thi/American East Coast graffiti writer that lives in Bangkok now. His hip-hop tape, Lemur Land, which also features tracks from folks from Artifacts, plus more. Then, much more in the works. I have been doing the label since 2011 or so.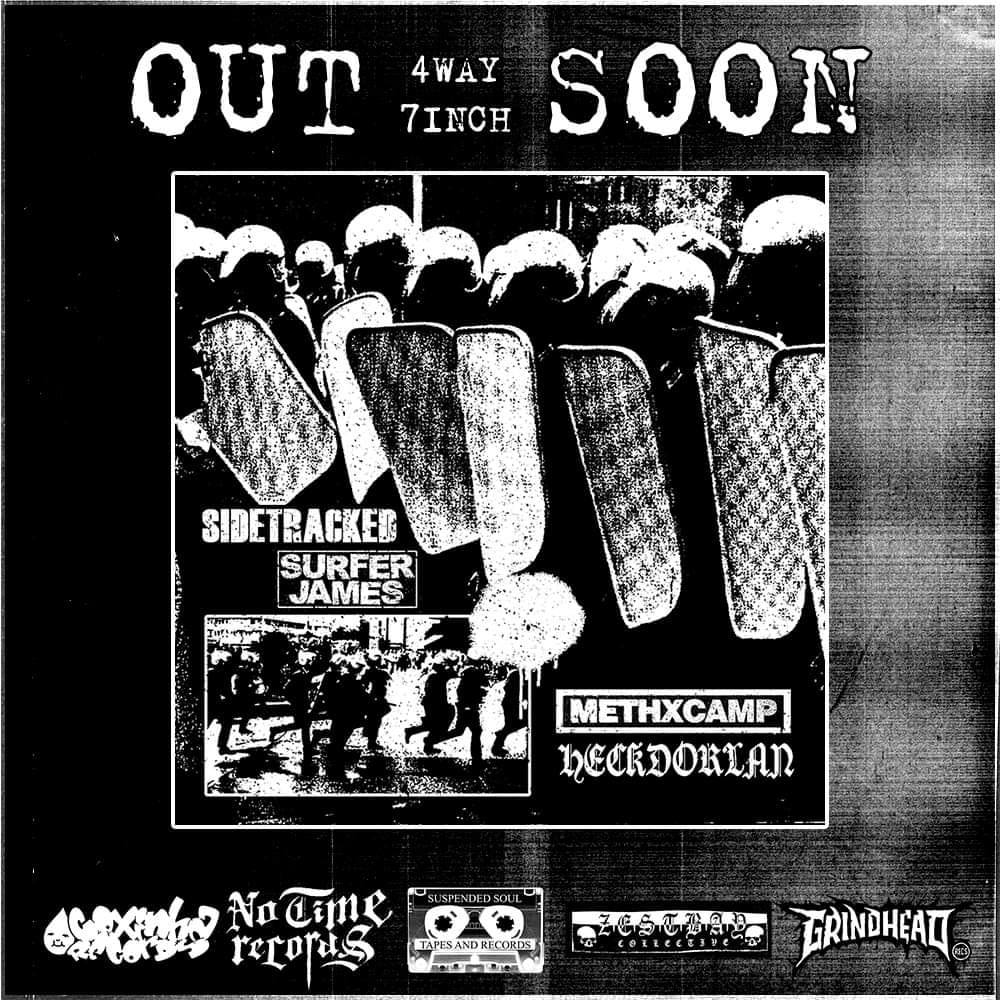 I'd hesitate to call anything you've committed to tape accessible [laughs]. But the leap you've made from "Assassination Time" on the debut to the S/T full-length is massive. In addition to the harsh noise, there's an intensely musical band beneath it all that'd likely appeal to hardcore kids as much as grind fans. Was there a mission statement going in or is that just the organic build you've been on?
I guess I kind of answered that above [laughs]. But we feel real organic working together. I feel it helps that we aren't just a band but are friends. But yeah, it is a big leap I think those who love just gritty stuff can get behind it.
For those new to noise, it can feel like an endurance test at best and an unapproachable genre at worst. What're some entry level albums you'd push on someone interested but yet to take the leap?
Full of Hell has been that for the new generation but as far as straight up noise Merzebow, CCCC, Atrax Morgue, listen to Pain Chain. I don't think or believe noise is for everyone and that is fine. Also listen to Psywarfare if you love it brutal. Also, check out Hallucination Realized because it's mind blowing. Go check out TrashFuckRecords and Placentia Recordings and Damien Records also Deathbed Tapes, which did our Conditioned split tape, also Mutual Aid Records and Orb Tapes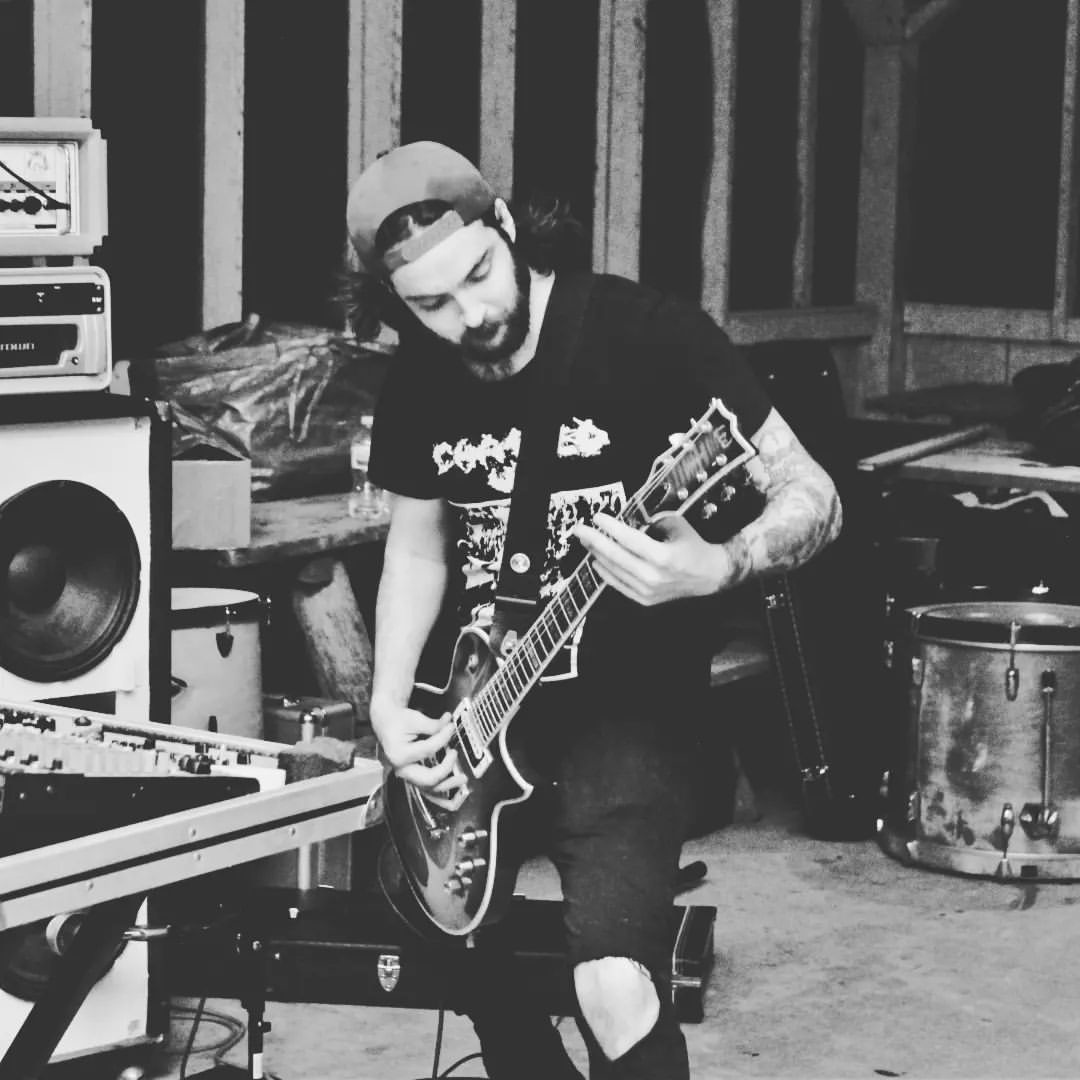 What's 2022 shaping up to be for MIDWESTLUST? How can people best keep tabs on the band and your myriad projects?
We have a bunch of splits we are working on. We're also going to be working on a new full length. We have a show February 10th with Wolf King, Frail Body, and Knoll here in Chicago at Cobra Lounge. Check those bands out on their tour then in May/June, a tour is being announced with Psywarfare (Dwid of Integrity doing industrial harsh noise for those who don't know about that) and Sarin, that is going upper Midwest to out to the East Coast.
Last tour was Southeast, where I think some friends are oppressed the most by the religious right. There needs to be all these kinds of shows in places like that to take a stand. So, bands don't snooze on the Southeast or Midwest.
Contact us through Instagram or Facebook or email [email protected] or write us at [email protected].
***
Help Support What No Echo Does via Patreon:
***
Tagged: midwestlust