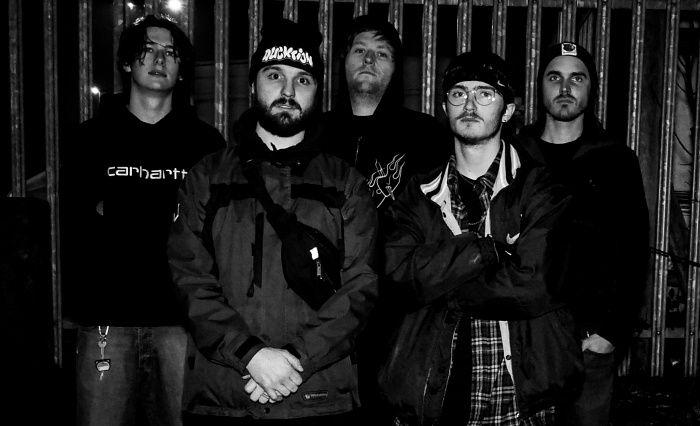 No Echo first featured Mantlet last year around their split release with Welsh outfit Kold War. The band hails from Coventry, which is also the home of death metal icons Bolt Thrower, to whom the band has personal ties.
If you aren't familiar with them yet, the members of Mantlet are bound together by their love for the metallic side of the hardcore spectrum.
"We've taken influences from bands of the past rather than the present; combining '90s metalcore imagery from bands such as Arkangel and Undying, with the visceral approach of infamous bands like Kickback and Cold as Life," guitarist Alec Davies tells No Echo.
Today, Mantlet is unveiling Concrete Crucifixion, their aptly titled 3-track EP. It's a pummeling fit for a group who grew up on a steady diet of prime metallic hardcore:
"The 3 songs depict the violent crime and gang warfare that's rife on the streets of Coventry, tying in a reflection on the past of the city. The bombing of Coventry cathedral is a big part of our city's history, and the theistic imagerAy of crucifixion lends itself to the current state of our streets.
"Kids killing each other over postcodes—that is the Concrete Crucifixion."
Concrete Crucifixion is out now via all streaming outlets.
10 inch vinyl with a screen-printed B-side is available to pre-order via Nuclear Family Records. Digipak CDs are available to order from Death Farm Records. If you fancy a cassette of Concrete Crucifixion, Salsa Verde Fanzine has you covered.
Mantlet on social media: Facebook | Twitter | Instagram
***
Help Support What No Echo Does via Patreon:
***
Tagged: mantlet