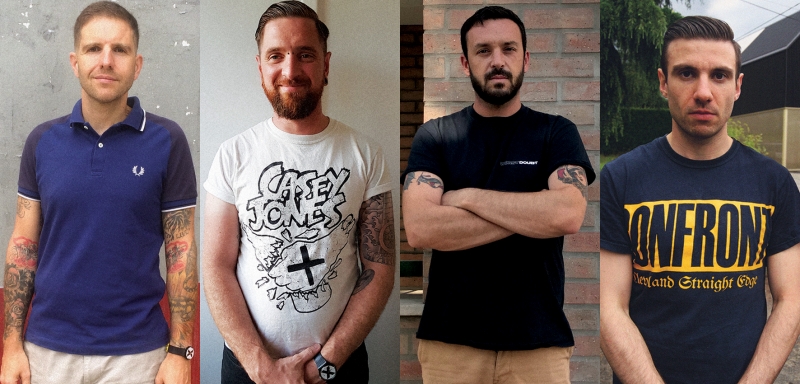 With members spread out between Paris and Nantes, Insecurity is a hardcore band that formed in the summer of 2018. The rhythm section of bassist Alexis and drummer Regis (both members of Harm Done and Raw Justice) teamed up with guitarist Kevin and former Angry Vets singer Nicolas got the project started with a plan on paying homage to the late '80s/early '00s Youth Crew groups they all shared a deep love for.
Youth of Today, Turning Point, Mindset, and True Colors are a few of the acts that Insecurity mine influence from, and this can be heard on their debut 7" EP, Willpower. The 9-track attack was recorded in April 2019 with Maxime Smadja, who some No Echo readers will know from his work in both Rixe and Condor. Check out Willpower in its entirety below:
"The lyrics are about everyday life and more personal feelings," the Insecurity guys told No Echo via email. "The EP deals with topics like negativity widespread by the news ('Random Violence'), anger management ('Constant Anger'), racism ('It Won't Last, for which we picked a line from Gorilla Biscuits 'Degradation').
"Even though Insecurity is not a straight edge band, you'll find usual Youth Crew matters linked to the scene and positive values like perseverance ('Willpower'), betrayal ('Turncoat') or loyalty ('Built for You'). Eventually, 'Anxiety 'deals with the feeling of insecurity, where we took the band name from. It's kind of like the missing link between the Turning Point song and True Colors' 'I Lose.'"
The Willpower 7" is available for pre-order at Refuse Records with two options:
Black wax w/ regular cover and limited to 400 copies (buy link)
Blue wax w/ Wide Awake rip off cover and limited to as many get ordered (buy link)
Insecurity will be touring Europe in 2020, but in the meantime, check them out at the following shows this year:
10/31 – Rennes, FR – w/ Vitamin X
11/01 – Bordeaux, FR – w/ Vitamin X
11/02 – In Your Face Fest - Montaigu, FR – w/ Vitamin X
11/16 – Nantes – FR – w/ Harm Done
11/30 – Paris – FR – w/ Harm Done (Last Show)
Tagged: harm done, insecurity, raw justice